About the speaker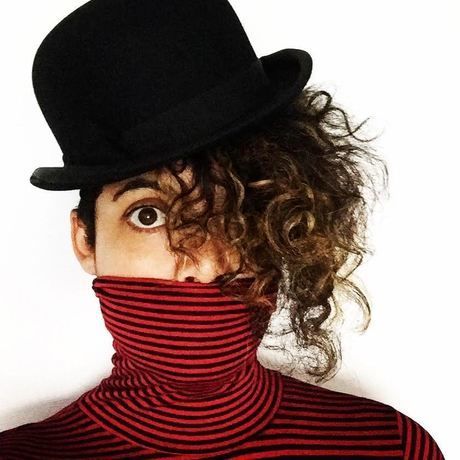 Shallom Johnson—known internationally as "Indigo"—is a Canadian visual and dance artist, writer, curator, educator, and musician. She holds a BFA in Dance from Simon Fraser University and has been active in the visual art, performing arts, and media industries for the past 15 years. Shallom has been creating visual artwork under the alias Indigo since 2008. Her work has been exhibited, presented, and seen on the street in outdoor and indoor spaces in Canada, the United States, the UK, South Africa, and across Western Europe. Shallom currently spends most of her creative time working on a new electronic music project called Suffer The Children, with Chin Injeti and Rian Peters.
How do you define creativity and apply it in your career?
Creativity is realizing that the less you are certain of, the more possibilities you can explore. It is accepting how little you know, and seeing that as an opportunity rather than a hindrance.
Creativity infuses every part of my being. I wear a lot of hats and each one pulls from this mindset in some way, even the hats that nobody else ever sees.
My career has let me on a winding path along which I've gathered many skills and practices along the way…creativity helps me see the common threads between choreography and curation, between painting and poetry. Keeping a creative mindset ensures that nothing I've done, that nothing in my future will ever be irrelevant to my journey. It teaches me to see the web that connects my current self with everyone I've been in the past and everyone I'll be in the future.
Where do you find your best creative inspiration?
Life, love, loss. Personal narratives, and the dark side of the moon. My inspiration comes from everything and everyone around and within me. It often strikes in a moment in which a phrase or an image will solidify in my mind and need to be documented or explored immediately, as if impatient to come into the world. Or, at times it is a gradual accumulation of many experiences that eventually are distilled into something that is a composite of many people, many lives, many thoughts and feelings.
I feel that I am a repository of so many stories, my own as well as those that swirl around me. I may not find the right place for each one immediately, but they usually end up in something down the road.
"The goal is not making art, it is living a life…Art is a result, It is the trace of those who have led their lives." - Robert Henri, The Art Spirit.
What's the one creative advice or tip you wish you'd known as a young person?
I wish that I had put less emphasis on perfection and spent more time seeing where my mistakes might be able to lead me.
Who would you like to hear speak at CreativeMornings?
Christian Nicolay, Chin Injeti, Tonye Aganaba, Andrew Young, Nomi Chi
What's your one guilty creative indulgence?
Red wine.
What are you reading these days?
Stephen King's Dark Tower series (again).
What fact about you would surprise people?
A large part of my career involves painting really big murals using boom lifts, scissor lifts, and scaffolding. At the same time, I'm really afraid of heights.
How do your life and career compare to what you envisioned for your future when you were a sixth grader?
I am who I wanted to be when I grew up. I have had the chance to explore everything I wanted to do, everything that was in my heart of hearts. It wasn't an easy road to get here, but I'm stubborn and headstrong and impulsive and I make decisions that seem crazy at first but somehow work themselves out in the end.
Also, now I've gotten past my extreme childhood shyness…I have friends and can talk to strangers without having a panic attack. Most of the time.
What keeps you awake at night?
Right now, jet lag.
Where was the last place you traveled?
I just got back from Mumbai, I was there for a week for my "day job".
Where is your favourite place to escape?
A good science fiction novel, in bed, with my cats.
When you get stuck creatively, what is the first thing you do to get unstuck?
Have a cigarette. Cigarettes solve all my problems.
Favorite quotes from this talk
No quotes yet. Sign in to tag a quote!
Photos from this talk See all
navigateleft
navigateright
178

Lovely Attendees




see everyone