Miles & Libby Fetherston-Resch
March 22, 8:30am - 10:00am EDT. Hosted at Station House
part of a series on Water
About the speaker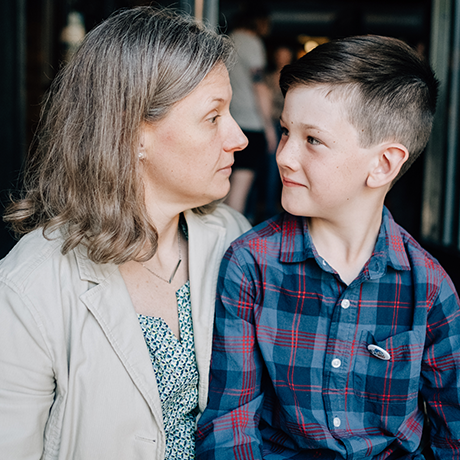 Miles Fetherston-Resch is a six-year-old entrepreneur. After watching Shark Week, he was troubled by how we treat our oceans and the creatures that live in them. With the help of his moms, he started Kids Saving Oceans, the first conservation lifestyle brand for kids (and adult allies), by a kid.
His mom, Libby, is the Program Director for a marine research grants program housed at the Florida Institute of Oceanography. She spent eleven years working on the conservation of marine fish, wildlife, and habitats in the Southeast US. She directed Ocean Conservancy's regional fish conservation program work and, after the 2010 BP Deepwater Horizon oil disaster, worked on their Gulf Restoration Program team as the marine restoration strategist, turning a passion for ocean policy and marine resource management into actionable plans for population recovery.
In the fight to protect marine environments, individual actions can feel incredibly insignificant, and the vastness of the issues we're facing can be overwhelming. In this talk, mother and son team Libby and Miles give us hope. They'll share the story of how a kid's love for the ocean shifted his mom's life-long perspective on ocean advocacy and catalyzed a business that's inspiring others to take action. Representing separate generations working for a common cause, they'll give us some tangible ways to do better by our water and tell us why they are optimistic about our oceans.
Additional details
It's World Water Day! Join us for a WATER themed talk at our home venue Station House.
Our amazing beverage team will be there with MADE Coffee and TeBella Tea, and Mana Bakery is bringing a lovely breakfast selection.
Creative, musical duo Danny and Alex perform, resident poet Gio Cerro serves up custom poetry, and Wax&Hive slings sick merch.
Doors open at 8:00am, programming starts around 8:30, speaker on-stage by 9. Pre-registration is required (but free!). Typical DTSP parking, so please walk, bike, carpool, or take public transportation if you can.
In order to ensure our global impact is more about great ideas than garbage, we ask that you please BRING YOUR OWN MUG. Snaps for bringing a mug AND a new friend.
We compost with Suncoast Compost and you probably should too.
Location
Hosted at Station House
260 1st Ave S
St. Pete, Florida 33701
When March 22, 2019
8:30am - 10:00am