Kat Kavanagh
April 27, 8:30am - 10:00am EDT. Hosted at Alt Hotel
part of a series on Game
About the speaker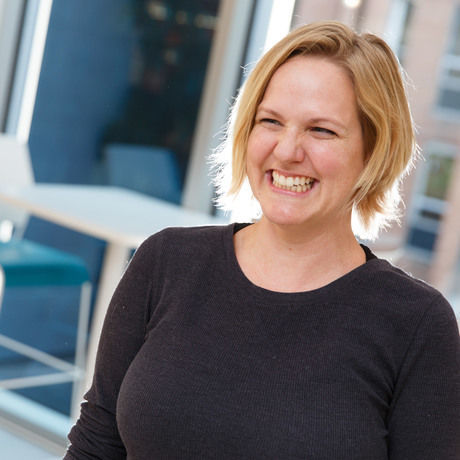 Games are designed to be challenging, enjoyable and social. But did you know that there's scientific proof that approaching your life from a gameful perspective makes you happier, more successful, and more resilient?
Kat Kavanagh delights in making the mundane exciting, whether it's races, games or competitions (with random prizes!). Kat has been described as having the spirit of 5-year old: she can't help but transform everyday life into fun and games.
Luckily, her passion fits her work: she's a web/graphic/game designer, who loves making fulfilling and joyful experiences. In the past, she was lucky enough to work as a designer on SuperBetter, a science-backed game that uses game concepts to help you get over illness and injury. Last year, she helped design "Can I Help?", an award-winning game for the Government of Canada to facilitate difficult conversations on mental health and wellness.
When design alone wasn't enough, Kat's gameful nature allowed her to redefine her life in science. She co-founded a crowdsourcing app called Water Rangers, which inspires citizens to collect open, accessible water quality observations.
This game-filled talk will explore how shifting our mindset can help us live more fulfilling lives!
Local partners
A partnership between Photographer/Director John Kealey and Multidisciplinary Designer/Director Kyle Megill, no hands is a creative multidisciplinary team focused on the art of storytelling through video.
The 148 room Alt Hotel Ottawa is a real landmark in the newly revitalized business district of downtown Ottawa. An asset for both business people and tourists, the hotel is conveniently located next to shops, restaurants and boutiques. Find out more.
Shopify is a commerce platform that offers a professional online storefront, a payment solution, and the Shopify POS retail application. Shopify currently powers over 150,000 online stores in over 150 different countries. If you like to break things for fun, and you're interested in working in a unique, large-scale environment where security and hacking on open-source software is a major focus, check out our careers page.
Additional details
CreativeMornings is a monthly breakfast lecture series for the creative community with chapters in over 185 cities around the world. Each month we host an event that is always on a Friday, always in the morning, and always free. We provide coffee, a light breakfast, and a 20-30 minute presentation from a local creative person on the global CreativeMornings theme for that month.
Event Schedule:
8:30 AM - Doors open
8:30 - 9 AM - Check in, enjoy breakfast
9:00 AM - Talk begins
9:30 AM - Q&A with speaker
9:45 AM - Audience takes the stage
10:00 AM - Off to work!
About the theme:
Throughout human history, games were about winning or losing.
Author James P. Carse extends this concept beautifully in Finite and Infinite Games: "A finite game is played for the purpose of winning, an infinite game for the purpose of continuing the play."
Which game are you playing with your art?
It's a question worth asking everyday. Is this decision, this attitude, sending you down a short game or long game? The same energy that we spend chasing rewards and likes can be refocused to loving our craft and shipping our best work.
Keep your eyes on the journey, not the prize.
This month's global exploration of Game was chosen by our Liège chapter and illustrated by Jeffrey Phillips. This month is presented by our global partner MailChimp.
Parking:
There is no free parking on premises, this is a downtown venue so we urge all attendees to take public transit. Alt Hotel is located right at the Slater bus station and is also walking distance from the Rideau Centre.
If you are planning on driving there are several paid parking lots in the area.

Accessibility:
The venue is fully accessbile, if you require any assitance please feel free to reach out to us.
Location
Hosted at Alt Hotel
185 Slater Street
Ottawa, ON K1P 0C8
When April 27, 2018
8:30am - 10:00am