This month we're welcoming Lisa J. Weiss to the CreativeMornings Ottawa stage to speak to the November global theme Lost, as an invitation, and gateway, to creativity.
Lost is one of those words which elicits a body response. We've all had the experience of being lost, whether physically or emotionally. Imagine if, instead of bracing against it, we could tap into the genius of the experience and transform it into one of innovation that jump starts our ability to be creative in how we shape our world. 

Join us on November 29 at the Ottawa Art Gallery! Tickets go live Friday, November 22 at 11 a.m. - don't snooze!

Happy October, Ottawa!
We're jumping into the new season with a fun new theme and a fantastic speaker who we cannot wait to have on the CreativeMornings Ottawa stage.
Our speaker is psychologist and expert on creativity and imagination, Eve-Marie Blouin. Eve-Marie came to us with a beautiful pitch on how she can teach and inspire our audience to get into a state of flow, and let's just say we were sold.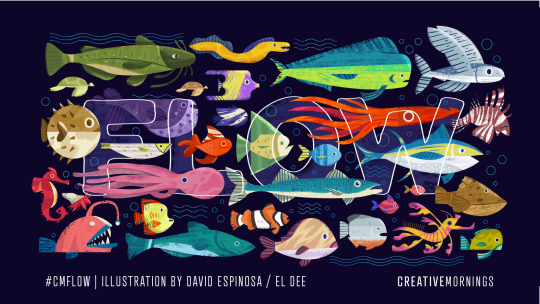 So what is flow?
Flow is a state where time stops existing and the 'sense of self' disappears. We have all experienced this at one point in our lives, oftentimes by accident. For some of us, flow came while skiing down a difficult hill, and for others, while painting a lavish landscape or performing in a play.
Whatever the activity, flow is likely to come when the challenges of the situation match a person's skills, when the goal of the activity is clear, and when people value the activity.
Since getting into a state of flow can help people grow their skill set and access a deeper mode of thinking (all of which are beneficial for creativity), Eve will introduce you to the concept of flow, we will reflect on our own experiences, and practice "hacking" into this state through a play-based activity.
Sounds cool, doesn't it?
Tickets for #CMflow on Friday, October 18 will go live on October 11 right here.
Pictured: Eve's previous flow and play workshop at the NAC.
Whether you're a mathematician tinkering with complex equations or a musician pairing discordant notes together, searching for inspiration can often send you in circles. The longer you sit and wait for an epiphany to strike, the harder it gets to make progress.

What if you could get unstuck by turning to your muse?
This month, Ottawa-based visual artist Marisa Gallemit will share her musings on the unwieldy process of finding expansive mentors, foraging the imagination and trusting in the potency of our own innate ingenuity.
Marisa believes that old things tell stories and is motivated by the concept that every object carries its own history and energy.
Marisa manipulates, deconstructs and distorts objects into sculptural compositions which mimic the corporal and the natural, exploring the odyssey of human emotion, identity and heritage.
Her three-dimensional works use repurposed materials, rhythmic forms and organic textures, acting as tactile monuments to our collective and subtle human experiences.
You can check out more of her incredible work here: http://marisagallemit.com/
#CMmuse is on September 27. Free tickets will be released on September 20 at 11 am here: https://creativemornings.com/talks/marisa-gallemit 
We want to know, what do you do to draw out your muse for creative inspiration, guiding you to new ideas? Tweet us. #CMmuse
This month theme #CMJustice, we are excited to welcome speaker Daniel Tucker-Simmons, principal lawyer and co-founder of Avant Law firm, specializing in workers' rights, housing rights, and human rights. There's a long-running, problematic belief that 'law = anti-creativity'. To many, law is rarely considered as a profession that encourages freewheeling, creative thought, but in reality, lawyers are communicators; in order to problem-solve, they have to constantly find new, innovative ways to communicate and make positive, lasting change.
Creativity is a quality not typically associated with the justice system. And for good reason. In this talk, Daniel problematizes the glacial pace of innovation in the legal services sector and its contribution to the access to justice crisis, presents some imaginative innovations attempting to deal with the problem, and extends an invitation to creative minds in other sectors to turn their focus to law.
Join us on August 30 at the Ottawa Art Gallery! Tickets go live Friday, August 23 at 11 a.m. don't snooze!
Introducing CreativeMornings Ottawa's newest supporting partner – Cloud in the Sky

In addition to recently revealing this month's theme, we've got another HUGE announcement to make! We have partnered with Cloud in the Sky Studios to help us capture our creativity-driven, community-oriented monthly meetups!
Much like ourselves, Cloud in the Sky Studios is enthusiastically devoted to encouraging all creatives to collaborate. They are an Ottawa-based video production team composed of artists, writers, directors, cinematographers, photographers, designers, and editors. Their incredible roster of clients including BlackBerry, NBA Canada, Carleton University and many more speaks to their standards.
When asked what they think makes Ottawa a creative city, Cloud in the Sky Studios' Brittany Delgaty responded, "SO many things! We may not have the numbers of that of Toronto, for example, but we have such a diverse, active community and we believe this stimulates creativity in all forms. What makes Ottawa unique is the fact that you can get bigger-city vibes yet find nature everywhere. Nature is important to a lot of us here at the studio for staying fresh and with an open mind."
We couldn't more excited to have this team of award-winning storytellers help us tell our stories! So, for those of you who can't attend, not to worry! Thanks to Cloud in the Sky Studios, everyone can tune into our talks.
Show them some social media love and follow them on Facebook, Instagram, and LinkedIn. Want to learn more about Cloud in the Sky Studios? Catch them at our next meetup on August 30th or visit cloudintheskystudios.com.
As we mentioned last month, we're going to be talking about something completely new to CreativeMornings Ottawa for this month's global theme END! You may have guessed it… but then again maybe not. It's definitely something that will 'bud' your interest... 😏 Okay enough with the build up! We're so excited to welcome Jessica Hay, Creative Director at Canopy Growth Corporation to the stage to speak on the end of the marijuana prohibition and how it's 'budding' new beginnings in many industries including the creative field. 
Join us on July 19 at the Ottawa Art Gallery! Tickets go live THIS Friday, July 12 at 11 a.m. don't snooze!
I wonder why the leaves on this tree differ from the leaves on this one? I wonder why the deer follow the same path and sleep here in the winter? I wonder why I'm happiest by the water? I wonder why the salamanders hide under rocks, and why frogs skin are so sensitive to the human touch?

This month's theme on WONDER will be explored by Marlene Power, Executive Director of Child and Nature Alliance.
After this talk, our relationship with nature will be strengthened. We will learn how outdoor play, and exploring nature on a regular basis, can support children's (and our inner child's) innate curiosity and bring out a sense of wonder in our lives every day.

Join us on June 28 at the Ottawa Art Gallery! Tickets go live on Friday, June 21.
Introducing Banfield's CreativeMornings monthly challenge!
We're thrilled to share that our incredible sponsor, Banfield Agency is celebrating its CreativeMornings Ottawa partnership with creative challenges surrounding our monthly global themes.

The video on this month's theme of Wonder gave us chills! It encompasses exactly what the theme is all about and pairs perfectly with our speaker's WONDERful topic.

Check out the video produced by Ryan Grevatt, Derrick Outram, Kelly Rusk, Emily Charette and Devin Singleton, that follows a man discovering the hidden wonders in the world around him.
Announcing award-winning architect, Darrell de Grandmont as our speaker for #CMpreserve! 
Not only does Darrell have over 20 years of design experience, but he is also passionate about sustainability, biomimicry and expressive design (amazing). 
Recently, he was the Chief Architect for the House of Commons, contributing in the rehabilitation of historical buildings and spaces located in the parliamentary precinct, including the West Block and Centre Block buildings.

During the talk, Darrell will share his personal journey in developing design narratives and how his most recent work has shone a light on the evolution of a building's story.
And that's not all we have planned this month…

May marks CM Ottawa's 7th year! So we'll be adding some extra special activities and goodies to celebrate our Birthday. Join us on May 31!

Registration will open on Friday, May 24 at 11 am.

Welcome to CreativeMornings Ottawa Lightning Talks!

We can't wait to have you join us on April 26 at the Ottawa Art Gallery for the second CreativeMornings Lightning Talks. This month, we'll explore the topic of #CMinclusive. We welcome five inspirational speakers, who locally represent successful entrepreneurs, mental health advocates, inclusion consultants, youth workers, freelancers, architects, company presidents, fundraisers and leaders of social innovation.

Clary Chambers is the founder of Spark Clarity, an ambitious, queer women of colour who lives with a chronic illness and sparks joy in any room. A successful entrepreneur, Clary will speak on how folks with invisible illness/disabilities navigate their daily lives and environments creatively. She will also propose ideas on how we can encourage this creative potential in such people to collaboratively build communities and workplaces designed for everyone.
Sharon Nyangweso is an international digital communications and inclusion consultant specializing in digital experiences and moving visions for inclusivity from aspiration to action. She will share how design thinking frameworks can be used to solve critical inclusion and diversity issues in organizations, projects, and daily life. Her goal is to support everyone to move from just getting women, brown, black, transgender, or marginalized voices in the room as a diversity checkmark, to meaningful, powerful participation and co-creation.

Amy Lynch is a freelancer and the founder of 'Babies, Business + Breakfast', a community for parents who want to invest in themselves alongside their loved ones. Amy will teach us what happens when you bring children into business settings and inclusive experience tips for organizations, venues, caregivers and their loved ones.
Toon Dreessen is a certified LEED AP and a member of the American Institute of Architects. As President, He leads his company in project development and is responsible for award winning projects in infill development, as well as laboratory, research, industrial and high profile projects. We will learn about how he leads the company's activism in the role of the built environment through social justice, gender equity, and fiscal responsibility.

Elspeth McKay, Executive Director of Operation Come Home, is a dedicated fund-raiser, an expert in community economic development and a leader in social innovation. She has years of experience in developing programs such as supported employment, entrepreneurship, education, and social enterprise. We will learn from her leadership and experience as a social enterprise consultant.
Free tickets will be available on Friday, April 19 on our website.

Join us on March 29 for our talk on the global theme of Water!

From its role in the very foundation of our city, to the simple beauty and mystery aquatic life provides in our own backyards, H2O is an essential part of our daily lives. Jérôme and Patrick will make the case for why it is perhaps the most important molecule of all.

Jerome studies freshwater and the small living organisms that are key to healthy lakes and rivers. His interest in underwater life has led to novel scientific studies as well as many opportunities to collaborate with local communities, artists, students and journalists who share the same passion for water. 
Patrick is a biologist by training. Throughout his career, he has channeled this passion to change hearts and minds in classrooms, boardrooms, city halls, legislative assemblies and beyond. He has also developed strong expertise in environmental policy and non-profit management.
At the end of this talk, at the very least, you'll leave as an inspired advocate for clean water!Free tickets will be available here on March 22.

more
Ottawa team





Learn more
Ottawa community




see everyone