Jessica Bellamy shares ways to leverage your curiosity to drive your creativity. She provides practical advice and experiences where curiosity has led her to new creative insight.
About the speaker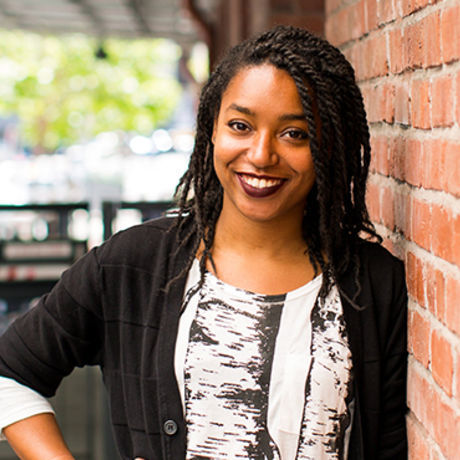 Motion Infographic designer Jessica Bellamy, of Louisville Kentucky, tells visual stories using data and personal narratives. As a Design Justice advocate, Jessica started her design career working with nonprofits and community groups to create compelling explainers that break down complex service and policy information.
Jessica graduated Summa Cum Laude from the University of Louisville (UofL) with degrees in Drawing (BFA), Graphic Design (BFA), Pan African Studies (BA), and a minor in Communication. As a former Neurodevelopmental Science research analyst at UofL, in 2015 Jessica created a business that combines grassroots organizing, research, and information graphics. She named this business GRIDS: The Grassroots Information Design Studio. GRIDS solely works with nonprofits and community groups. To learn more about GRIDS please visit the website: www.gridsconnect.me.
Currently, Jessica is an Adobe Creative Resident. She has traveled around the country teaching creatives how to make information graphics in partnership with nonprofits. During this time she also created two Instagram and Youtube series, Designing From The Margins and A Few Ideas. She also created a design tool called the Infographic Wheel. The Infographic Wheel is a handheld volvelle that helps creatives select a visual layout for any dataset.
Favorite quotes from this talk See all
"

Curiosity is a muscle. — Jessica Bellamy
"

If you find pieces of wonderful things, put them close to you, so they can give you ideas, so they can start feeding you in every moment in your workspace. — Jessica Bellamy
"

It's so important to take ourselves out of our box and to start testing theories, especially in situations that we're not used to. — Jessica Bellamy
"

Curiosity is also about ideation, investigation, even if it means scrolling through Facebook at 4 am. — Jessica Bellamy
"

You need to carve out time to think. I schedule an hour a day, turn off the phone, put your computer on airplane mode, and just be curious. What can you wonder about? — Jessica Bellamy
Photos from this talk See all
navigateleft
navigateright
360

Lovely Attendees







see everyone