About the speaker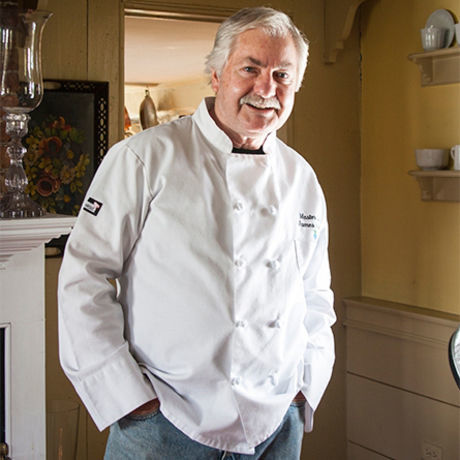 What does the word "flambe" mean to a blind person vs a seeing person? James Haller, a Portsmouth foodie pioneer, has a notion. He will talk about the language of food and what it conjures up in our collective imagination.
The Portsmouth food scene today is well respected, but credit for its first bright light belongs to Chef James Haller and the Blue Strawbery
He was born in a Salvation Army home for unwed mothers, raised by an adoptive stepfather and biological mother in Chicago. He worked for a while as a model, even getting photographed by Richard Avedon. With a natural sense for the comedic, he wrote for Johnny Carson and Merv Griffin among others, but a stint as a comedy writer for "Laugh-In" was cut short. He finally re-located to southern coastal Maine. This heart-rending story is told in his "Salt and Pepper: The Education of An American Chef" book, now available online and at River Run Books in Portsmouth.
As if it were ordained, wonderful things happened quickly at the restaurant when it opened on November 18, 1970. On a cold and snowy night in January, in stumbled six members of the press from The Boston Globe. Because of the storm and cancellations, there was room in the 40-seat dining room. The result — a glowing story with the headline, "For a Great Dinner in Boston Drive to Portsmouth." With a marvelous butterfly effect, media from New York and even Europe were soon extolling the virtues of the creative cuisine at the Blue Strawbery, in lowly Portsmouth, NH. (To put it all in an historical perspective, Alice Waters started her famous restaurant, Chez Panisse, a year later. )
The rest, as they say, is history.
Mr. Haller currently runs a pop up restaurant at The Wellington Room - catch him if you can.
Thanks to Susan Laughlin at NH Magazine - we used excerpts from her article and her wonderful photo for this bio. http://www.nhmagazine.com/February-2015/Chef-James-Haller-Reflects-on-the-Blue-Strawbery/
Favorite quotes from this talk See all
"

Nothing is a failure - it either needs more salt or more sugar. — James Haller
"

What's the difference between a chef and a cook? A cook heats a pan up, and puts a piece of something into it, and they are cooking. A chef adds a glass of wine. — James Haller
"

A cook heats a pan up and adds something to it. A chef adds a glass of wine. — James Haller
51

Lovely Attendees








see everyone