About the speaker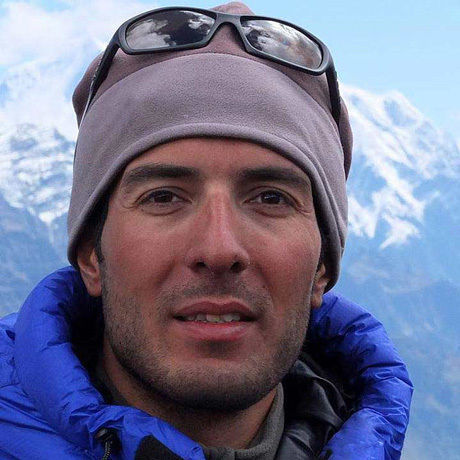 ​Azim Gheichisaz (born 1981, in Tabriz, Iran) is an Iranian mountain climber and the summiter of all 14 Eight-thousanders. He is a member of Iranian national mountaineering team. By 2017, he has successfully completed ascent to all of 14 peaks over 8'000 m, he did all of those ascents without supplementary oxygen, without Hi-porters. Azim successfully completed his 2nd ascent to Mount Everest in 2016, this time without bottled oxygen or Hi-porters. On 19 May 2017, Azim conquers Lhotse at 12:12 in local time. he became the first Iranian who climbing all 14 of the world's 8000 meter plus mountains and also he joined the 8000 club.
عظیم قیچی‌ساز
(متولد ۱۳۶۰، تبریز) کوهنورد اهل ایران است. او تنها هیمالیانورد ایرانی است که توانسته به همه چهارده قله هشت هزار متری صعود کند. عظیم قیچی‌ساز در فاصله سال‌های ۱۳۸۴ تا ۹۵ توانست ۱۳ قله از هشت‌هزارمتری‌ها را صعود کند. در این فاصله وی دو بار و در سال‌های ۸۴ (با استفاده از اکسیژن) و ۱۳۹۵ (بدون اکسیژن) به اورست صعود کرد. سرانجام در ۲۹ اردیبهشت ۱۳۹۶ موفق به فتح تنها قله باقی‌مانده یعنی لهوتسه شد. عظیم ۳۷مین کوهنورد در دنیا است که به عضویت باشگاه هشت‌هزارمتری‌ها درآمد. در بین کوهنوردان صعودکننده به هشت‌هزار‌متری‌ها، تنها ۱۶ نفر در جهان موفق به صعود به همه ۱۴ قلهٔ بالای ۸۰۰۰ متر بدون اکسیژن شده بودند و عظیم قیچی‌ساز توانست نام خود را به عنوان هفدهمین کوهنورد در این فهرست به ثبت برساند.
Favorite quotes from this talk
No quotes yet. Sign in to tag a quote!
115

Lovely Attendees







see everyone