Steve Noss - (Head of Creative @ Cooper Parry )
– Hosted at CMDERBY Zoom
part of a series on Radical
About the speaker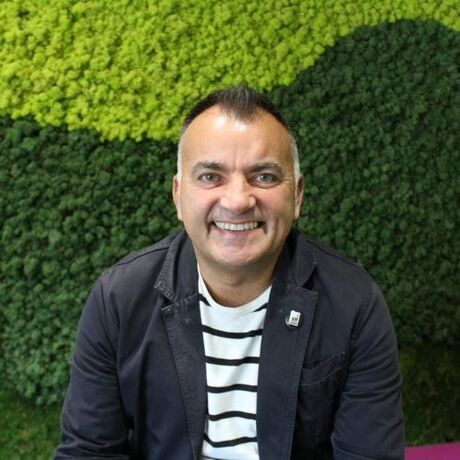 HOW WE LOOK * HOW WE SOUND * HOW WE ROLL
For a creative type, it was always known as the dark side. The forbidding client side. The side I wasn't on. For 30 years I ploughed the entrepreneurial furrow. As the Likeminded creative agency. Then, as a brand consultant. Along the way, there have been adrenaline fuelled highs as well as 'kick in the nuts' lows. And everything in between. I've worked with wonderfully talented individuals (you know who you are) and inspiring clients (ditto). Pretty much, I loved every minute of it. But for the last couple of years I've been on that dark side. And guess what? It's not dark at all. In fact, it's retina-burning bright. I'm Head of Creative at Cooper Parry. The fact that the firm (we're what used to be called accountants) even has such a title speaks volumes. We love to disrupt. We always want to lead. And we want to make life count. Along the way, we help businesses become what they want to be – financially and culturally. At the heart of this is our brand. The way we look, the way we sound and the way we roll. I live it. And I love it.
If you want to know more, I've never knowingly turned down the chance to share a fresh coffee. Luckily, our Cooper Pantry makes a cracking one. In these surreal times, we can even enjoy a virtual one. Join me sometime.
Local partners
We are Future Proof Films - a tight-knit team of video marketing and production professionals who eat, sleep, and dream about creating video content that will blow your socks off and get you real, measurable, tasty results.
We are a printing company based on Pride Park in Derby and we pride ourselves on making professionals look professional, by offering competitive prices, exceptional customer service and spectacular print.
Our 'Customer Reviews' show just a few of our many satisfied customers.
From business cards, brochures and leaflets, through to folders, flyers, banners and promotional items, we can handle anything from conventional full-colour print to some of the most bizarre print requests.
We deliver print all over the UK so, if you need a printer, who will look after you every step of the way, call 01332 418377.
Mainframe is an initiative that aims to bring together a community of digital and creative business across Derby & Derbyshire, enabling real business growth and jobs.
Based at QUAD, we'll be hosting monthly meet-up's covering topics ranging from the inspirational to business growth to the downright futuristic and forward thinking. Whether you're a pre-start up, entrepreneur, growing SME or looking to bring new products to your company or the market in general; Mainframe has something for you.
Mainframe is part of The Big House, a collaboration providing sector specific support across the D2N2 area. The Big House aims to make it easier for digital creative business to understand and access the free help available in the region. Through Mainframe your business can access: start-up support, intensive business coaching, small business workshops, funding, events and networking. Mainframe is receiving £137K of funding from the European Regional Development Fund and is match funded by the Art's Council England.
Our hopes for Mainframe are that it will become a sustainable community of local digital and creative people, sharing their talent, knowledge and inspiration.
We want to put a digital and creative pin in the map for Derby and Derbyshire ensuring that both business and the public appreciate the importance and value of creative business endeavours to the wider local economy and community.
Additional details
In this edition of CreativeMornings/Derby we have the head of creative at one of the most radical brands and businesses in Derbyshire Cooper Parry
Location
Hosted at CMDERBY Zoom
online
Derby, t'internet United Kingdom z00 mmm
When
–