Sara Auster
January 11, 8:30am - 10:00am GMT. Hosted at LABS
part of a series on Surreal
About the speaker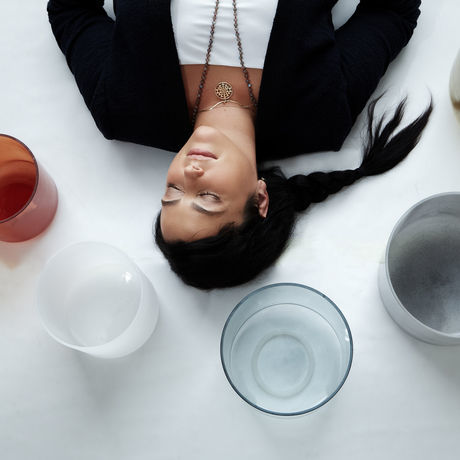 Sara Auster is changing the way the world is engaging with sound and the act of listening. As a sound therapist, meditation teacher, speaker, and artist, she has been a driving force in bringing sound baths to contemporary culture.
Sara navigates the space between science and art as she intertwines the benefits of sound with a musician's gift for creating moments of transcendence. Through carefully crafted live experiences and recordings, she allows sound to be used as a tool to access meditative states, support self-inquiry, cultivate deep relaxation, and inspire meaningful connection and change.
Sara's work in making meditation and sound baths accessible to all, has gained her international recognition as a leading voice in the wellness movement. She has been invited to speak about mindfulness and sound therapy for companies such as Google, Microsoft, and American Express. Sara has facilitated sound baths in public schools, shelters, correctional facilities, and hospitals as well as iconic locations including Lincoln Center and Madison Square Garden, in addition to museums and cultural institutions such as Palais de Tokyo, Mass MoCA, and MoMA.
Her work has been featured in several global media outlets including: The New York Times, Time Magazine, Vice, Quartz, Billboard Magazine and was named a top meditation teacher by O Magazine in 2016.
Additional details
Make sure to bring your own mug or reusable cup to get coffee! We want our events to be more sustainable and free of disposable cups.
—–
Our performer for this month is: Rakaya Esime Fetuga. Rakaya is a poet and creative writer from London. Her work joins conversations on faith, women, heritage and identity. Rakaya won the Spread the Word Poetry Competition 2017 and the Roundhouse Poetry Slam 2018. She has been commissioned by the English Touring Theatre, Bloomberg and Vanity Fair. Rakaya's short story 'Memuna' was published in Token Magazine Issue Three.
Location
Hosted at LABS
Hogarth House, 136 High Holborn
London, WC1V 6PX
When January 11, 2019
8:30am - 10:00am