December Community Minutes
If you want to get in touch with any of our community members below, email london [ at ] creativemornings.com and we'll connect you.

1/ Moustafa
I do fine art and character design and publish it on my Instagram account, check it out here: @mwartgamer_96

2/ Curtis Lewis
A platform called @Dose that focuses on queer poc inclusion in film, telling stories from the intersectional point of view. 

3/ Luke
I'm running a retreat weekend in March 13th-15th 2020 and looking for a yoga teacher, any wellness brands interested in running workshops or partnership, volunteers & anyone interested in coming along! www.downtimeweekend.co.uk

November Community Minutes
If you want to get in touch with any of our community members below, email london [ at ] creativemornings.com and we'll connect you.
1/ Theo
What is Holy Bam Bam? If you know any spiritualist groups/ cults gatherings, I would love to learn more about that world, so please let me know. Cheers.

2/ Clare Barry from Urban Curiosity
I offer training and talks to help people who think for a living bring more compassion, creative courage and effectiveness to their work. I'm looking for new clients and collaborators.

3/ Sam Furness
Running a project called This is what it feels like - exploring an itnersection in patterns in visual design & way we think. Looking for people with experience of negative mental health patterns / pattern design / mental health research 

4/ Anand
Having just graduated, I'm looking for a role within a start-up/social enterprise/project geared towards mental health and spreading compassion. I have experience holding/facilitating events and can deploy creative strategies to bring people together and make things happen. BIG SMILES. BIG HUGS. BIG LOVE.

5/ Cerian
I'm releasing my new single today, which is called "Our Love Is". As an independent artist I really appreciate the support of anyone who wants to listen / buy / stream, and have been so grateful for the Creative Mornings community and their encouragement! Check out my single here: smarturl.it/OurLoveIs

Or on my socials @CerianMusic
6/ Nerissa 
A creative (singer/actor/mental health advocate) new to London looking to meet likeminded people and interested in other creative collectives and jam sessions in London. Living Southwest London. Contact me @nerissakay

7/ Malina Skabas
I am graduating from university and I am looking for a job within marketing or advertising anywhere in the world. My goal is to find an enaging  workplace that encourages creativity and positivity. I am extremely well organized and I work well under pressure.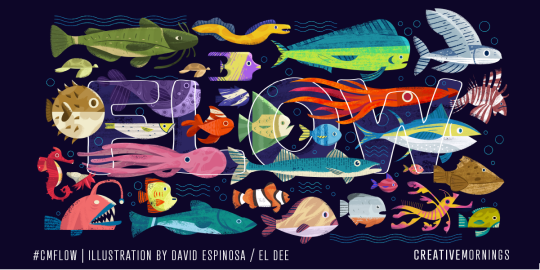 If you want to get in touch with any of our community members below, email london [ at ] creativemornings.com and we'll connect you.

1/ Theo
Videographer for HIRE!!!

2/ Ric Baldock
Surfers Against Sewage: sas.org.uk, marine conservation charity working to protect our oceans. 

3/ Nina Rubesa
Video podcast production & distribution company looking for new clients + looking for companies who are innovating in how they empower their employees to be happier at work 

4/ Veronica Melkonian
WE MAKE MUSIC - for brands, agencies, filmmakers and techmakers across TV, film, ads, apps, content and more. Also always great to meet composers and producers - particularly from diverse backgrounds!! 

5/ Uslan
Looking for someone with commercial interior design exp (could be exhibition/architec /fit out) for a clinet. Also lookinf for an exhibition space in East London for amazing group art show next year

6/ Natalja
Looking for business and individuals that work for social or environmental good, also people form underrepresented communities, to do some graphic design for! 

7/ Gabby
I'm looking for a new side hustle/a new fun creative project and people to collaborate and make great stuff together with. 

8/ Joy
I organise a jam night called Imaginary Millions at the book club in Shoreditch. free entry, good music, good vibes. Everyone is welcome to share. No sign up sheet. No expectations. No judgement. Next one's November 3rd

9/ Ketishia 
Today was my first ever Creative Mornings! I'm a photographer, content creator and hula-hoop teacher! I'm coming to the end of my contact at my current job in creative communications (it literally finishes today), so I'm now looking to collaborate with creatives on new stuff. I will be launching my blog next month around music, art and ethical/sustainable fashion. Let me know if you want to work together! 

10/ Annat
Introducing flow, creativity and relaxation with LegoSeriousPlay workshop
Offering a pilot lunchtime workshop for employees to get immersed in lego explore creativity and RELAX. Last week in November and first week in December
Thank you
If you want to get in touch with any of our community members below, email london [ at ] creativemornings.com and we'll connect you.
1/ Robert W Mason
Call for Subjects - Solidarity portrait series

2/ Richard Falkus
https://www.connectedbyhumanity.com/

Connected by Humanity are passionate about creating spaces for people to connect face-to-face. Could you help spread the word?
3/ Isla Suddek
Looking for passionate friend to join me on my mission to train people to talk to strangers through in-field training and youtube video creations. Want to learn how to coach? Have video editing skills? Get in touch!

4/ James KiTE 
Inviting people to join my project of human connection & social engagment on a weekly basis called IN Person (Exploring Themes Like Worldview / Catharis  & Celebrating Humanity)

5/ Elena/Hellen Uderzo
Tea with Strangers, a community of strangers that gather to share conversations about all sorts of topic. Link: http://www.teawithstrangers.com/

6/ Diana Morales Coello
I am looking to work in quality assessment jobs, related to certification, inspection or testing in London. I have had experience as an auditor and as part of an accreditation body working with ISO standards. 

If you want to get in touch with any of our community members below, email london [ at ] creativemornings.com and we'll connect you.



Deborah Madelaine
Research into starting a business in celebrations and parties
Rebekah Heineke
Babes Balanced. Creates unique events + retreats for fit-curious women. Upcoming event Nude Glow Yoga about body positivity at Ministry of Sound on Thursday 29 th August.
SailFit 4 day Fitness & Wellbeing retreat. 28 th September – 1 st October.

Instagram: @babesbalanced

SailFit retreat: www.babesbalanced.com
Kat Maclennan
Visual Merchandising Consultant, Retail and Window design; looking for work www.dottodot.work @kat_maclennan
Gina Moccio
Get in touch with women entrepreneurs who want to support you in your business journey!
babecrafted.com // @babecrafted
Ashley O'Callaghan
Working with the GLA to explore how we can better use commercial space of new builds in Hackney area. Need creatives willing to be interviewed who rent studio space.
Kat & Katy from Dalton Maag
Typeface Design Studio looking for Junior Graphic Designer, Software Developer and Account Manager. All information and how to apply at daltonmaag.com/jobs
Imaginary Millions
Live Jam Night at the Book Club in Shoreditch. Every first Sunday of the month. 7-11pm. No sign-up sheet. No expectations. No judgement. Come and create with us.
Contact: @imaginarymillions (Instagram)
Stefano Bellucci Sessa
How do you take care of your mental health as a creative person? Let's have a chat over a coffee and share tipsContact: @stefano.studio (twitter/Instagram)
Sara Bender
Turns out, September 20th is the next Creative Mornings! So, why not plan to start your day with us and then join the youth and strike for climate justice.
UKSCN is a group of mostly under 21s who are creating a strong movement – inspired by Greta Thunberg – to mobilise students and send a message that they are tired of being ignored. 
The government declared a climate emergency. The 6th mass extinction is happening now. We're living in an ecological crisis. While these Climate Strikes won't solve the crisis alone, this moment can demonstrate that people are no longer willing to continue with business as usual.  
THE GOAL
Motivate 1 million people in the UK to to step up and strike with the youth on 20th September.
HOW TO GET INVOLVED
Go to https://ukscn.org/ to join your local youth on their strike.
Doodleledo
Doodleledo is be back with another Doodleledo POP UP! Wednesday 11 September 6:30-8:30pm at Coal Drops Yard. 
This time they're partnering up with the most beautiful hand made candle makers in London: Earl of East. Get ready for an immersive multi-sensory evening filled with drawing games, the world of wonderful natural scents, sharpening your senses and letting your creativity fly. 

https://www.eventbrite.co.uk/e/doodleledo-x-earl-of-east-evening-of-bad-drawings-and-beautiful-scents-tickets-62911424765?utm-medium=discovery&utm-campaign=social&utm-content=attendeeshare&aff=escb&utm-source=cp&utm-term=listing

JULY COMMUNITY MINUTES
If you want to get in touch with any of our community members below, email london [ at ] creativemornings.com and we'll connect you.
Camille Deniau
I am working on my art project : @Project.roots on instagram.

I am looking for a new exhibition space, help to make a video and new followers to connect and discuss the project
Travis Mager
Companies that are both excellent AND sponsor visas, ideally in the food/beverage, culture, and art worlds. Copywriting, social media, and digital management roles.

Marie Blandin
Looking for a strategist/planner role in a creative/branding agency

Henry GT Dixon
Looking for a short film producer

Jamie Crawford
Freelance Graphic Designer working in digital, print and branding. So if you have a new company that needs a look and feel then I'm your guy. 

Jim McCarthy-Cheung
I work for healthcare start-up Babylon - it's a great place to work and we're basically looking for any role you can imagine!

Fabio De Sio
I m a courage coach. I work with entrepreneurs who feel stuck and they wants to change their life. I'm a public speaker too and i do talk about diversity, lgbtq and disconnection. 

Vicki Chen
I am a current master student in Organisational Psychology, I have been working as a digital & tech recruiter for 5 years and keen to find a career (not just a job) here in London in a company which appreciates the value of finding right talents as the core

Jack Mann /@whojackmann
Looking for musicians to perform live poetry and spoken word with 

Nathalie Baker
Please save me from conference filming! I'm a freelance videographer looking to take on more creative clients this year - startups, people with a good story to tell, musicians - get in touch if you're looking for video content. I have also just started a group for female videographers to support each other. So if you want to join, drop me an e-mail and I'll add you to the group.

Esme
@EsmeAraresa (Twitter) @vieen.vert (personal instagram)
I've written an eBook called Everyday Wellbeing and I'm bringing it to life chapter by chapter through live demos of the ideas and experiences shared in the eBook. I would love to see new faces for chapter one at Soho House next Saturday! If you're curious about wellbeing, and food beyond diet culture, see you next week. www.beyonddietculture.eventbrite.co.uk

Theo
Videographer. The best videographer. Looking for collaborators and projects to work on!!

Jaz / @justjazco 
The palm podcast" is designed to share 250 stories of personal development and human growth. It is out on all platforms and I am looking for guests to share their journeys. No minimum requirements, if you have a voice and a story to share reach out!

Sheona Alexander
Trustee of Magic for Smiles, doing magic shows for refugee kids in the Middle East. If you would like to help looking for marketing, fundraising help. Magicforsmiles.com 

If you want to get in touch with any of our community members below, email london [ at ] creativemornings.com and we'll connect you.

Alexandra Lunn
Graphic design studio can help with professional skills and expertise 

Theodor Pintilie
Videographer for HIREEE! Happy to help out with artistic videos / corporate and everything in between.



Jim McCarthy-Cheung
The company I work for - Ten Lifestyle Group - is currently hiring a Head of Email Marketing, Email Marketing Manager and Email Marketers

Abby Worth
Wonderbly (personalised children's book company) is looking for a Junior Designer, Content Manager, Dutch-speaking Editor. Lead Analyst, Art Director and Artworker. Lovely creative team and amazing inspiring product!

Esme Ara'resa
One simple way to change the world is to fight food waste. Speak to your offices, local cafes and restaurants about donating their surplus food to apps like "Olio" or "Too Good To Go" and think about sharing your excess food or groceries on them. I volunteer with Olio this way and manage volunteers in my area. It's a great way to learn more about the communities around you!

Marc Mclean
Futerra is a change agency that finds solutions around social and environmental sustainability. We recently relaunched a platform called climate optimist aiming to build a community who are passionate about solving climate change. Future events to be announced via our social medi platform. Insta and tiwer: @futerra and @climateoptimist

If you want to get in touch with any of our community members below, email london [ at ] creativemornings.com and we'll connect you. 
Ioana

Looking for freelance copywriters to write articles for the entertainment industry. It helps if you love TV shows and and listicles
Ariana
Hiring Marketing and Social Media Manager (freelance 1 day a week)

Also scouting rap & spoken word artists for the launch of rapitation: world's first urban music meditation app.
Amelia
Looking for a new role in digital marketing especially social meida, also looking for freelance work in events and social media (let me plan and capture your events)

Erin Mitchell
Conscious Fridays - Yoga and Ecstatic dance event in Brockwell Park on Friday night - no alcohol, no talking, bare feet, bare souls - exploring how we connect to ourselves, each other and nature.

Stefano Bellucci
I wrote an article on how I deal with my own mental health as creative. I'd like to have a chat with other people that have a chat on how they deal with it

Jamie Crawford
Designer, poet, illustrator looking for projects

Shikha Kanakia
Student at London College of Communication.  Looking for a collaboration for my final project around social impact particularly healthcare

Rashmi Shankar
Media and comms student looking for internships - I write, take pictures, love storytelling on social media and places of expression

Crispin Case-Leng
I am in an alternative rock band that is a mixture between David Bowie and Muse, with elements of punk and rap. We would love for you to come to our next show on 15th June at The Monarch in Camden. Also available for bookings and songwriting/music workshops.

Enni-Kukka Tuomala
Make a Rallying cry for Empathy! Join the Empathy Rally on Saturday June 8th at 12-3pm, Campaign for Empathy HQ, RAW Labs, 1-2 Upper Dock Walk, E16 2GU (Closest station: Gallions Reach DLR). Speakers! Poster & Banner making! Music! Food! March for Empathy along the Thames! Follow @akin.kollektiv on Instagram for more info.

Jay Singleton
I'm the producer of a podcast called "We Are `In Beta". We're interested in hearing stories about people who are trying something new in education or if you work with kids and want to share a moment that meant a lot to you.

1/ Adele Stinton
E adele.stinton @tmsw.com
Looking for concept creatives to work on Mcdonald's and adidas and anyone who wants to talk about diversity and inclusion.
2/ Jessica Kate Tweed
E jessicakatetweed @gmail.com
I'm a risk management consultant turned graphic designer looking for opportunities to join a design studio as a junior designer.
3/ Zahra Khamisa
zahra.khamisa @gmail.com
I'm trying to change the world of sport, specifically cricket, by increasing opportunities for women and specifically women of colour with the ECB. Looking for resources and connecting working in diversity in sport.
4/ Anne-claire Fleer
artbyanneclairefleer @gmail.com
I empower women through body painting. Do you want to celebrate your body or unleash your inner goddess? I'm here for you. Please reach out for more information.
5/ Tajwar Aziz
aziz.tajwar @gmail.com
I am currently doing my Master's in Design, Innovation and Service. I am looking to connect with people working on innovation in the social sector with a particular interest in issues of healthcare mobility and issues that affect women.
6/ Craig Anderson
craiga @craiga.id.au
Free coding workshop on 11th May for Women — djangogirls.com/london
7/ Faisa Mohamed
faisa_mohamed @aol.co.uk
Looking for Operations/Project Management/Strategy/Planning roles in the creative and tech industry. Anything to do with organising processes, projects or understanding people I'm your gal! ALSO hosting Special Guest (@specialguestldn) 30th April Hackney Wick, Grow.
8/ Teresa Eng
teresatakesphotos @gmail.com
I'm a photographer who specialises in commercial, business and personal branding photography. My background in communication design gives me an understanding of branding and marketing needs. See more www.teresatakesphotos.com
9/ Lawrence Tijjani
lawrencet @happy2host.com  
I am starting social enterprise working with young adults from disadvantaged backgrounds and disengaged students. Looking for people to help run workshops.  www.justaguytryingtomakeit.com
10/ Beatrice Kabutakapua
balobeshayi @gmail.com
A message to all of those who are passionated about video production and migration and want to change the narrative disseminated by mainstream media but also want to include more people with a migratory background in fiction. I am looking for people who would like to collaborate in shaping a media production company solely focussed on migration and run by people with a migratory background: you could be a producer, filmmaker, sound designer…
11/ Dan Scott
dan.f.scott @outlook.com
I'm a pharmacist/writer looking to build a community or platform (still very much at the ideation stage) for people to share their health stories and prove that they are not a statistic. If you want to share your story confidentially or join me on the journey, hit me up!
12/ Theo
theodor.pint @gmail.com
VIDEOGRAPHER TO HIREEEEE. Any project, from an idea, to the finished video.
13/ Hannah Fiddy
hannah.fiddy @alternativeclassical.co.uk
New agency and blog about innovation within classical music, showing all the exciting and creative ways classical music is being presented. Go to alternativeclassical.co.uk/blog for event recommendations
How to change the world in 3 ways
#1 Join the Good Hood! https://www.facebook.com/groups/sistergoodhood/?ref=share
#2 Routinely report hateful content on social media
#3 support non-binary recognition in legal documentation!
https://petition.parliament.uk/petitions/240636



1/ Andy
Design Academy, teach teenagers how to become agents for change. Cheltenham Design Foundation - design and education charity promoting the benefits of creativity and design. We run the Design Academy - a free saturday design school for teens and a design festival which explores how design is essential to society. Find out more instagram @cheltdesignfoundation Festival - cheltdesignfestival.org
2/ Ariana
E ariana@ sweatandsound.com
Sweat & Sound (sweatandsound.com) - we do epic, live music, story-driven wellness experiences.

Would love to see CM community at our event on Tuesday Jan 26th - Journey to Mars (booking link: www.sweatandsound.com/journeytomars) - use code CMLONDON for 30% off tickets.
Also in urgent need of a programmer! Email me!
3/ Stefano Bellucci Sessa
E hello@ stefano.studio
I'm looking for people that want to help me (and be helped) to go zero-waste! Contact me or join the meetup "Eco-friends".

I also started turning non recyclable items into art pieces. If you have toothbrushes, deodorante and other packagings that you can't recycle, contact me on instagram at @stefano.studio and I'll turn them into art pieces for you :)
4/ Natasha Blok
E Natasha.Blok @hotmail.co.uk
I would love some friendly help to get a website off the ground (just helping know which platform, host etc to use as there are so many options out there it's bamboozling!), I run @toucantoo_ and will be launching more happiness tours, creative adventures, playful workshops and positive coaching and would love to have a professional site to showcase it all. Thanks!
5/ Mei-Ling Chin
E principlecore@ gmail.com
I am looking to run mat pilates courses at co-working spaces, companies or agencies. If you know teams that would be willing to host or offer classes for their teams, get in touch! Everyone knows a little movement during the day goes a long way x
6/ Anthea Kolitsas
E anthea@ projecthappynote.com
A 3 month gift series to brighten your loved ones day during a dark time in life. Sparks  conversation and provokes positive habits.  If you know someone who is going through someone difficult and want to brighten their day please get in touch to help start spreading some happiness and positivity. You can also follow us on instagram @projecthappynote. We look forward to hearing from you! xx
more
London team









Learn more
London community








see everyone