Naomi Shihab Nye - Starting with Trouble: Stress & Creativity During Pandemic Times
– Hosted at Your Home or Office
part of a series on Stress
About the speaker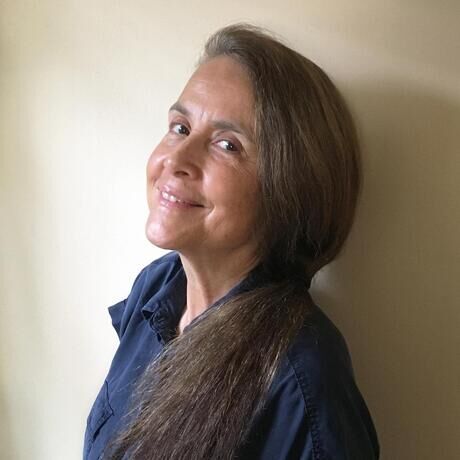 Naomi Shihab Nye is the Young People's Poet Laureate of the United States (Poetry Foundation). She is also the poetry editor for the New York Times magazine.
Author or editor of more than 30 books, she has conducted writing workshops all over the world during her adult life. She is currently on faculty at Texas State University.
She thinks, as did her mentor William Stafford, we are all poets when we're little and "some of us just try to keep up the habit."
Local partners
Pamela Martinez is a Reiki master, educator, multi-instrumentalist and composer who creates music under the moniker Teletextile. Her "Björk-like" sound (The Boston Globe) moves from vocal layering and "electronic wizardry" (Metronome Magazine) to "dense, stormy guitar, piano, and electronics" (Time Out New York). Martinez has toured extensively in the US, Europe, the UK, and Asia. As a genre-hopping performer and musician, Martinez has performed violin at Carnegie Hall with a Carnatic Indian music ensemble, sang in San Francisco's historic Fillmore Theater and takes part in performance art happenings in New York City. Her most recent directing and performing credits include Whisperlodge. The New York Times dubbed Whisperlodge "an unusual mix of theater and therapy" and has been featured in BuzzFeed, The Atlantic, Netflix and more with acclaim. Martinez passes on the craft of music to her community by teaching Reiki, violin, voice, piano, guitar, music theory and sound meditation to all ages and levels of students privately and at community education centers most recently as faculty at Brooklyn Music School, sound bath practitioner at Maha Rose Center for Healing (NYC) and Unlimited Thought Life Enrichment Center (SATX).
TEKsystems supports interactive, creative and digital initiatives for clients ranging from digital agencies to Fortune 3000 companies by supplying skilled design, development, functional and marketing technology resources and solutions. As TEKsystems, we thrive at the intersection of technology and marketing thru providing resource-based solutions in the Digital, Creative, and Interactive space. Our San Antonio team specializes in providing local solutions with the backing of a national footprint ranging between web/mobile development, design, content strategy, and marketing technologies.
Estate Coffee Company is a small batch, craft coffee roaster and espresso bar in downtown San Antonio, Texas. We believe in sourcing the best coffee and ingredients for our beverages by working with family-owned importers and local food purveyors. We try to promote transparency by having the roasting and brewing methods front and center in our 1,200 square foot space with seating for you to watch and feel involved with the coffee roasting process.
Additional details
Hi CM community! We'll be virtual again this month!
We will be coming together via Zoom. Look for e-mails the night before and morning of the event for link. If you're new to Zoom, you'll want to sign up for a free account ahead of time.
And don't worry, you'll join on mute with your video off, but we hope you'll turn that cam on and show us your smiling faces!
See you soon for virtual coffee and high-fives!
Location
Hosted at Your Home or Office
.
San Antonio, Texas United States 78212
When
–