Michelle Nahanee
September 7, 8:30am - 10:00am PDT. Hosted at SFU Woodward's — Goldcorp Centre for the Arts
part of a series on Chaos
About the speaker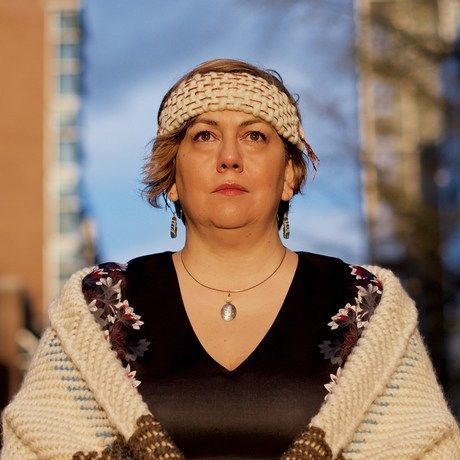 Michelle Lorna Nahanee is an Indigenous innovator and change-maker from the Squamish Nation. She grew up in Eslha7an, and then East Vancouver, and works within the intersection of class, race, culture and creativity. She is the founder of decolonizingpractices.org and the designer of a life-size board game and workshop called Sínulhkay and Ladders. As a communications consultant and graphic artist, Michelle has worked on social justice projects for First Nations organizations across Canada and also within her own Nation. From health promotion to gender equity, Michelle's collaborations have influenced opinions, changed behaviours and mobilized community action. She is a supportive leader who is most comfortable behind the scenes—contributing to projects that improve First Nations realities for the last 20 years. Michelle recently completed a Master of Arts in Communication from Simon Fraser University where she wrote "Decolonizing Identity: Indian Girl to Sḵwx̱wú7mesh Matriarch." She concluded her research with a call to dismantle academic barriers to decolonizing practices. Michelle is also the Board Chair of Kwi Awt Stelmexw, a Squamish arts and education organization.
Additional details
Tickets are always free. Waitlist registration for our ticket lottery opens Fri, August 24, 2018 at 11am.
Due to popularity causing tickets to sell out too quickly, we use our waitlist as a registration system (please register only once) from which we randomly award tickets using a lottery system. We find this approach to be the fairest and equitable and appreciate you playing along. Lucky ticket winners will be informed by email.Don't panic if you don't get a ticket this month, priority is given to those who get stuck on the waitlist two or more months in a row. If you get a ticket but cannot attend, please release your ticket ASAP so someone on the waitlist can join us. Remaining applicants will remain on the waitlist and informed if tickets get released and offered access to FieldTrips when available.
Anyone who hasn't checked in by 8:45am on morning of the event forfeits their ticket, so come early and have a coffee and breakfast with us!
Location