Meg Wise
April 27, 8:30am - 10:00am EDT. Hosted at Center / Architecture + Design
part of a series on Game
About the speaker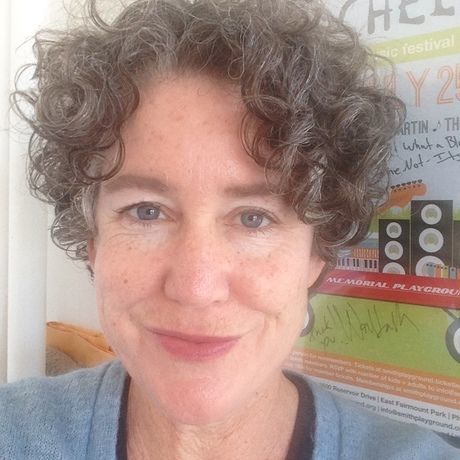 Meg Wise moved to Philadelphia from Arizona in 1991 to attend graduate school at the University of Pennsylvania. After completing a PhD in Comparative Literature in 1996, her love for the city and passion for making things better drew her to the nonprofit sector. In 2011 she was named Executive Director of Smith Memorial Playground and Playhouse, a beloved 118-year old resource for families located in East Fairmount Park. Smith's mission is to provide and promote opportunities for unstructured free play for children. Smith contributes to the development of healthy children, strong families, and safe communities by offering free admission for families; partnering with community-based organizations to reach a diverse audience; and advocating for the importance of play.
Meg's priorities at Smith have been to strengthen the organization's infrastructure and impact by leading the development of new community-based programs. In just a few years Smith more than doubled its staff size, budget resources, audience, and representation from nearby North Philadelphia neighborhoods. Today staff and board are working toward goals identified through a strategic business plan process to enhance visitor programs, continue to develop community connections with families in nearby neighborhoods, and raise money for a $13.5M capital campaign to restore and expand Smith's facilities. Prior to Smith, Meg held leadership roles at the Fleisher Art Memorial, the Philadelphia Education Fund, and The Philadelphia Foundation.
Local partners
Born in Philly in 2012, serving farm-to-fork stir fry, salads, smoothies + honeybars grown as locally as possible to give you 100% wholesome deliciousness.
Adobe's Creative Cloud team hosts an inspiring two-part UX design experience that demonstrates and celebrates creativity on April 30 at Temple University. This event features talks with local creative professionals and a 3-hour design charrette showdown using. Register to join the fun!
Additional details
In this talk, Meg Wise will share an overview of Smith Memorial Playground, explain the importance of play, and explore free-range parenting and other topics.
Location