Leon Ford
June 30, 8:30am - 10:00am EDT. Hosted at City of Asylum @ Alphabet City
part of a series on Survival
About the speaker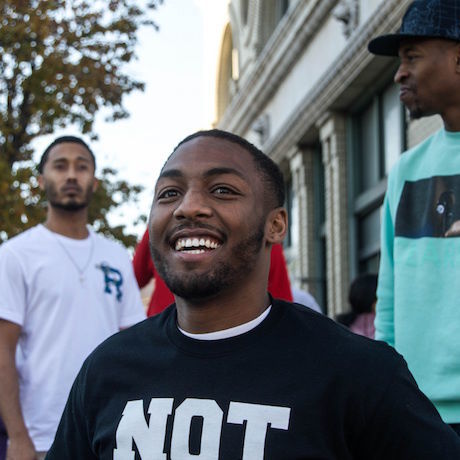 "A story is only as powerful as the people it touches. Leon Ford born in Pittsburgh, Pennsylvania March 16th, 1993 has an amazing story that has reached countless individuals around the world. He has a testimony that instills hope into all, transcending age, gender, race, and even political and religious beliefs.
He is a living embodiment of courage, using his story as a catalyst for a change. One day he was a teenager with his whole life ahead of him, and in one instant, his life changed for forever. A victim of police brutality, Leon's encounter with law enforcement led to him being shot five times at point-blank range, resulting in paralysis. Leon is the voice for so many who are now voiceless because they lost their lives to police brutality. He also uses his voice as an advocate for peace, literacy, mental health, trauma, violence, spinal cord injury research and many other issues. In this endeavor, Leon has taken the task of healing wounds by courageously addressing that they exist and by providing solutions to these severe issues all while using his influence to promote positivity.
When most people could have held on to hate and resentment, Leon Ford chose to live his life with a new resounded purpose. Leon is a student, father, writer, community activist, motivational speaker, mentor, advocate, and artist. His mission: to educate and to heal communities. Leon has spoken across the country, and in doing so, he has garnished a following that also extends internationally. In his resilience, Leon Ford has turned a tragic story into a testimony of love, compassion, and understanding. His story serves as an inspiration to millions of people around the world."
Local partners
The Sprout Fund enriches the Pittsburgh region's vitality by engaging citizens, amplifying voices, supporting creativity and innovation, and cultivating connected communities. Founded in 2001, Sprout facilitates community-led solutions to regional challenges and supports efforts to create a thriving, progressive, and culturally diverse region. With strong working relationships to many community organizations and regional stakeholders, The Sprout Fund is one of Southwestern Pennsylvania's leading agencies on issues related to civic engagement, talent attraction and retention, public art, and catalytic small-scale funding. Learn more and get involved at sproutfund.org.
City of Asylum @ Alphabet City is a hub for Pittsburgh's readers and writers, jazz and small-scale music and performance, and artistic experimentation. It is a home for diverse voices from around the globe—a place where Pittsburgh meets the world and the world meets Pittsburgh. And it is also a home for many partnering artists and organizations in our own community.
By establishing a safe haven for writers and artists who voice ideas that are new, different, or provocative in a diverse urban community, we encourage new lines of communication, cultural exchange, and collaboration. Sharing one another's narratives can transform the lives of both residents and artists and combat intolerance and exclusion.
Location