Valley Haggard shares how words have impacted her life and how sharing her love of writing is impacting the lives of many more.
Videography by Miles Coulton-Thompson - www.barkingironmedia.com
About the speaker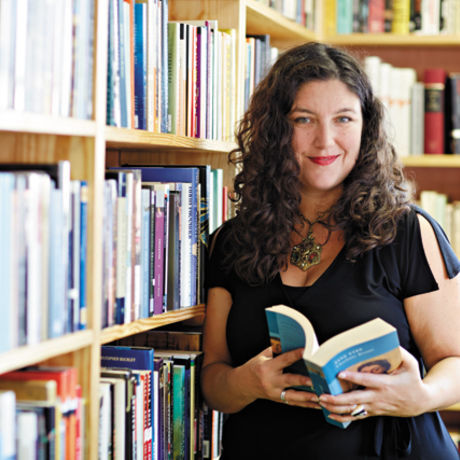 Q&A with VALLEY HAGGARD By: Molly Hunter Korroch
Last Friday, the fabulous and gracious Valley Haggard agreed to be the guinea pig for our first ever CreativeMornings RVA Q&A. Valley is a local writer, founder of Richmond Young Writers, and curator of creative writing website Life in 10 Minutes. Most recently, she published The Halfway House for Writers—a concise and creative handbook for anyone seeking some guidance in writing or in life. The backdrop for the interview was her hangout—Stir Crazy Cafe on MacArthur Avenue. Her red cowboy boots and curly brown hair made it easy to imagine her working on the Colorado dude ranch of her youth (yes, she really did work on a ranch).
What did you have for dinner last night?
Valley Haggard: My husband (Stan) made shepherd's pie, which we call "glop." Actually, Stan told me that shepherd's pie was a favorite of David Bowie's, so we had a tribute meal.
Before I forget, where on earth does the name "Valley" come from?!
VH: My parents met in the Shenandoah Valley. So. Valley. Actually, I have six legal names! My parents named me Valley Jane Cecelia Yane-Smith. So, I was Valley Yane-Smith. And then I married a Haggard, which I was dubious about at first, but now I love it. Even if he left me I'd keep it!
So, if you could've had dinner with anyone last night, who would you pick?
VH: Tom Waits and Leonard Cohen! It's on my bucket list to meet them. They're such writers!
And where would you take them around Richmond?
VH: I'd take them to Hollywood Cemetery. And the river. And we'd go on a walking tour through all the alleys and churches of Richmond. (Actually, I'm Jewish, so I don't know the churches very well. We could explore them together! And they'd bring their guitars, of course.)
How long have you lived here?
VH: I was born in Richmond at MCV! In fact, I live in the house where I grew up. I went to Sarah Lawrence—I was just weird enough to get in. Then, I graduated and went to work on a dude ranch in Colorado. Then at a hotel in Arkansas. And then I worked as a stewardess on a cruise ship in Alaska before coming back to Richmond where I was the book editor at Style Weekly for seven years.
What's the last book you finished reading?
VH: There are two. First is The Chronology of Water by Lidia Yuknavitch— it blew my head off. It's a memoir. Actually, the author was in a writing group with Cheryl Strayed.
And the second?
VH: Fun Home: A Family Tragicomic by Alison Bechdel. It's a graphic novel about growing up in a funeral home.
What's a book you think everyone should read for fun?
VH: Our Tragic Universe by Scarlett Thomas. It's about a journalist who enters into a supernatural world, and it's amazing. I first read it five or six years ago—I was in a loosely organized book club called "Why do Bad Girls Love Good Books" or maybe it was "Why do Good Girls Love Bad Books"? I can't remember, but someone from book club recommended it.
As a professional writer, what's something you hate writing about?
VH: There are things I hate living through more than writing about. In fact, the writing is a relief. But, in the actual realm of writing—I cannot do analytical writing anymore. You might as well put an ax in my head. Actually, when I'm writing I try to go right into the heart of what I hate. It brings relief!
What are you most proud of?
VH: I've taken some creative risks that were really scary for me, but each time I've taken a creative risk I've fallen into a net of community. There are always other people who can relate or understand in ways beyond my imagination. A lot of community has been fostered through creative risks. I'm proud of that.
What are you most excited about right now?
VH: I'm excited about my Life in 10 Minutes memoir (a memoir written in ten minute increments), curating submissions from the Life in Ten Minutes site, and the expansion of Richmond Young Writers.
Where do you go for inspiration in Richmond?
VH: The river. The buffalos at Maymont—for some reason I feel like I have a connection with the buffalos there. I also love to go to bookstores.
What makes you creative?
VH: Honestly, being in a lot of pain or uncomfortable because then I have to express it. Hitting rock bottom has been the starting point for a lot of my creative projects. I was lucky to have parents who were self-employed and modeled the self-employed creative lifestyle to me. At times it's been scary, but Writer is a job! Artist is a job! It's not just a whackadoodle crazy loony tunes thing to do! For me, creativity is connection.
Thanks Valley!!
Photo by Sarah Walor via Richmond Magazine
Valley Haggard has written in long form and short form all her life and has always been enamored by all things word. She has been a Waffle House waitress, a cabin girl on a dude ranch in Colorado, a cruise ship stewardess in Alaska, a hotel maid in Arkansas and a book editor in Richmond, Virginia. She has written book reviews, author interviews and a first person column, organized fiction contests, judged fellowships and for four years was an active member on the board of the James River Writers.
After founding Richmond Young Writers in 2009 with the aim of sharing the joy and craft of creative writing with young people through year round workshops, Valley began leading creative nonfiction marathons, workshops and retreats for adults in 2010. In 2014, she was instrumental in opening The Writing Room, a dedicated writing space next to Chop Suey Books in Carytown. The recipient of a 2014 Theresa Pollak Prize and a 2015 Style Weekly Women in the Arts Award, she is the creator of the online literary magazine lifein10minutes.com and her first book, The Halfway House for Writers, was published in October 2015. Valley now lives with her husband and son in the house where she grew up in Richmond, Virginia.
www.lifein10minutes.com
www.valleyhaggard.com
www.richmondyoungwriters.com
Favorite quotes from this talk
No quotes yet. Sign in to tag a quote!
Photos from this talk See all
navigateleft
navigateright
211

Lovely Attendees




see everyone