Kathryn Flynn
July 27, 8:30am - 10:00am EDT. Hosted at Zibi
part of a series on Intention
About the speaker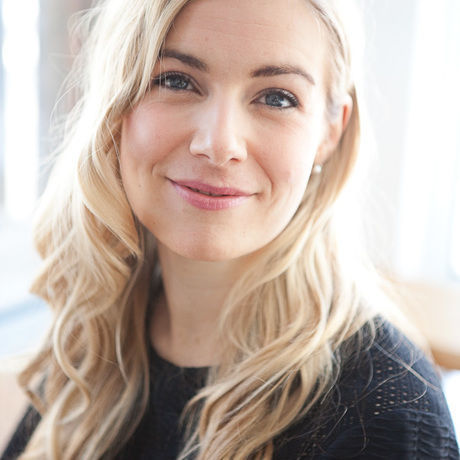 Kathryn Anne Flynn was in brand marketing for some of the world's biggest brands, until a twist of business-fate led her to becoming a full-time yoga teacher. Her completely unintentional shift in career gave rise to heightened self-awareness, kindness, and greater calm–and not just because of the stretchy wardrobe.
Living with intention is about balancing the ability to be personally powerful and a powerful force for good in the world. This talk introduces you to these ideas, exploring how the journey inward is critical to being intentional in your outward actions. No yoga pants required.
Kathryn Anne Flynn is an old soul—a smart, warm, and occasionally humorous Ottawa yogi, recognized for her articulate and thoughtful voice in writing, podcasting, and teaching on yoga and meditation. Kathryn is known for weaving together philosophy, anatomy and Ayurveda (yoga's lifestyle science) to illuminate the complexities of these fields for practitioners and teachers alike. Students of many generations call her their teacher, drawn to her inclusivity and authenticity.
Local partners
Additional details
CreativeMornings is a monthly breakfast lecture series for the creative community with chapters in over 185 cities around the world. Each month we host an event that is always on a Friday, always in the morning, and always free. We provide coffee, a light breakfast, and a 20-30 minute presentation from a local creative person on the global CreativeMornings theme for that month.
Event Schedule:
8:30 AM - Doors open
8:30 - 9 AM - Check in, enjoy breakfast
9:00 AM - Talk begins
9:30 AM - Q&A with speaker
9:45 AM - Audience takes the stage
10:00 AM - Off to work!
About the theme:
If you look closely, you can see the intention behind the action, a project, or a sassy tweet.
Intention is palpable. A hand-written thank you resonates in our hearts more strongly than an email. One person standing for something pales in comparison to a community fighting for something. Beautiful work is not on accident. Beauty grows from the seed of a clear intention.
How do we get better at setting clear intentions?
The same way we improve at anything: with practice, self-awareness, feedback from friends, and learning how to show up more wholeheartedly.
This month's global exploration of Intention was chosen by our Nashville chapter, and illustrated by Nik Daum.
Public Transit: Existing bus lines serve the site, with stops along Eddy and nearby transit hubs at Terrasses de la Chaudière and the War Museum serviced by both OC Transpo and the STO.
Cycling: Bike parking is available, with nearby NCC cycle networks in both Ottawa and Gatineau.
Parking: The site is easily accessible via Booth or Eddy Street, and parking will be available although perhaps limited while availability is contingent on construction at the time.
Accessibility: Venue is accessible although bathrooms do not have power operated doors.
Location
Hosted at Zibi
6 Booth Street
Ottawa, Ontario K1R 6K8
When July 27, 2018
8:30am - 10:00am