Kate Bornstein
June 23, 8:30am - 10:00am EDT. Hosted at BAM Fisher (Fishman Space)
part of a series on Survival
About the speaker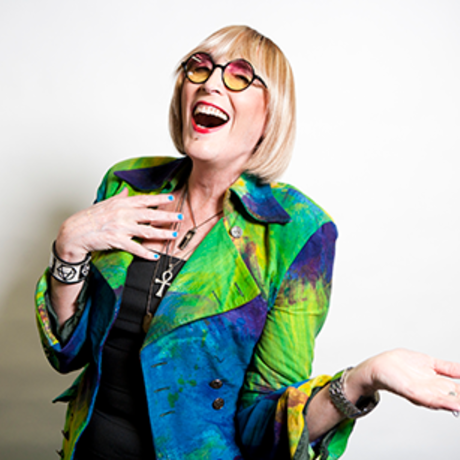 KATE BORNSTEIN is an author, playwright and performance artist whose latest book is "Hello, Cruel World: 101 Alternatives To Suicide For Teens, Freaks, and Other Outlaws."
Other published works include the books "Gender Outlaw: On Men, Women and the Rest of Us"; "My Gender Workbook"; and the cyber-romance-action novel, "Nearly Roadkill," with co-author Caitlin Sullivan. Kate's plays and performance pieces include Strangers in Paradox, Hidden: A Gender, The Opposite Sex Is Neither, Virtually Yours, y2kate: gender virus 2000.
Kate's books are taught in over 120 colleges and universities around the world; and ze has performed hir work live on college campuses, and in theaters and performance spaces across the USA, as well as in Canada, the United Kingdom, Germany, and Austria. Ze is currently touring colleges, youth conferences and high schools, speaking and leading workshops on the subjects of sex, gender, and alternatives to teen suicide.
Kate was born outside of Fargo, North Dakota in a log cabin ze helped hir parents build. Hir father was a Lutheran minister, and hir mother was Miss Betty Crocker, 1939. Kate has lived in the queer ghettos of Philadelphia, San Francisco, and Seattle. Ze currently lives with hir partner–sex pioneer, writer and performance artist Barbara Carrellas–in New York City, along with their pug, three cats, and turtle.
Photo credit: Santiago Felipe.
Local partners
Additional details
---
Sign interpretation available
We're having a volunteer sign interpreter this month! Canara Price volunteers in the deaf community as an interpreter for civil rights organizations, churches, and several schools and agencies. She is the founder and executive director of People's Theatre, Inc., a non-profit organization exposing under privileged communities to the performing arts. She has produced and/or directed over 40 productions with this company. She is also an award winning producer and director as well as a member of Black Deaf Advocates, the SAG/AFTRA, National Association of Black Journalists, Delta Sigma Theta Sorority, Inc., and the National Council of Negro Women.
If you'd like to invite members of the the Deaf and hard of hearing communities, get in touch!
Music!
We're in for a special treat this month!
Talented musician and friend of CreativeMornings, Larry Legend will perform a song before Kate's talk. Take a listen to Larry's music beforehand here. You can also follow Larry on Twitter, and Instagram.
Do you want to play a future CreativeMornings/NYC event? Apply here.
Location