Ivan Vazquez
September 25, 8:30am - 10:00am CDT.
part of a series on Spectrum
About the speaker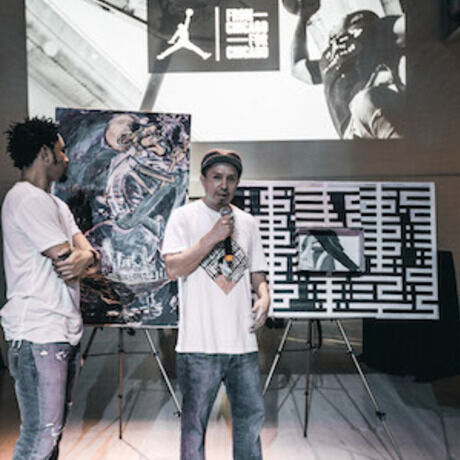 Ivan Vazquez is a Mexican American visual artist born and based in Chicago, Illinois. Ivan's work inspires reconnecting with your indigenous spirituality. Self-taught, his work embodies Realism, Surrealism, Linear artwork, Pop art, Portrait, and Modern abstract expressionism. An artist of the times, Ivan's work itself—controversial, yet progressive—questions social structure and the effects of this structure on modern-day society. Ivan's work has been featured in local grassroots community shows and sponsored events ranging from the Jordan Brand (From Chicago for Chicago), Don Julio Tequila (Galeria 1942), Mountain Dew (NBA Courtside Collection), Red Bull Music Academy, the NBA, Pepsi, and Toyota. Reimagining traditional Chicano/Aztec art, his pieces celebrate modern-day descendants and reconnecting/harnessing the energy that comes with it. Come take a look into the past, present, and—most importantly—the future with visuals from Ivan Vazquez's budding collection "Aztec Boys 'N' the Hood."
Ivan shares, "I lost a few brothers due to the senseless violence Chicago is known for. I stored it away for over 15 years until I came across an 8th-grade photo of them and had an epiphany. My art became a way to grieve and at the same time heal. It's my way to pay tribute to them. My mission is to empower/educate youth with positive and relatable alternative lifestyles. The representation of music, Chicago, and hip-hop culture in my work reflects what saved my life and my need to give all that love back to the community."
Describing his work, Vazquez says, "My paintings are a reflection of how it feels and looks growing up Mexican-Chicagoan in the city—the beauty and brutality the city is known for. My art embodies the four seasons and the need for balance in a city where if you don't stay grounded you get swept away. A representation of being a product and being partially raised by the artist community. My subjects are often very young and don the masks of Aztec/Zulu and indigenous warriors and gods. The characters represent modern-day warriors and who we are as a people. Una raza guerrera (a warrior race). The visuals are meant to empower, unify, inspire, and educate. My goal is to preserve and contribute to the culture and represent the misrepresented."
Follow Ivan on Instagram @thechicagolago.
Local partners
Additional details
📺 Tune in on Zoom
All registered attendees will receive two reminder emails with the information you need for Friday's event.
(Check your spam folder: Don't see an email from us closer to the event time? Please be sure to check your spam folder.)
When September 25, 2020
8:30am - 10:00am