Ian Cromwell speaks on the changes and ways to start your creativity
Ian's life comes in many areas where he has had to hit the 'Restart Button' with his education, career and musical backgrounds. With his life experience, his talk is captivating, entertaining and draws you right in with this months Creative mornings presentation.
About the speaker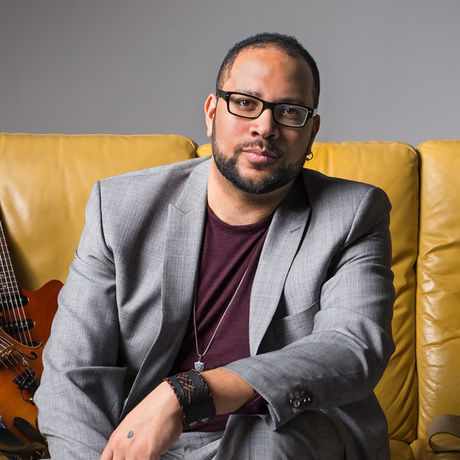 Ian Cromwell is a man who is easily bored. Born in Vancouver but spending half his life in Ontario, Ian's pursuit of distraction led him down two very separate paths. By day Ian is an academic whose research interests center on the economics of health care. By night Ian is a regular feature on stages within Vancouver's music scene both as a solo looping rock and soul artist, and as the fiddle player for saloon-folk band Jack Mercer & The Whiskey Bandits. For the previous two years, Ian has been host and curator of Locals Lounge, a live interview and performance series devoted to exploring Vancouver's underground indie music scene. Ian tweets under @Crommunist.
How do you define creativity and apply it in your life and career? Creativity is being able to turn your ideas into something tangible. In my academic career that usually means finding practical and reliable solutions to difficult problems. In my music career that means using sounds and musical idioms to convey a mood. In my life outside that it's about just trying to be a better and more constructive person every day.
Where do you find your best creative inspiration or energy? Boredom is an extremely powerful motivator for me. I get very restless very easily, and even in my downtime you can typically find me tinkering with 4 or 5 different things at the same time. It leads me down a bunch of different trains of thought, which I am periodically able to sit still long enough to stitch together into actual productive work.
What's one piece of creative advice or a tip you wish you'd known as a young person? Be a kind and responsible person - it's not 'creative' per se but it will take you very far in life and it's great for your self-image. Aside from that, look really hard at why you do the things you do the way you do them. Actions speak louder than words, and we can learn a great deal about what motivates others and ourselves by looking at the actions we take rather than the things we think we believe. It will help you find better ways to create.
Who (living or dead) would you most enjoy hearing speak at CreativeMornings? Janelle Monae or Kurt Vonnegut.
How does your life and career compare to what you envisioned for your future when you were a sixth grader? From the time I was 12 years old until I was halfway through my undergrad, my plan was to grow up to be Frasier Crane. I wanted the call-in radio show, the cool apartment, the wisecracking coworker… the whole deal minus Niles. I'll be Dr. Cromwell sometime next year and I host a music interview show so parts of that dream are still alive.
What books made a difference in your life and why? This is a terrible answer, but "The Fountainhead" by Ayn Rand. In between the bats**t nonsensical appeals to rampant self-adulation, there was actually the core of a good point about the nobility of having a strong sense of yourself and your motivations, and being honest to yourself and others about why you're doing things. It's a really badly-written book that nonetheless gave me some pretty helpful ideas when I was quite young.
Favorite quotes from this talk
No quotes yet. Sign in to tag a quote!
198

Lovely Attendees






see everyone