Gibbs Rounsavall, an artist and teacher, shares his creative journey and the importance of being a serendipitous learner.
About the speaker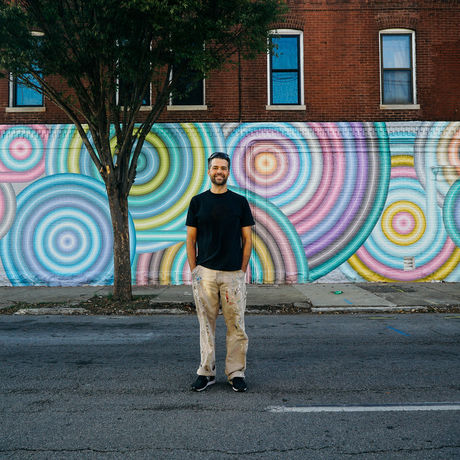 My name is Gibbs Hanson Rounsavall. My parents named me after my maternal grandmother, Julia Gibbs, the first artist I knew. I love my name and it's origin. People often make the comment, "Your name sounds like an artist's name." I suppose my parents experienced a sort of prescience back in 1975 when they chose my name because I set out on this path at an early age.
I have loved to draw since I was in first grade, doodling stick men fighting dinosaurs on the margins of my worksheets. However, it wasn't until I was in 3rd grade that I began to think of myself as an artist. Having uncovered a stash of old 60's Playboy Magazines (there's a longer story there), I began drawing anatomically accurate nude studies.
My early studies of the human form made for a natural step into the world of comics, which to be more accurate was more like a diving head-first into that world. This period was instrumental in training my eye to "see" and honing my ability to reproduce my surroundings onto a two-dimensional surface. I look back on these early teen years as the beginning of my fascination in world building, vibrant colors and eye-popping imagery.
I went on to attend art school, graduating in 1998 from Washington University in St. Louis with an Illustration degree…and little interest in an Illustration career. I just wanted to paint and draw. It was at this point; I made the conscience decision to commit to my studio practice. I have kept a rigorous studio discipline of waking early and working every day, reading about art and artists and experimenting with various techniques and mediums. There is never a lack of inspiration and there is always work to do.
Favorite quotes from this talk See all
"

Art effects everyone in a different way. — Gibbs Rounsavall
"

This was a result of my conscious choice to believe in something, rather than nothing. — Gibbs Rounsavall
"

Wabi-Sabi: Japanese aesthetic that values imperfection. Find the value in mistakes. Embrace "Happy Accidents." — Gibbs Rounsavall
"

Pursuing the chance to find the potential in something makes it easier to find the potential in everything. — Gibbs Rounsavall
"

Pursuing the chance to find the potential in something, makes it easier to find the potential in everything. — Gibbs Rounsavall
Photos from this talk See all
navigateleft
navigateright
352

Lovely Attendees






see everyone