Emmett Soldati
August 23, 8:30am - 10:00am EDT. Hosted at The Music Hall Loft
part of a series on Justice
About the speaker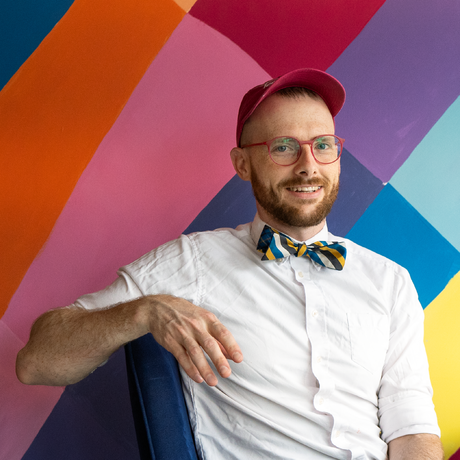 When You Give a Kid a Camera
How the power of storytelling and a VHS camcorder transformed the criminal justice system in New Hampshire.
Emmett Soldati is a known community organizer, activist, and entrepreneur in his hometown of Somersworth, New Hampshire. But that wasn't always his plan. After the gift of a VHS camcorder at a young age, Emmett became fascinated by movies and the power of storytelling to change the world. He saw film and video as a one-way ticket out of the sleepy and conservative communities of New Hampshire.
Years later, that same interest in storytelling would draw him back to tell another story – one of his father Lincoln's legacy of criminal justice reform that he'd never learned growing up. As one of the longest serving County Attorneys in New Hampshire, Lincoln Soldati's greatest achievements relate to the work he did to support victims of sexual assault. Like Emmett, Lincoln used the power of storytelling and video to put together a new and groundbreaking approach to support sexual assault victims who were often re-traumatized by the criminal justice system. In 2018, Emmett used his videography and narrative skills to write, direct, and edit Victim Witness, a mini-documentary about the unsung heroes in New Hampshire, including his father, who changed so much for New Hampshire with a program built on a simple premise: believe victims.
Local partners
Additional details
This event is free, but advance registration is required. Registration opens at 9am on the Monday before the event. Please sign up for our newsletter to be notified when registration is open.
The event is held at The Music Hall LOFT. Doors open at 8:30. Coffee will be served 8:30-9am. Talk begins at 9am and event ends at 10am. There is abundant paid parking behind the Music Hall Loft and on surrounding side streets.
CreativeMornings Portsmouth is a platform for individuals to share their own truths/stories as they define it. The viewpoints and opinions expressed by any individual do not represent or reflect larger viewpoints or opinions by the CreativeMornings organization or any local chapter and not should be taken as universal truths or professional advice of any kind.
Location
Hosted at The Music Hall Loft
131 Congress St
Portsmouth, NH United States 03801
When August 23, 2019
8:30am - 10:00am