CreativeMornings/Texas with James Victore [VIRTUAL]
April 17, 8:30am - 10:15am CDT. Hosted at Online Stream
part of a series on Purpose
About the speaker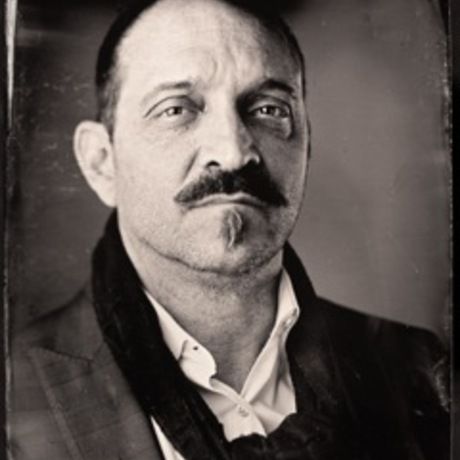 James Victore is an artist, author, and activist who teaches people how to illuminate their individual gifts in order to achieve personal greatness.
James is widely known for his timely wisdom and impassioned views about design and it's place in the world. At the helm of his independently run design studio, James continually strives to make work that is sexy, strong and memorable; work that tows the line between the sacred and the profane.
James' work has been exhibited (twice!) at the Museum of Modern Art in New York and is represented in the permanent collections of museums worldwide including the Louvre and the Library of Congress. He has an Emmy, a gold and silver medal from the Art Directors Club, and a Grand Prix from the Brno Biennale amongst others. His clients include Adobe, MailChimp, Starbucks, Bobbi Brown Cosmetics, Aveda, Time and Esquire Magazines, Moet & Chandon, Yohji Yamamoto and The City of New York. A monograph of his work was published by Abrams in 2010 titled, Victore or, Who Died and Made You Boss? Victore taught at the School of Visual Arts in NYC for over 20 years. He lives, loves and works in Texas.
Local partners
Let's be honest: As a creative professional, finding a new job can be tough. At TEK Systems, we aim to fix that. With connections to more than 7000 companies, our core focus is finding job opportunities for designers, developers, and others with digital and creative skillsets.
Additional details
This is the very first time all the CreativeMornings chapters in Texas will come together for one event! We will be joined by Dallas, Fort Worth, Austin, and San Antonio, plus we'll keep the virtual doors open to anyone who calls the Lone Star state home. So, put on your boots, order some Whataburger, and c'mon over. We'll send y'all a Zoom link once you've registered.
Oh, and invite your neighbors—everyone is welcome! (This is Texas, after all.) Let's see how much "Yee-haw" Zoom can handle.
Location
Hosted at Online Stream
Houston, TX
Houston, Texas United States
When April 17, 2020
8:30am - 10:15am