If you are being a "jerk"….Stop.
About the speaker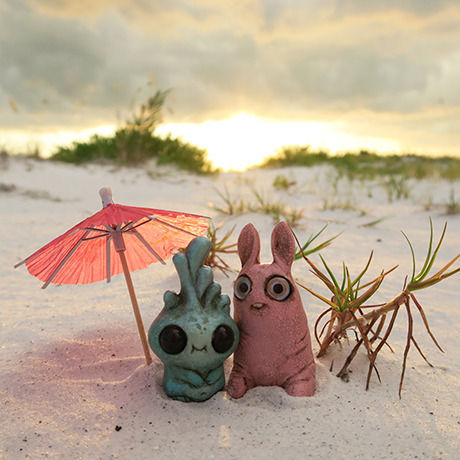 Chris Ryniak and Amanda Louise Spayd are multi-disciplinary artists who create handmade and factory-produced figures. As individual artists they've had work exhibited in galleries, museums and featured in publications across the world.
For this talk they'll be sharing examples and experience from a few long-term collaborative projects, with an emphasis on utter panic, creative procrastination, massive deadline headaches, and how to refrain from killing your partner.
Chris is an American artist born in the suburbs of Detroit, Michigan. A sculptor and painter of all manner of creatures, he has exhibited in galleries and museums throughout the world. His work has been published in numerous books and periodicals in the US as well as in Europe and Singapore. Chris is also a toy designer, having created both handmade and factory-produced figures in resin, vinyl, and Japanese sofubi. He is well-known for his "Morning Scribbles", an ongoing series of daily monster drawings exhibited online. At present, he has drawn over 700 Morning Scribbles.
Emotional connection is a central theme in Chris's work, with his characters expressing a wide array of emotions, making them easy to relate to, and identify with. Chris strives to consistently focus on an attitude of positivity and endless possibility with his monsters, with every day a new chance to explore something yet undiscovered.
Amanda Louise Spayd's mixed-media work combines the textures and colors of antique domestic objects, the natural world, and an obsessive attention to detail. At once endearing and unsettling, her fabric and clay creatures evoke ideas of discarded children's toys or strange puppets with crooked human teeth.
Amanda's work is influenced by her love of antiques and textiles, as well as a deep nostalgia for the innocent curiosity and emotional attachment of childhood. Creating objects that evoke strong emotions - pity, love, or a feeling of protection over them - is at the core of what inspires her work.
Her work has been published internationally, and is highly sought after by collectors around the globe, and she has exhibited her work in galleries and conventions in her home country and around the world. She has recently entered the toy market with both Japanese sofubi and vinyl blindbox toys, as well as cast-resin collectible figures.
Chris: Facebook: Twitter: Instagram Website:
Amanda: Facebook: Twitter: Instagram: Website:
Favorite quotes from this talk See all
"

Not everything works out. You are always going to run into this kinds of oops moment where something is kind of majorly falling apart. — Chris Ryniak and Amanda Louise Spayd
"

You have to know how to let go and that's really, really hard for creative people. — Chris Ryniak and Amanda Louise Spayd
"

About compromise is seeing your artistic vision through another artistic lens is often when you're a creative person whether that's music or writing or anything, seeing your ideas interpreted by somebody else... it's hard to let go. — Chris Ryniak and Amanda Louise Spayd
"

Good thing about collaboration, you really cut down on the amount of stuff you have to do personally. — Chris Ryniak and Amanda Louise Spayd
"

There's a lot of compromise in terms of designing but it's doing exactly what it needs to do. — Chris Ryniak and Amanda Louise Spayd
Photos from this talk See all
navigateleft
navigateright
108

Lovely Attendees








see everyone