About the speaker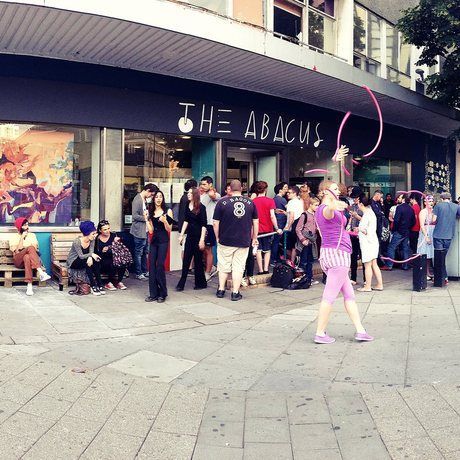 Arielle works for the social enterprise ProMo-Cymru, who have worked cooperatively for over 30 years building strong partnerships with the communities they serve to create lasting and positive change.
Most recently Arielle has worked with some local artists to take over Cardiff's old bus ticket office and transform it into a buzzing community arts space and creative venue.
Run entirely by volunteers, with very little bureaucracy and against all odds the building has survived its first year and now hosts ten artist studios, band rehearsal rooms, weekly classes, gigs, pop up performances and alternative events.
Through telling the story of the Abacus, Arielle will be talking about how collaboration makes perfect sense, but does not come without challenges.
She'll share some of the moments and experiences that have inspired her throughout her work and her thoughts on why she and so many others are striving to strengthen the sense of community within their own lives.
The CM Cardiff team also have a little something up their sleeves to test how collaborative you all are - with a fantastic prize for the winner!
Favorite quotes from this talk See all
"

It's so special to be part of something where you just get the best out of people. — Arielle Tye
"

We're run by our audience and that's probably why it's successful. — Arielle Tye
"

Make it happen together! — Arielle Tye
"

I know it doesn't look nice when there is a fire extinguisher on the wall where you want to put a piece of art but actually these are the boundaries. — Arielle Tye
48

Lovely Attendees







see everyone