Abdi Iftin
June 21, 8:30am - 10:00am EDT. Hosted at The Music Hall Loft
part of a series on Wonder
About the speaker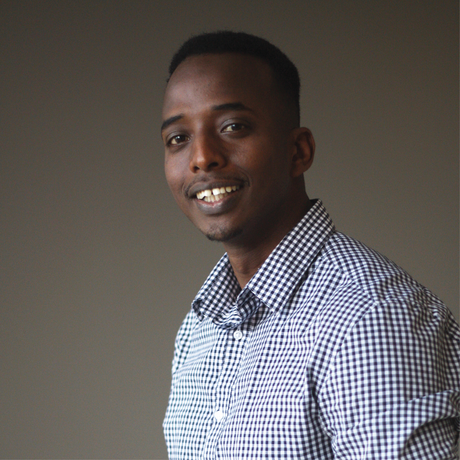 The idea of America
How the vision from American movies, music, and books saved my life
"I always wondered what it would feel like to be free from terror and from the police that chased me down on the streets of Nairobi just because I was a refugee. I always wondered what the sweet freedom of America would be like.
And now, it's something that I am grateful for every single day."
When the civil war began in Somalia, Abdi Nor Iftin was five; he and his brother became the sole providers for the family and were forced to attend a madrassa run by a man they called the "Angel of Punishment." Amidst the bullets and the beatings, Abdi had one escape: American movies and music. By watching movies like The Terminator and listening to Michael Jackson, Abdi learned of America, taught himself English, and began to dream of a life in the U.S. He stayed in Somalia until he had no choice but to flee—escaping to Kenya as a refugee, where a different but grinding life of hopelessness awaited.
And then, a stroke of incredible luck: he won the Diversity Visa Lottery.
In his memoir Call Me American, Abdi recounts his harrowing, extraordinary, and uplifting story. A vivid portrait of the desperation refugees seek to escape and a reminder of why western democracies still beckon to those looking to make a better life.
Abdi is a proud, legal resident of Maine and is on the path to citizenship. He attends the University of Southern Maine, works with his community as an interpreter, and helps other refugees integrate and break down cultural barriers.
You can connect with Abdi here: Call Me American: A Memoir Twitter Instagram
Additional details
This event is free, but advance registration is required. Registration opens at 9am on the Monday before the event. Please sign up for our newsletter to be notified when registration is open.
The event is held at The Music Hall LOFT. Doors open at 8:30. Coffee will be served 8:30-9am. Talk begins at 9am and event ends at 10am. There is abundant paid parking behind the Music Hall Loft and on surrounding side streets.
CreativeMornings Portsmouth is a platform for individuals to share their own truths/stories as they define it. The viewpoints and opinions expressed by any individual do not represent or reflect larger viewpoints or opinions by the CreativeMornings organization or any local chapter and not should be taken as universal truths or professional advice of any kind.
Location
Hosted at The Music Hall Loft
131 Congress St
Portsmouth, NH 03801
When June 21, 2019
8:30am - 10:00am