Next Gothenburg speaker
More info
September 21, 7:30am • Göteborgs Konserthus • part of a series on Chaos
← Load previous
Meet September's speaker Farshid Rodsari
Interview by Julia Märak Leffler
Farshid Rodsari is an art director and this month's speaker. I caught up with him over a fika to ask questions about this month's theme Compassion … and coriander. Because, why not? Farshid's cool, kind, and I can't wait to hear his talk on September 22.
You're talking under compassion, did it feel like the right theme for you?
It felt exactly right. When you're younger, you wonder why people don't share stories of what is happening and what they are going through. So when you get the opportunity, you have to do it. It's our responsibility.
Is there any time where you could have been more compassionate?
Off course there are times when I could have been more compassionate; it's something active you do, you walk in someone else's steps. All we do has an impact. But there are people who believe that they can't do great things because they're not Elon Musk. If I can do something good for others, they will in turn do it for someone else. Every action has a reaction. 
It's exciting, you never know what conversation or meeting will spark something!
It's magic.
Who would you like to listen to you?
I hope that everyone can get something out of it, even the ones who can't relate directly. It's my life experiences. How I went from growing up in Iran, during war, and moving to a new country. And how things turned out for me. People experience this daily.  With how the world looks today, there are many people who go through the same, or even worse things than I did. But you know, you can't measure bad experiences. Maybe it is something as having your parents' divorce when you are younger. It's about how you move forward. So even if it's not your experience, you can learn to understand the people going through it.
Among other CreativeMorning talks: Who inspired you the most?
There are too many to name to be honest. But two of my favorites are Zakiya Harris  and My-Linh Le. I tend to like the more personal ones more.  It feels like the ultimate thing to do, to be vulnerable in front of strangers. And the scariest.
How does compassion affect you as a creative?
It's a ground pillar. It affects me in everything I do. You have to zoom out and see the bigger picture.
Okay ... so … what is your favourite Ice cream?
I have two … three favourite ice creams!
Three? I like that this was the easiest question.
The first ice cream in my top three is the one i had on my first week in sweden. And its symbolic in a sence. It was Tiptop. That's my first favourite. The second ice cream I had there was the 88. And I ate my third favourite only four years ago. It's a ginger bread sandwich … mmmm…
Did they ever make that one again?
Yes!
So it wasn't only you who liked it? I've never heard about it….
More people liked it. It's fantastic.
Can you have saffron in it? Then it would be like a ginger bread cookie and saffron bun all at once.
Yes (serious). As long as ... both saffron and cardamom like being on front on the stage. They can't share, it will be an argument of who's going to be the front man. Someone has to be in the background! (laughs)
Okay! Haha, if you were a spice. What would you be?
(laughs) If I were a spice? I would be saffron. If I were an herb I would be coriander.
Coriander? Why?
I love it.
Some people think coriander tastes like soap. Some love it, some can't stand it. But it's good for the digestion.
Coriander is fantastic! I love Vietnamese food. And Mexican food. Saffron because we have it in almost all Persian food.
When did you come to Sweden?
January, -87. Just in the last phases of the war.
And then you ate ice cream?
Yes, we lived in Hagfors. We ate ice cream there. There was I girl in the refugee camp who had lived there a bit longer. So she showed me around. She showed me the kiosk and we bought ice cream. Tiptop. It was fantastic. A Tiptop is large when you'relittle. It's a good memory. When you've been fleeing from war and that journey, all of a sudden you feel like you can relax. Such a small thing. Having an ice cream.
Does food make you happy? As you already knew that you would have been coriander…
I love food. Food is love in many cultures. It's a way of expressing love by sharing. Food is a symbol for so many things, maybe even compassion.
Okay, so share the best food spot in Gothenburg?
My most recent favourite is Little Meats in Linné (taco place). That's my spot at the moment.
And the best coffee-place?
My best café experience was actually two days ago in Finland. It made me tear eyed. If i should describe a café experience then there are so many things that play a role: the environment, the people, the owners and the vibe in general. Unfortunately I can't remember the name of it.
So somewhere in Helsinki there's an amazing coffee place?
Yep. Helsinki is a beautiful city. It was my first time there. So I didn't know what to expect. It felt like i found a secret place no one knows about.  Like: "This is my place". There's so much potential. 
Are you one of those persons who want to keep their spots (secret)?
No, no, no. I think you should share them.
As we wrap up we talk about times one would feel stressed or nervous. Farshid is neither right now.
It's part of my journey, doing this talk. Worry and fear has no place anymore. In life you know that you have to do things. You just know .And you know the feeling when you go against it. How it feels afterwards ... I have grown a lot thanks to this talk. I've given talks before. But not like this. Not important like this.
A few hours later I receive a message "here's the coffee-shop. I had to find out for you." So anyone going to Helsinki … this is the place.
The tickets to Farshid's talk on September 22 go live on Monday, September 18 at 11am.
Tobias Rosén and the Genius of Collaboration
On August 18, CreativeMornings Gothenburg is back for the fall season. Terese Mörtvik caught up with August's speaker Tobias Rosén, for a quick interview.
Hi Tobias, we're so happy to have you back at CreativeMornings!
Could you tell us a little about who you are and what you do?
I thought I had found my way with my guitar and that music was my thing, and in a sense, it was. I gave up the idea of becoming a musician and focused on becoming a musical artist instead. It didn't really end up that way either, but life takes you in different directions.
Today I'm one of three owners of Improverket, an improv theater, and also co-owner of one of the most exciting theaters in Gothenburg: Kvartersscenen 2Lång.
I've been working as an actor and improviser for almost 11 years now, and I also work as a hospital clown and have been doing that for 10 years. I teach improv and clowning at 2lång Theater School and at The Ballet Academy in Gothenburg.
Who's your favorite genius?
My favorite genius is without question my kid, Sigge. He is 5 years old and a big inspiration to me. I can't stop wondering where they get everything from.
What's the bravest thing you've ever done?
When me and my wife decided to have a kid, of course.
And when we, with our own hands and no experience of building, a lot of ideas, and small financial resources, built and started up our own theater—Kvartersscenen 2Lång.
How did you remember so many facts to put into Anya rides a horse?
I don't really know. I have been doing this so many years, it's so natural for me.
But it's a lot about listening and not thinking too much.
Why do you do improvisation?
Because it gives me a rush not to know what will happen next. I love to play script theater as well, but there's something about getting the inspiration from the audience and with your colleagues try to form it to something "real".
Do you have some advice for people who suffer from stage fright?
It might sound like a cliché, but believe in yourself and don't try to be interesting, just be yourself, you are good as you are. But don't forget to challenge your comfort zones. We are capable of so much, if we can just put our ideas and values about ourselves aside.
Where do you look to for inspiration?
Everywhere. In the news, television, films, and pictures. By looking at people, in busses, in trams, at town, in pubs or restaurants or other public places. (I'm not a creep, I promise.) 🙂
By playing with my kid and his friends, and also by just talking and listening to them. Everything is an inspiration!
Is the sum greater than its parts?
No, everything is just as important!
What's the most clever thing you've ever read or heard?
The most clever…. that's hard, but this is one I like:
"None of us really grow up. All we ever do is learn how to behave in public." —Keith Johnstone
Thank you, Tobias Rosén. We're looking forward to your talk on the 18th!

Interview by Terese Mörtvik

Tickets are live as of August 14:
https://creativemornings.com/talks/improverket

>> Improverket's website:
http://www.improverket.se/

Image from Shutterstock
Presented by Wordpress
SPEAKER ANNOUNCEMENT!
Tobias Rosén from Improverket will be the speaker on the next CreativeMornings Gothenburg breakfast, August 18.
There's a thin line between crazy and genius and live improvisation on stage takes a little bit of both. If you went to our May event, you probably remember Tobias and Jakob performing the improvised musical number Anya rides a horse, if not, check out the video on our website: https://creativemornings.com/…/jon-barnes-my-source-code-…/2
We're really excited to have someone from Improverket with us again, this time for a whole 20-ish minutes. No matter your creative field, we bet this talk will have something of interest to you. Improvisation is like a high-pressure cooker for creativity and, as Tobias will tell you, the magic is in the teamwork, so this will also be perfect for getting that collab mindset ready for the fall.
Tickets drop on Monday, August 14th at 11 am. Come be inspired on the 18th. It's gonna be a blast!
>> Improverket's website:
http://www.improverket.se/
At this month's CreativeMornings, we were lucky to have our full photo and video team – Sandi Habinc, Magnus Rönnkvist, Ola Dyrhill, Sina Farhat and Björn Olsson – on site. The photos are free to use for your blogs and social media feeds as long as you name the photographer. And hey, if you do blog, let us know so we can spread your words far and wide! We'd love it if you'd link to our official website as well: creativemornings.com/gbg

» 
To the photo album
Jon Barnes – Serendipity and its slightly arrogant cousin luck
Linda Larsson met up with Jon Barnes, this month's speaker at CreativeMornings Gothenburg on May 24.

The theme this month is Serendipity – what does this mean to you?
Serendipity is a poor little misunderstood creature I think. It is often confused with its slightly arrogant cousin: luck. Luck is, well, it's just luck. For instance, we don't choose what social situation we are born into, that is down to luck.
Serendipity is far wiser and more courageous. Serendipity is a design choice. The choice to create the necessary conditions for positive outcomes to come from unexpected connections, whether these connections are people or ideas or both. That's what Serendipity is to me, a design choice with a beautiful combination of order and chaos.
If you had one superpower, what would it be?
Hmmm… This is the question that gives me impostor anxiety. If I had to say something I'd oddly say my 'breadth'. I have reasonable but limited depth in lots of different things and I think I'm pretty good at seeing the connection between them, forming a vision and articulating it in a way that is digestable. I think people can get behind that and get excited to do great things. So I wouldn't say I'm awesome at anything particular but I think that might actually paradoxically be my superpower.
What inspires you?
Polymaths. People who manage to gain so much perspective on situations or broad macro-situations by understanding so many different things. They seem to respond with beautiful wisdom or simplicity. They find patterns or principles which allow me to apply to so many situations in my life and work. Yuval Hurari is a good example, or Alan Watts.
What makes you happy and why?
The million pound question. There are a few patterns I see in my happiness. One is that the more space I create, the more room there is for me to spend time with my own ideas and package them in ways I can share with others in a way that is hopefully energising to us both. That gives me a wonderfully calm buzzy vibration. Another is being with very few very close friends. When supported by genuine love, I find my mind seems to just silence. Like an extractor fan suddenly switching off in a kitchen.
So in summary I would say: time alone with no agenda, and time with my nearest and dearest.
What is your dream project?
I really don't know. I think that'll always change. Last year I wrote my first book Democracy Squared and it feels a bit like the genie has been let out of the bottle. I am creating more time and space to explore these big ideas. The other is advising and helping genuinely receptive people who have a lot of control and agency over important environments and topics (e.g. government, education…etc.) Having said that, I also get very frustrated with those systems, so maybe that would just do my head in.
I don't actually know, thanks for the question, I'll ponder on it more ;)
The mountain or the ocean and why?
This is a wonderful question as I've recently really designed my life for both. I grew up quite near the sea, I thought that was me. But a couple of years ago I fell in love with a valley in the French Alps. We call it Dream Valley. The vastness of it has this amazing way of showing me how limitless things are whilst also giving me the comfort of being protected by millenias of mountain. So I'm refusing to pick either or and decide on both here and I'm making a deliberate effort to design my life around just this at the moment :)
What do you want to do when you grow up?
I'm not sure I want to grow up so it's a tricky one. I was also born pretty old. Since I was really little I've always hung out with adults rather than kids my age. I've never really partied but prefer long chats. I like spending time on my own instead of socialising too much. So if this trend continues, I can really see myself travelling with my family and maybe owning a house with garden off the grid for when the apocalypse arrives.
And finally: What's the best piece of advice you've been given?
"Stop caring about what people think!" It's a constant thing for me to practice as it has controlled my life in dangerous ways. I'm starting to befriend that devil but it's taken us a while.
Interview by Linda Larsson

Want to listen to Jon Barnes' CreativeMornings talk on May 24? The tickets are released at 11am on May 19.
Read more

Photos for your blogs!

This month, we were lucky to have not just one but three of our brilliant photographers on site: Sandi Habinc, Magnus Rönnkvist and Sina Farhat.

The photos are free to use for your blogs and social media feeds as long as you name the photographer. And hey, if you do blog, let us know so we can spread your words far and wide! We'd love it if you'd link to our official website as well: creativemornings.com/gbg

Head over to our Flickr album!
A series of great portraits of Gothenburg creatives
Our global partner Shutterstock went above and beyond and set up a portrait studio at our last event in collaboration with Amplify Photo. The result is a series of really nice portraits of Gothenburg creatives.

Feel free to download and use your portrait in your social medias, but please please please make sure to tag it with #shutterstock #cmgbg #shutterstockportraitstudio @shutterstock.

» Open the photo album
» Shutterstock
» Amplify Photo

CreativeMornings Gothenburg is beyond excited to present Jenny Segergren as this month's speaker. Jenny runs Modepodden, a thriving podcast series that portrays Scandinavian fashion icons. Its ambition is to inspire and give a new dimension to the fashion industry and showcase the drive and innovation power behind Scandinavian fashion.
Lisa Axelsson had a chat with Jenny to see what's in store for the Gothenburg crowd.
Hey Jenny, please tell us a bit more about you!
– Hi yah! I'm an engineer, business developer and product specialist who's vastly interested in how to make businesses grow through creative processes. I've also got a great passion for innovation, entrepreneurship and fashion – especially in that combination. I've always been very fond of clothes, something I inherited from my grandmother. When I was on maternity leave in 2013 I had a self-revelation – I should start a podcast where I interviewed famous entrepreneurs and creators from the fashion industry! I wanted to examine the industry from a different perspective and let the listeners get to know who these people behind the fashion really are. I've never studied journalism or anything like it, but I guess my genuine interest in the subject made it work because now it's become more of a platform. Aside from the pod cast with both pre-recorded and live episides, it has also evolved into a blog, an Instagram account that serves as an inspiration channel for many.
Which of all meetings with famous fashion icons have made the greatest impression on you?
– I truly learn something new at every interview. A person who left an impression on me was Efva Attling who almost felt like a mentor in some way. What a true humanist! But then I'm also a sucker for innovation, so my interview with Linn Frisinger and Nadja Forsberg from Swedish Stockings, really inspired me.
How come the guests get to make their own playlist?
– Frankly I needed to have a recurring segment in the pod. Music definitely fit as a creative channel as it is a form of expression. I also liked the idea that there was something physically left after the interviews. So now we've got the most famous Swedish fashion icon's favourite music gathered in one place.

How have you chosen to interpret April's topic "beyond"?
– I'm going beyond fashion! I have an emotional fashion drive. I consume fashion as others would consume popular culture – I admire and appreciate the craftsmanship behind it. Usually when you say "fashion", people tend to think about bloggers, fashionistas, beautiful magazines and that "it's not really for me." But I feel like there's much more to it and that a lot of people are missing out on something incredibly interesting. I want to get away from the excluding, elitistic fashion concept, and I want to share my perception. My talk will consist of the story behind my creative process, how Modepodden evolved and how it really looks like behind the scenes in the fashion industry. It will truly beyond fashion!
A few short questions: What inspires you?
– People.
What makes you happy and why?
– My children. They're everything; in big as in small.

If you had one super power, what would that be?
– Hm, not to run super fast because I'm already a fast runner. Fly! Then I'd have time for even more fun things and sometimes it'd be nice to get away from "the earthly logistics".

What is the best advice you ever have received?
– You're good as you are.

Don't miss Jenny's talk at CreativeMornings Gothenburg on April 28. The tickets are as always free, but of a strictly limited quantity, and are released on Monday, April 24 at 11:00am sharp.

A great way to be reminded when it's time to snatch your ticket is to subscribe to our newsletter.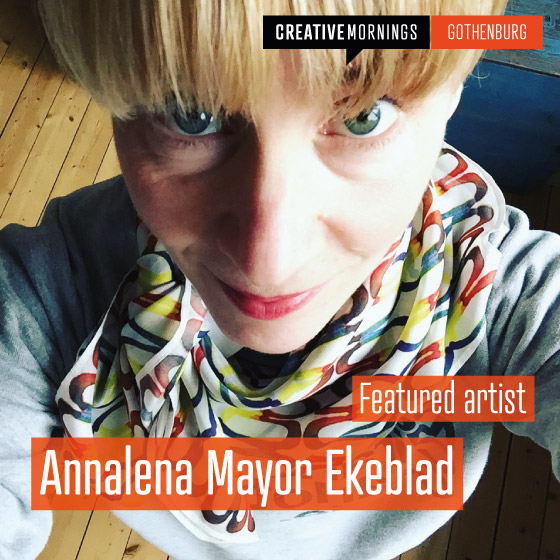 With April's CreativeMornings Gothenburg approaching fast, Christer Hedberg caught up with Annalena Mayor Ekeblad – this month's Featured Artist that will exhibit her art during our breakfast.
Who are Annalena Mayor Ekeblad? (interviewer's note: You can't beat some Swenglish as an opener in an interview, right?)
She is a crazy person! Just kidding! I am a LOT. It is kind of funny you say are and not is. People often tell me how unique it is to be very creative and very organized and good at production managing – at the same time. So ARE is good in this case. Isn't that a myth that you are either creative or organized?! Why be a dog-person or cat-person when you can just love animals?!
What does "being creative" mean to you?
Always thinking of different projects and always doing stuff. Making things with your hands. For as long as I can remember I have produced things every day. Writing something. Drawing something. Building something. And having the luxury of having other people like it and strangers buying things.
Being creative for me is to do and to produce, not just talk about it. If you make a lot, half of it can be ugly. Make a lot and some of it will be good. Some of it will be FUCKING fab!
You first caught my attention with your brilliant wood type art a few year's ago. What's the story behind them?
I fell in love with books as a child. My mother always read to me and my brother. I started writing when I was about 5 years old and I loved the shape of letters. We always went to the library and to me books were treasures. Stories. I dreamt about becoming a teacher a librarian or even a writer.
I stumbled over the wood letters in an antique shop. People were buying them as decoration and they were really expensive. I became obsessed with the thought of finding a whole alphabet so Ingrid at "Antique Unique" in Linnéstaden started helping me find old types. Then I just started putting acrylic paint on them, handprinting words and making patterns.
When I was a teenager my grandmother Elsa Mayor – a supercool American lady – took me to MOMA in San Francisco. I remember seeing huge paintings with printed letters on them.
When I started making the "text paintings" I wrote cute things. Love, happiness and so on and people liked that. My main focus was to write/paint beautiful patterns made from letters and words. So the pattern was my focus. It was a bonus that some people could read what I actually wrote. Then I was invited to hang the text-paintings on the walls of Björns Bar, just for fun. A week past and I sold out! They rang me from the bar and said: You need to make more. People loved them. They drank wine, ate cheese and bought my paintings from the waitresses. It was madness and happiness som I just kept making them and selling them. The text-paintings gave me the courage to quit my day-job (as a production manager at Nudie Jeans) and focus 100% on my own art.
I never made "önsketavlor" where people could tell me what to write on them. I only made my own texts.
In the back of my head I always dreamt about writing darker things on the paintings. But since people loved the happy-love stuff I was to afraid to break the winning concept. Until now. My "Om jag ligger helt stilla och håller andan" project has forced me to start showing people my "darker, sadder texts". The next step is to doing paintings with the same kind of words on them. The exhibition at CreativeMornings will be the premier for this.
I've had the chance to see your exhibition at Rum för papper and found it to be really powerful. Can you share the story behind the project?
To keep sane, or even, to survive severe illness you have to play games with your mind. Or at least that is what I did.
Last year I had to go through two large operations and spend a lot of time at the hospital. For a long time I was in pain, the kind of pain you can't run away from but the kind that hurts even when the doctors put a tap with morfine directly into your spine. Maybe it was the mix of pain and morfine, or just the way my brain works, but I started making up stories and scenarios to get by. Like: If this was an American movie, there would be a happy ending. You can not be in this much pain and not get a happy ending.
For me painting and creating have always been healing. When you get absorbed in creative work you don't feel pain, hunger or time, you just paint. So I started painting small squares. I was too tired and sick to go to my studio so I just used watercolor. It is quick and easy and you can do it in bed, on the floor or even standing up. I started making little circles and forms with watercolor. Then I scanned them into my computer and started twisting them, turning them, duplicating them – making them into patterns.
Then it just hit me – this is my happy ending! I will make patterns and then make the patterns into cards, notebooks, fabric, silk scarfs and so on. And then I will sell these patterns and become famous. This is my happy ending!
So what's next in this project?
This project will keep on growing. I am hoping the Nordiska Akvarellmuseet in Skärhamn will let me show my work in their beautiful location some day. And there's more to come! Sp keep an eye on this project because my patterns are definitely going places.
Let's round up with five quick questions. First one – what inspires you?
Everything and anything. Books. Libraries. Looking out of the window from an airplane. And I love to look at the pattern on the ground… And the mix (and luxury) of living smack in the middle of this town and having a small summerhous in the woods. It's inspiring to start the day in the city and ending it in the woods…
What makes you happy?
I am so thankful for all I have. I am happy for having friends. Family. For being alive. Having a family and my DOG. I wake up happy.
Name something you love, and why.
I love coffee. It's my drug. Not only is it good, it's very much related to happy feelings. Sitting in the sun drinking coffee on an early morning.
What superpower would you like to have and why?
I have a superpower. My look! I am a small. Almost tiny woman. Not ugly not beautiful. I do not, at all, look like the way I feel on the inside. Perfect! I get away with anything!
People see me and associate me with… nothing. And then I just BOOOM surprise them with MEEEEEE!
And finally. What's the best piece of advice you've been given?
That is the best part of having an english-speaking grandmother. For real! She actually gave me advice like: When life gives you lemons. Make lemonade! She also said: Well – it must be noon somewhere. When she had the first sip of ice cold vermouth at 10 in the morning…
Don't miss Annalena's exhibition at CreativeMornings Gothenburg on April 28!
Our four brilliant photographers Sandi Habinc [http://habinc.se], Ola Dyrhill [olasfoto.se], Sina Farhat [http://www.sinafarhat.se/] and Magnus Rönnkvist [http://www.fotografmagnus.se] continue to deliver great photos. Wanna see the result from March's event? Head over to our Flickr album!

more
Gothenburg team








Learn more
Gothenburg community







see everyone