Next Dubai speaker
Coming soon
The team in Dubai is back and we are going to bring you simply the most invigorating hour of creative conversation you have had this month on the 28th!
Get on our list to join us on the 28th, space is really limited.
https://creativemornings.com/talks/dr-upasana-gala

To help get you into the CreativeMornings Dubai frma of mind here is the monthly Dubai, themed playlist!
Here is the link to the Spotify page.
Thanks Bhavika for the tunes and Richard  @2ndlightphotography for the graphics!
Thanks to #2ndlightphotography for the graphic.
https://bit.ly/CM_DUBAI_April is that link to April, enjoy the revist.

Thank you Richard Cawood @2ndlightphotography for the graphics.
And that is a wrap for another CreativeMornings Dubai Season! Back in the Fall.
I have to say this has been a great year for CreativeMornings in Dubai and then we hit the Covid-19 speed bump, which we took in stride.
Like everyone and every event we paused, considered, experimented and then decided what our course of action would be moving forward.
We had a truly wonderul virtual event that had attendees from across the UAE and the world, wow!
We have decided that we are going to put our events on hold and return to our regular programming in the fall.
In the meantime we will be reposting talks from previous events bith in Dubai and beyond to give you your CreativeMornings Dubai fix.
If you missed our virtual event or want to get revisit it here is the summary from Shivani and the links to the 4 talks.
CreativeMornings Dubai unifies creative people all over the world through its first virtual meetup
By Shivani Mathur
 "Every little bit, even just social distancing, matters.", "Having negative feelings doesn't mean that you're ungrateful.", "Think about what you're consuming."
 All great takeaways from CM Dubai's most recent CreativeMornings.
CreativeMornings Dubai's 56th installment on April 22nd marked perhaps its most unique one yet, becoming the first virtual meetup from the lecture series. Proudly in its seventh year, CM has always delivered stimulating conversation and thought-provoking stories, but this particular session really embodied the passion that CM's organisers hold for upholding creativity even in the most trying times. The COVID- 19 pandemic has brought inexplainable challenges and uncertainty for all, and even among privileged people who have the opportunity to work from home and stay safe, quarantined, the lockdown brings a melancholy of varying degrees for everyone.
Enter CreativeMornings. Here for your rescue. Following in the footsteps of CM Vancouver, CM Dubai used the virtual medium to connect people and tell stories of Identity and Purpose, both themes that speak to the reality we're all in.
Coffee and conversation are the two things people most associate with CreativeMornings, and they were both present in this special meetup. All attendees conversed with each other especially during the group discussion sessions, and there was lots of coffee – even if that coffee was enjoyed remotely from the comfort of their own homes. This virtual meetup was a great stepping stone for the CM community since it introduced a new element that no CM had enjoyed before: over 70 people from all over the world engaging with each other.
 Even before the session started with CM host James Piecowye's introduction, attendees quickly found a rhythm within them and talked about everything quarantine – the good and the bad with the backdrop of an invigorating playlist, curated by Bhavika. After everyone settled in with their coffee mugs all ready for the sesh, James started things off talking about our global sponsors, partners, and volunteers, highlighting how much the CM family gets done, despite comprising of only eleven people. Kat's infectious energy seeped through everyone's computer screens as she seamlessly segued from one speaker to the next with Moe, endearingly referred to as 'the tech sherpa', handling the majority of the session's logistics.
 James enthralled the audiences talking about his stance on the infodemic we're in and highlighted the importance of being selective with news and information sources so as to avoid being overwhelmed by the info that we can't really even do much with.
Leen Sadder from Atolye discussed the importance of surrendering and acceptance. The biggest takeaways from her speech were that negative feelings shouldn't be ignored, they should be processed, and the importance of re-inventing how we connect with each other.  
"Who I am is intrinsically linked to who I am," said Kiran Sajnani. Her anecdotal speech, where she talked about the Dubai jam going virtual, inspired listeners to rediscover who they are and treasure the relationships that they have.
Randah Taher from Sajory, the fourth and final speaker from the session explained how thoughts shape reality. The audiences enjoyed a guide of how to embed intentions through their yearly calendars, and also got some great insight into how Randah derives her unique style.
 Along with a Q&A round with all speakers after each of their speeches, CM stayed true to its community spirit by opening up another opportunity for audiences to participate. After the for thought-provoking speeches concluded, Shivani lead the discussion groups and encouraged people to get smaller virtual rooms to discuss what they've been learning about themselves during these difficult times, and how they're staying creative while in quarantine.
While the majority of the enlightening inputs from this session's CM community will be featured in CM Dubai's future newsletters, some audience responses are too good to not mention here. The CM community is trying to keep creative by developing hobbies like cooking, knitting, even puzzle making. Among other things, what people are most discovering about themselves while in quarantine is how much they fed off of others' energy, and how valuable communication is.
All in all, it was an objectively triumphant session, a much-needed break for everyone to indulge in casual conversation and reflect on the experiences that this pandemic has brought on to us, all while still trying to celebrate community spirit and share stories.
Here are the 4 talks from our virtual CreativeMornings Dubai.
Thanks @2ndlightphotography for the graphic.
8:15am we are live tomorrow the 22nd of April.
Get into the zone with our playlist for the morning curated by Bhavika and you!  Yes you can also go in and add to our Spotify Playlist.
https://open.spotify.com/playlist/76hdfWSpw5gNiKtjyRC1Tb?si=f7jtKEJtS2idT4GhDmSoAQ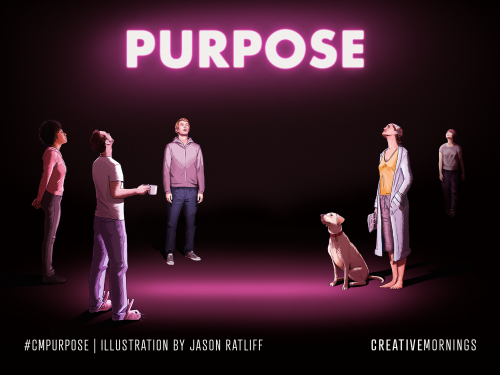 When in doubt, take the steps you need to follow the path of your own joy. This path is your purpose.

Our Indianapolis chapter chose this month's exploration of Purpose and Jason Ratliff illustrated the theme.
Time to get a ticket to enter the #virtualonpurpose CreativeMornings Dubai event on Wednesday!
Thanks to Richard Cawood @2ndlightphotography for the graphics.
Thanks to @2ndlightphotography​ for the graphic.
https://creativemornings.com/talks/aysha-al-hamrani

Use the link above to reserve your place at our talk, seats are limited.
more
Dubai team







Learn more
Dubai community







see everyone