Washington Vieira
February 28, 8:30am - 10:00am GMT. Hosted at Leith Arches
part of a series on Invest
About the speaker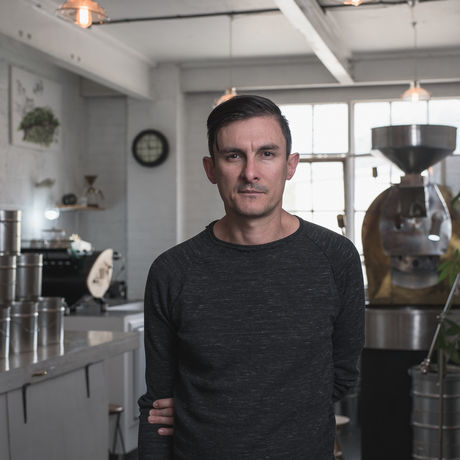 Speculating and accumulating: what it means to invest in people.
Washington Vieira is the founder of Santu Coffee. He has been roasting coffee here in Edinburgh for two years.
Born and raised on a coffee farm in Brazil, he saved enough for a flight to Boston as a teenager where he started out by washing dishes at a pizzeria, while he took photography classes and learned English.
He eventually found his way to New York where he was running two restaurants (fancy pizza by now) and becoming interested in the speciality coffee industry when he met his wife, Erin. Inspired by a weird experience with a fortune teller in New Orleans, they left the States to go back to Brazil, where they had the great luck to meet a speciality coffee farmer at a local fair. They ended up living in a little green house (shed) on a mountain next to his farm, learning the coffee trade from the inside out. When they finally moved to Edinburgh, they decided to bring this incredible product directly from their farmer friends to the UK.
You'll find them in a chilly factory in Leith, roasting coffee and dreaming of toucans.
Local partners
The Milkman provides Edinburgh with a progressive speciality coffee experience, blending its architectural heritage and background with contemporary coffee culture. Enjoy the house roast from Edinburgh's Obadiah Collective or sample the ever changing rotation of filters on offer, most recently from Bonanza, Girls Who Grind and Brew Project.
FreeAgent is award-winning online accounting software that's designed for the way small businesses work. More than 90,000 freelancers and small business owners use FreeAgent every day to track time against projects, raise invoices, file tax returns and just get on with the work they love - not the paperwork.
Welcome to the Leith Arches. We're a brand new community hub hosting a variety of events, private hire, music and live sport coupled with some of the best street food from Edinburgh and beyond. we've been in the bar and restaurant business for over 10 years and have taken a variety of unloved bars and restaurants and transformed them into some amazing spaces and venues. We've had some great success stories from our adventures at the earl of Marchmont, the white horse, renroc cafe, the old chain pier, bar brig, smoke & mirrors, the movement house and our newest addition, hare of the dog. We love taking unloved spaces and bringing them back to life with our own unique style and flair and the Leith arches is no exception to this rule.
Additional details
Washington talks candidly about what he put into his company and how he's learning that 'investment' means more than money. Come hear Washington explore what it really means to get a return on investment.
You'll also get to taste the delicious Santu coffee brewed by our wonderful partner The Milkman cafe.
Location
Hosted at Leith Arches
6 Manderston Street
Edinburgh, Scotland United Kingdom EH6 8LY
When February 28, 2020
8:30am - 10:00am