The Wilson Slayers
December 2, 8:30am - 10:00am EST. Hosted at Vizcaya Museum and Gardens
part of a series on Sound
About the speaker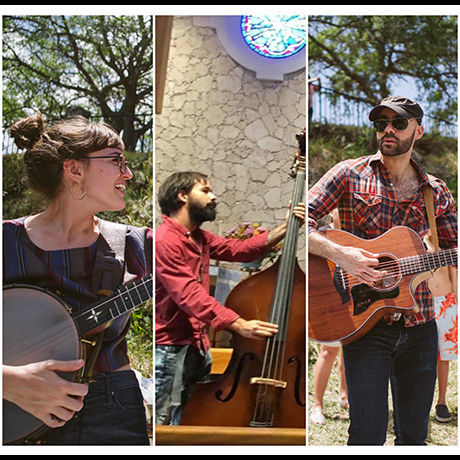 BRING A BLANKET! This event will be a cool, creative, early morning delicious, intimate outing in the gardens of Vizcaya!
The Wilson Slayers are a not-so widely known group in Miami, playing music from the North (i.e. "The South"). Playing a repertoire heavy on murder ballads, the current integration of the group includes Wilson Sayre, Marc Magellan and Will Boos.
Interested in telling stories through music, the Slayers draw from the Appalachian old-time and bluegrass traditions. Foot tapping is a requirement during their shows.
The artists met through living room jam sessions, which is where much of Miami's bluegrass and old-time scene tends to linger and earn it's necessary wrinkles and comfortable use of "y'all."
Wilson Sayre (http://wlrn.org/people/wilson-sayre) is known for sound making at the local NPR station, WLRN, where she covers poverty and occasionally what a day in the life of a nuclear submarine is like.
Marc Magellan (http://www.mdc.edu/kendall/academic-departments/mtd/bio-marc-magellan.aspx) is a professor at Miami Dade College, where he teaches music theory and humanities. He played all sorts of music including Gypsy Jazz with his uncle. He is the real brains of the Slayers.
Will Boos (http://www.shadowwalkfilms.com/will-boos) grew up listening to all the world music Miami has to offer. A certified luthier, Boos is first a foremost a guitarist, but plays a mean bass, mandolin, dobro, ukulele, percussion and anything else you need him to do.
Local partners
Masa Madre is a Community Supported Bakery (CSB) based in Miami, FL that provides hand-crafted, naturally leavened sourdough bread. By using responsibly sourced organic ingredients, Masa Madre makes bread that not only tastes better but is healthier for you. ​ A CSB is similar to a CSA, except it's bread! Your bread share is paid for in full at the beginning of each cycle and you pick up a fresh loaf each week, or every other week, at a predetermined location. A cycle lasts for 1 month (4 weeks). Subscribe to our newsletter to receive a reminder when a new cycle begins.
Founded and operated by first-generation American women, Lemon City strives to offer high-quality, ethically-sourced teas inspired by the crazy, complex, diverse, and exciting city we call home: Miami. Lemon City develops and curates its Miami-inspired teas with Latin American, Caribbean and South Floridian flavors in mind. From a complex summery mate, to a mango enhanced black iced tea and our soon-to-be-released signature Cafeci-té, our products proudly showcase this city's robust culture, vibe and energy.
Our tea leaves and tisanes are sourced from all over the world and we combine these with tropical botanicals, natural herbs, fruits, and essential oils to create teas that are truly inspired. Each sip of Lemon City teas creates a unique experience - we hope you enjoy your moment in the sun.
Location
Hosted at Vizcaya Museum and Gardens
3251 South Miami Avenue
Miami, Florida United States 33129
When December 2, 2016
8:30am - 10:00am