The DoSeum Education Team
September 27, 8:30am - 10:00am CDT. Hosted at The DoSeum
part of a series on Muse
About the speaker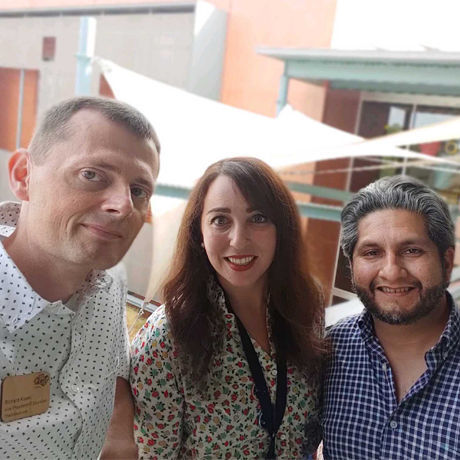 Opening its doors in 2015, The DoSeum grows minds, connects families, and transforms communities. The team of educators charged with bringing this mission to life come to their work with diverse backgrounds and experiences.
Richard Kissel, VP of Education, is a trained paleontologist and illustrator with more than 20 years of experience within the field of museum education. He also serves as an instructor and course developer for the online Museum Studies graduate program at Johns Hopkins University. Richard's career has been guided by his interest in inquiry-based approaches to STEM education, exhibition development and design, and the history and nature of science.

Chris Navarro, Director of Partnerships and Community Programs, studied theatre arts with a focus on cultural literacy and storytelling. He has worked as a teacher in public charter schools, a trainer and coach of teachers through the National Writing project, and an informal educator at The DoSeum. He has played as a performance artist, musician, and comic book maker.

Sheena Solitaire, Director of Gallery Programs, has been teaching and developing programs in museums focused on building community relationships and strengthening family connections for over 15 years. Her favorite part of working with early learners is watching them discover the world around them and make meaning through their experience. Her background in painting and art history has shaped her creative approach to informal learning.
Shaped by our "muses," The DoSeum's many programs and initiatives range from summer camps to community outreach and beyond! As a team of educators, we value family & community connection, play-based learning, & process-based thinking skills to develop minds capable of meeting the challenges of the 21st century.
Local partners
Estate Coffee Company is a small batch, craft coffee roaster and espresso bar in downtown San Antonio, Texas. We believe in sourcing the best coffee and ingredients for our beverages by working with family-owned importers and local food purveyors. We try to promote transparency by having the roasting and brewing methods front and center in our 1,200 square foot space with seating for you to watch and feel involved with the coffee roasting process.
TEKsystems supports interactive, creative and digital initiatives for clients ranging from digital agencies to Fortune 3000 companies by supplying skilled design, development, functional and marketing technology resources and solutions. As TEKsystems, we thrive at the intersection of technology and marketing thru providing resource-based solutions in the Digital, Creative, and Interactive space. Our San Antonio team specializes in providing local solutions with the backing of a national footprint ranging between web/mobile development, design, content strategy, and marketing technologies.
The DoSeum, San Antonio's museum for kids, serves as a "charging station" to power up kids' minds and support the important work of schools and community organizations. Our exhibits and programs promote joyful learning, invite discovery, spark interest, and develop positive attitudes towards learning across critical content areas - including STEM, the arts, and literacy. Through joyful learning and discovery, The DoSeum grows minds, connects families, and transforms communities. As a premier educational resource, we develop innovative thinkers capable of meeting the challenges of the 21st century.
Location
Hosted at The DoSeum
2800 Broadway
San Antonio, Texas United States 78209
When September 27, 2019
8:30am - 10:00am