Ashley Minner, Tanya Garcia, Loring Cornish
June 30, 8:30am - 10:00am EDT. Hosted at Maryland Art Place
part of a series on Survival
About the speaker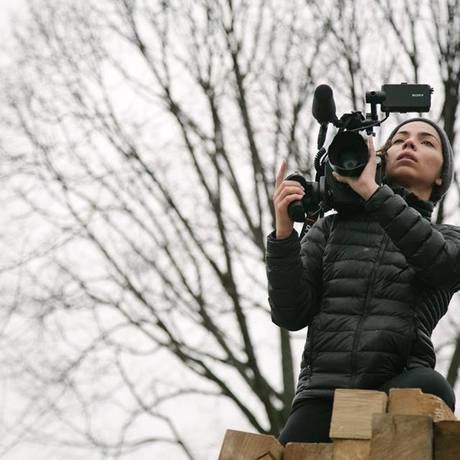 Tanya Garcia is an artist, curator, educator, and organizer based in Baltimore whose media include photography, video, and installation. Garcia works artistically with communities to create spaces for dialogue around identity and social difference.
In 2012, Garcia received her Bachelor's degree in Psychology at the College of Charleston in South Carolina and subsequently pursued and received her MFA in Community Arts at the Maryland Institute College of Art in 2014. From there she became the first Creative Alliance Community Art Fellow supported by the Robert W. Deutsch Foundation. As part of her fellowship, Garcia curated eight artists and while also creating a short video installation for the traveling exhibit Después de la Frontera | After the Border, honoring the stories of unaccompanied immigrant youth and families who fled their homes in Central America. The exhibit is a testimony to the inner strength, resilience, and resourcefulness of these youth and families. Después de la Frontera / After the Border sheds light on their uncertainties and hopes that accompany their dreams of beginning a new life in the United States. Garcia continues to uncover these stories through text, video, and photojournalism.
Currently, Garcia is the co-founder and editor of HYRSTERIA Zine, a publication with artistic and literary contributions from Baltimore with a focus on social difference. She is an instructor for Wide Angle Youth Media and adjunct at Maryland Institute College of Art.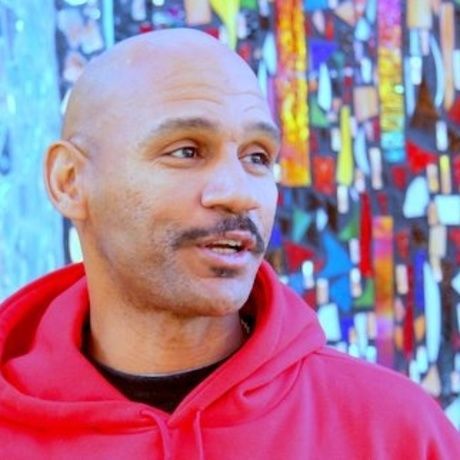 Loring Corning states: "I'm not a trained artist; they call me a visionary, an "outsider" artist. My work comes out of my relationship with God. While I worship, I create, and while I create, I worship God.
I was drawn to mosaics almost accidentally. While repairing the termite-damaged floor of a house I was renting, I was given some broken tiles. I glued them to the floor to cover the holes. One thing led to another, and pretty soon the floor and walls were covered with materials. I covered one whole wall with pennies.
When I started, I was gathering and collecting materials with a shopping cart. I took junk and trash off the streets and alleys and turned it into art. Now some of that junk and trash is hanging in museums. I still find my materials just about anywhere, making art out of what the city has to offer. I pretty much use what ever is in season.
The materials I use have no particular meaning. I don't spend much time thinking about the reason behind the work. I get an idea and I proceed. I work with whatever I have on hand at that moment. I don't search for colors or materials, I use what finds me. I feel this keeps the process of making art as simple as possible, leaving me more time to create. When I first started doing art everything had a religious meaning behind it. I've since then expanded, allowing my creative process to take me wherever it wants to go, no holds barred. When something's in your heart, you can't contain it."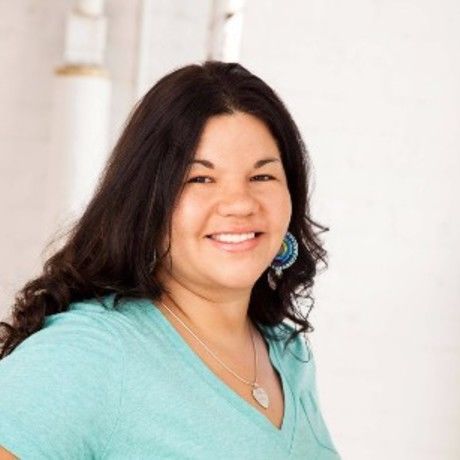 Ashley Minner is a community based visual artist, folklorist and storyteller from Baltimore, Maryland. A member of the Lumbee Tribe of North Carolina, she has been active in the Baltimore Lumbee community for many years, and regularly visits communities throughout the U.S South and Latin America as well. Ashley coordinates Artists U Baltimore, a grassroots planning and professional development program run by and for artists, for the Greater Baltimore Cultural Alliance. She also works as a folklorist for the Maryland Traditions Program of the Maryland State Arts Council. Ashley holds a BFA in General Fine Art, an MA and an MFA in Community Art, which she earned at Maryland Institute College of Art. She is currently a PhD in American Studies student at University of Maryland College Park, where she is studying relationships between place and identity. Ashley was a 2016 Innovative Cultural Advocacy Fellow with the Caribbean Cultural Center African Diaspora Institute (CCCADI) in NY, NY. She is most inspired by the beauty of everyday people.
Local partners
Additional details
The ability to overcome adversity and withstand waves of turbulent times is part of the human spirit. In our hardwiring, it is the oldest of threads that also fuels our creativity.
Stories of survival resonate because they remind us of our inherent power to adapt and change. A choice is always present, and survival is about choosing to move forward.
This month, our creativity will be empowered by the humbling stories of survival—from job loss, heartbreak, to life-altering moments. We must not forget that the necessity of survival imbues us. The fact that we're fragile and complex doesn't make us weak; in fact, it makes us stronger.
Location
Hosted at Maryland Art Place
218 W. Saratoga
Baltimore, Maryland United States 21201
When June 30, 2017
8:30am - 10:00am