Steve St. Pierre
December 15, 8:30am - 10:00am EST. Hosted at Wallack's Art Supplies
part of a series on Context
About the speaker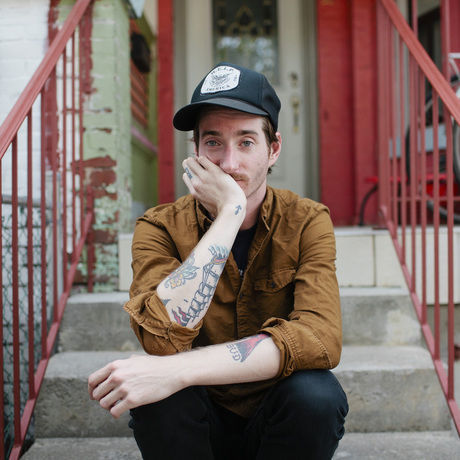 Join us for the last CreativeMornings Ottawa talk of 2017 when we'll welcome Art Director and Partner of Able Company, Steve St. Pierre to speak on the global theme context. "Those who seek beauty will find it." It can be hard to look at the world through a positive (or different) lens when times are tough. St. Pierre presents lessons learned from years of struggling with mental health issues and how he applies them to growing as a creative person.
Working across various mediums, St. Pierre has built a diverse portfolio over 12 years of experience. From branding billion dollar companies to naming scrappy upstarts, he has found a niche client base (and audience) for his smart and simple design solutions.
While his specialty exists in crafting brand identities, St. Pierre likes to work across platforms to create and/or curate memorable experiences. Mural installations and ambient music pieces leak into a portfolio that's been featured on Boooooom!, Juxtapoz, Applied Arts, and other decent publications.
He is currently partner at Able Company.
Local partners
Additional details
CreativeMornings is a monthly breakfast lecture series for the creative community with chapters in over 180 cities around the world. Each month we host an event that is always on a Friday, always in the morning, and always free. We provide coffee, a light breakfast, and a 20-30 minute presentation from a local creative person on the global CreativeMornings theme for that month.
About the theme:
Imagine your typical morning coffee or tea, how it tastes and the way it makes you feel. Now imagine being on a remote island, sun rising, with your drink in hand. That sip is unlike anything you've ever tasted—that's context.
When we feel something is out of context, it's because there's a mismatch in the intention, behavior, and environment. Looking at the Mona Lisa in a dark basement versus The Louvre surrounded by people taking photos creates two different memories.
This month's global exploration of Context is chosen by our Minneapolis chapter and illustrated by David Schwen.
Event Schedule:
8:30 AM - Doors open
8:30 - 9 AM - Check in, enjoy breakfast
9:00 AM - Talk begins
9:30 AM - Q&A with speaker
9:45 AM - Open pitch (have something to share with us? Now's the time!)
10:00 AM - Off to work!
Location