Son Batá es tradición creada con intención propia
December 15, 9:30am - 11:11am -05. Hosted at Paraíso Resto-Café
part of a series on Tradition
About the speaker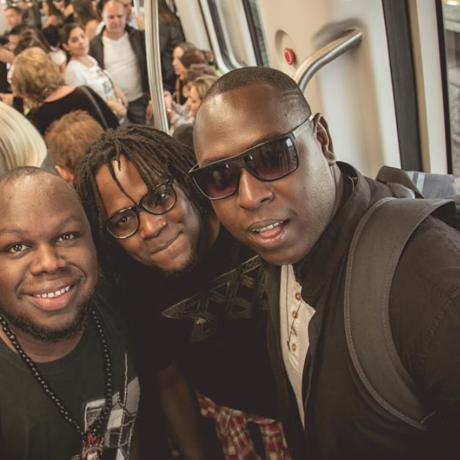 La Corporación Afrocolombiana Son Batá es un reconocido colectivo artístico de la Comuna 13 de Medellín que en los últimos diez años se ha dedicado a la música y la cultura llevando su mensaje a Colombia entera y países como Brasil, Estados Unidos, El Salvador, Uruguay, entre otros. Son Batá Music es una de las cuatro agrupaciones artísticas de este Palenque, banda de afro hip hop que transmite la fuerza y belleza afro. Son Batá tiene dos objetivos muy claros; la reconstrucción de la identidad Afro-colombiana "negra" en el territorio urbano y mostrarle a los jovenes que es posible tener sueños propios y hacerlos realidad.
Local partners
Paraíso Resto-Café está ubicado en el barrio Laureles-Medellín, este precioso lugar se enfoca en la alimentación consciente y la cocina saludable. "Amor por lo que hacemos, honestidad en lo que servimos, ambiente familiar que compartimos, donde la tolerancia es respeto y el goce es el secreto" es su motto.
Born Again Media provides the content and technical expertise to give your business the exposure it deserves. By implementing an effective online marketing strategy, Born Again Media will help you reach a global audience that is interested in your solutions, and just a step away from becoming a customer.
Born Again Media optimize your digital marketing strategy from the ground up, to showcase your industry authority to Google and your customers.
Additional details
Las tradiciones son creadas por nosotros y para nosotros. Por ese motivo es posible transformarlas con intención propia e imaginación. Son Batá es una organización artística, cultural y sociopolítica, que desarrolla iniciativas evocando sueños de niñas, niños y jóvenes, para inspirarlos a crear sus proyectos de vida basados en el amor propio, la valoración de su identidad y la dignificación de su comunidad.
Location
Hosted at Paraíso Resto-Café
Calle 42 # 70 - 38
Medellín, Antioquia 00000
When December 15, 2018
9:30am - 11:11am