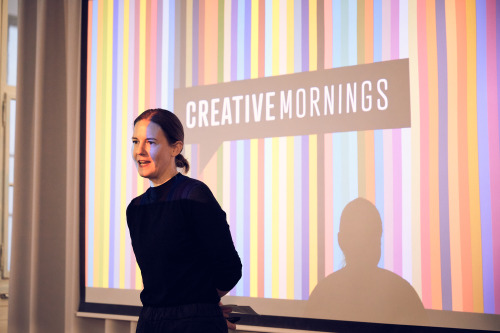 WOW – Creative Mornings sold out again! Thank you Sally M. Solaymantash for the great talk.
Thank you to all our partners that made it possible: Laba by @epflcampus @kaffeemacher @localholic @puretaste @iwb_basel @orubolo
#creativemornings #cm_bsl #basel #freelecture #breakfast #coffee #joinus #bettertogether
•
Pics @orubolo @ Ackermannshof

We're still thrilled by the experience of our last event. Rebecca Roberts and Mathias Fritzen took us on a journey to our inner self and outer inspiration on FLOW. We've been literally flowing away mentally and physically on the Rhystärn shipping into the sunrise.
Thank you Basler Personenschifffahrt AG for your great hospitality and the delicious breakfast! And thank you to the entire Creative Mornings Team.
📷 by Timo Orubolo 🎥 by Fabio and Niels Franke Photography
#cmflow #creativemornings #cm_bsl #creativecommunity#freelecture
Danke an Giacun Caduff für den sehr unterhaltsamen und kurzweiligen Vortrag zu den Musen auf seinem bisherigen Weg.Was wäre Creative Mornings ohne unsere wunderbaren Partner Smorrebrod.ch, Kaffeemacher, localholic, Pro Innerstadt Basel, BaselLive, Die Medienmacher AG und Stadtkino Basel. Und ein grosses Dankeschön auch an das gesamte Creative Mornings Team aus Basel.#creativemornings #creativemorningsbsl #cm_bsl #giacuncaduff#stadtkinobasel #freelecture #cmmuse Fotos timo orubolo fotografie

«Ich trete immer respektvoll auf, für mich ist das ein Grundprinzip.» Danke an Anni Lanz für den bereichernden Vortrag.
Herzlichen Dank auch an @tibits_restaurants für die lichtdurchflutete Location und Gipfeli, @kaffeemacher für feinsten #Kaffee, @die_medienmacher für tolle Karten und Zeisch für die Technik.
Fotos @orubolo @ Tibits
Wo endet unser Bewusstsein? Psychotherapeutin Dr. Karin Hedigers Vortrag zum Thema «END» basiert auf ihrer Erfahrung in der tiergestützten Therapie und letzten Erkenntnissen neurologischer Messungen. Sie hat uns dadurch neue Perspektive eröffnet und durfte viele Fragen Community beantworten, zum Beispiel über die Persönlichkeit der Tiere und den Einsatz von Robotern in der Therapie.
#cmend #creativemornings #creativemorningsbsl #freelecture#psychotherapy
Foto timo orubolo fotografie
Film Fabio Coviello
WOOHAAA! Ein letzter toller CreativeMorning im 2018 inkl. Anleitung zum Glücklichsein.
Simon, Hitzi Hitzinger erzählte auf sympathisch geerdete Art, wie ihm nach seinem Unfall der RESTART in sein neues Leben gelang. Free flow – let it go!
Danke brunchbox basel für eure leckeren Frühstücksboxen Hænowitz & Page für das letzte Mal Kaffee von Reto und OBST & GEMÜSE für eure Gastfreundschaft. Auch ein grosses Merci an Kaserne Basel für die Stühle. 💟

Was wir vom heutigen CreativeMornings mitnehmen? Dass auch chaotisch verschobene Rhythmen den Weg wieder zueinander finden können. Und dass es an einem frühen Freitagmorgen nichts besseres gibt, als Kaffee, Backwaren und Ingwershots mit euch allen - tausend Dank!
Domenico Melchiorre (👉www.decibells.ch) / Sinfonieorchester Basel / Hænowitz & Page / Ingwer Manufaktur GmbH / BackwarenOutlet
Mehr 📸: http://bit.ly/CMchaos - von Ben Koechlin Fotografie
Mehr 🙌: localholic Pro Innerstadt Basel BaselLive KONNEX.chMailchimp WordPress Adobe

Once a month, the alarm goes off earlier than usual. And, no matter how gloomy the weather is, we can't wait to get going. Because we get to be with our favorite community: #CreativeMornings Basel!
If you weren't able to join us at KLARA today, you missed out on intersting insights from artist Tobias Gutmann, remarkable sketches made by all of us (yup, we all drew faces!), healthy breakfast by MYLK and Smorrebrod.ch, as well as hugs in mugs by Hænowitz & Page.
Thank you to everyone who joined, and thank you to all our partners!
localholic Pro Innerstadt Basel BaselLive KONNEX.ch MailChimpWordPress Adobe
«Auch wenn es zum Teil jahrelang dauert, bis man angekommen ist, so ist es doch sinnvoll zu wissen, in welche Richtung es überhaupt geht. Das heisst: seinen eigenen Lebenszweck zu definieren, zu kennen und zu leben.» Katy Winter
Tausend Dank an KLARA, Hænowitz & Page, Happy Bowls, localholic, BaselLive, Pro Innerstadt Basel, KONNEX.ch, MailChimp, Adobe, WordPress - und an alle Frühaufsteher fürs Kommen!
Der heutige CreativeMorning ist schon vorbei - Game Over - es war schön mit euch! Hier gibts die Bilder zum Anlass. Ein grosses Dankeschön an Fabian Degen, muba Basel, BaselLive Pro Innerstadt Basel, localholic und Haenowitz&Page
more
Basel team







Learn more
Basel community







see everyone