Sam Cruz of Against The Grain Brewery shares his story of starting a brewery business despite being told multiple times that you can't do it that way.
About the speaker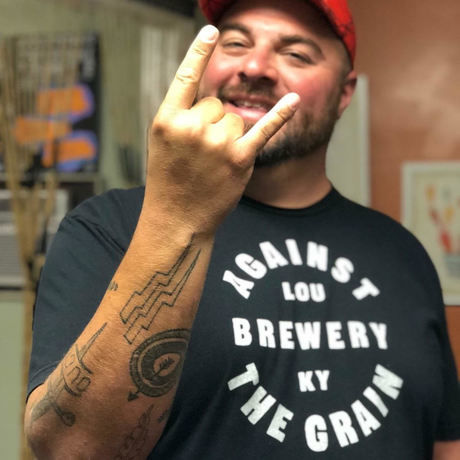 Sam Cruz, managing member and visionary of Against the Grain Brewery, hails from the great Hoosier state, Indiana. He was sent from the future in a bolt of time-lightning with the objective to save Jon Corner. But by the time he got here Jon was already saved and Sam needed something else to do.
After attending Indiana University for political science, it made perfect sense to move to Kentucky and enter the social service field. Turns out that was a terrible idea for Sam. It became apparent that he needed to harness his love of home brewing. He leaped at an opportunity to work in the brewing industry. After plowing through from keg washer to assistant brewer, Sam landed a gig as head brewer at a local brewpub in Louisville. One thing led to another and he realized Louisville was in need of a "new garde" brewery. One that would harness innovation and change the way beer was viewed in Louisville. Without hesitation, he helped launch the concept of Against the Grain. For the last five years he and his three partners, Jerry Gnagy, Adam Watson, and Andrew Ott, have built a Louisville brewery that reaches folks around the world.
For the most part, Sam's hobby became his career. He spends his free time enjoying country music, expensive dinners with his three kiddos, and his mom's pool.
Favorite quotes from this talk See all
"

Why on earth would you look at somebody beside you and say, "Can I do this? Can I be successful? Can I take my creative idea, my solution and can I succeed?" That's being a pioneer...is NOT doing that. — Sam J Cruz
"

There are no rules as you move forward into the unknown. Don't go out there unprepared, don't charge ahead without looking forward, don't think about what it's going to feel like when you trip and fall. — Sam J Cruz
"

For every success, you're going to trip and fall maybe three or four times. — Sam J Cruz
"

Know your audience. I'm not quite sure the people who don't get my jokes or can't appreciate them, I'm not quite sure I want them around me. — Sam J Cruz
447

Lovely Attendees







see everyone