Nicholas Oddy
February 23, 8:30am - 10:00am GMT. Hosted at The Fruitmarket Gallery
part of a series on Curiosity
About the speaker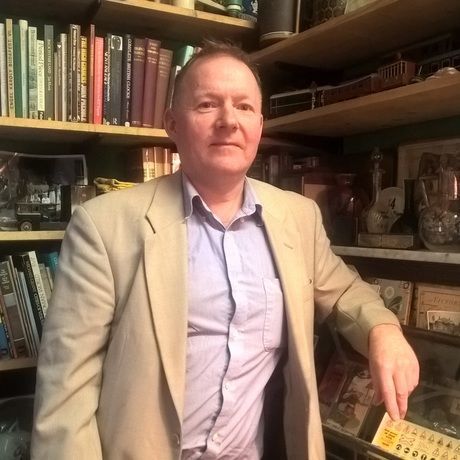 Curiosity shouldn't cost much, but often does.
Nicholas Oddy is head of Design History & Theory at Glasgow School of Art. Before that he taught at Duncan of Jordanstone College of Art (Dundee) and Teesside Polytechnic… 'polytechnic' should give you some idea of his age. Before that he studied Design History at the RCA and before that Edinburgh College of Art where his original degree was in ceramics (deceased) and glass (still alive, sort of). Academically he is associated with cycling history, but is probably better understood as a collector, of old cycles, signage, toy trains, table glass, the list goes on. At various times he has acted as a consultant to major auction rooms for cycles and cycling memorabilia, toys and collector's items. Essentially he is curious about things, mainly hard objects that in some way demonstrate various issues in the history of commercial design, its design process and cultural context. He's quite old fashioned; so don't expect much on the virtual world, although he uses it a fair amount to acquire old stuff, it's the old stuff that interests him.
Local partners
FreeAgent is award-winning online accounting software that's designed for the way small businesses work. More than 40,000 freelancers and small business owners use FreeAgent every day to track time against projects, raise invoices, file tax returns and just get on with the work they love - not the paperwork.
SCOTLAND'S NO.1 INDEPENDENT DISPLAY COMPANY At Eastern Exhibition & Display we offer creative and practical solutions for any and all types of display. We supply both graphic and exhibition build solutions for both interior and exterior projects and support branding for any type of event. We aim to make our customers' vision a reality and are renowned for delivering the best quality products on time, on budget, every time.
The Fruitmarket Gallery brings to Scotland the work of some of the world's most important artists, recognising that art can change lives and they offer an intimate encounter with art for free. Making exhibitions, commissions and publications directly in collaboration with artists. Celebrating new thinking, and offering an international platform for artists, curators and writers, whether they have made their reputation here or abroad. The Fruitmarket Gallery welcomes all audiences. Making it easy for everyone to engage with art, encouraging questions and supporting debate.
Location
Hosted at The Fruitmarket Gallery
45 Market Street
Edinburgh, Scotland EH1 1DF
When February 23, 2018
8:30am - 10:00am