Miriam Frank
– Hosted at frog
part of a series on Collaborate
About the speaker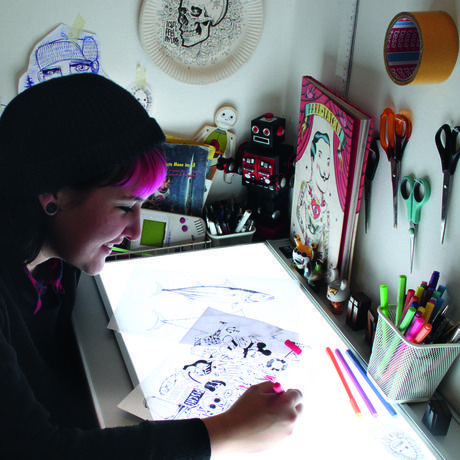 Miriam Frank (*1985) was born and raised in Munich, Germany. Growing up in an artistic family, she very early on made contact with colours and brushes, and to this day her hands are marked with paint and ink.
While studying design in Augsburg (Master of Arts) she experimented with different media types such as 3D animation, typography and photography. From this, her main interests emerged, drawing and illustration. At the same time, without having the plan to become a tattoo artist, her naive curiosity led her to try tattooing a friend. With the very first act of putting colour on a human's skin she was infected with the love of tattoo artistry. Combining the joy of illustration and the love of peoples stories into the medium of tattoos gave her tremendous fulfilment and pleasure.
Currently Miriam has a small atelier »Farbenpracht«, along with a friend, in Munich. Most of her time is focused on coloring skin, but she has never lost her love for other projects, such as book illustration and art exhibitions - she still needs the variety of different surfaces, materials and media. Miriam enjoys traveling and uses the influences of other cultures and of nature for inspiration. Frequently you can find her working as a tattoo guest artist in other cities, such as Barcelona, Berlin and Reykjavik.
Local partners
frog is a global design and strategy firm. We transform businesses at scale by creating systems of brand, product and service that deliver a distinctly better experience. We strive to touch hearts and move markets. We partner with clients to anticipate the future, evolve organizations and advance the human experience.
Mahlefitz ist eine Kaffeerösterei mit angeschlossener Kaffeebar im Stadtzentrum Münchens. Kaffee ist unsere Leidenschaft und diese möchten wir gerne mit Ihnen teilen. Unser Ziel ist es, sich unter den weltweit besten Röstereien und Kaffeebars einzuordnen. Bei uns erhalten Sie neben detailliertem Fachwissen die besten Kaffees, die wir rund um die Welt von Rohkaffeeproduzenten beziehen können.
Additional details
This event will be in german.
Location
Hosted at frog
Leopoldstraße 55
Munich, Bavaria Germany 80802
When
–