Meherwan Irani
May 25, 8:30am - 10:00am EDT. Hosted at The Center for Craft, Creativity & Design
part of a series on Commitment
About the speaker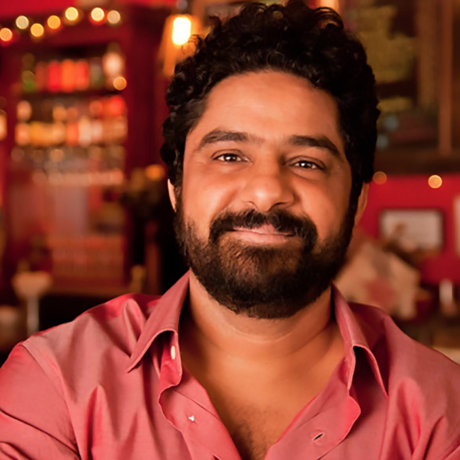 Meherwan Irani is the CEO, Co-founder & Executive Chef of the Chai Pani Restaurant Group. He grew up in the mid-western state of Maharashtra in India, and came to the United States at age 20 to earn a Master of Business Administration (MBA). He spent the next 10 years in a management career in the San Francisco Bay area working for Lexus and Mercedes Benz. In 2005, he moved with his family to the mountain town of Asheville, NC to start a new career in the real estate development business.
In 2009, in the middle of the Great Recession, Irani quit his day job to open his first restaurant – Chai Pani, a unique Indian street food eatery in downtown Asheville, NC. Whether it was a midlife crisis or a stroke of genius is debatable. In any case, the self-taught chef's current line-up includes Chai Pani Asheville, Chai Pani Decatur, MG Road, Buxton Hall Barbecue, Spicewalla, and Botiwalla, and the group has announced plans to open dozens more locations.
His restaurants and recipes have been written up in the New York Times, Wall Street Journal, GQ, Food & Wine, Men's Health, USA Today, Southern Living, Garden & Gun, Local Palate, and Bon Appétit, among others. Chai Pani has been named as one of the Best Indian Restaurants in America by multiple publications, and his most recent collaboration, Buxton Hall Barbecue, was named by Bon Appetit as one of the 10 Best New Restaurants in America.
He's been nominated 3 times for a James Beard Best Chef South-east award, and has been included in Best Chefs America, and Star Chefs. But his proudest accomplishment is the groundbreaking culture and management style he and his team have developed and are being recognized for. He advises and consults within the restaurant industry and is a frequent speaker on growth, vision, and culture at industry conferences and panels including the Wall Street Journal. He accredits his company's success to the amazing people he works with each day, especially his business partner and wife, Molly.
Local partners
Additional details
Wanna change the world? Find your passion? Make more money? Or, how about just being happy? In either case the answer is the same - make a commitment. Although it is one of the hardest things for us to do, Meherwan Irani is convinced that commitment is the key to rising above our selves and finding love, passion, success & happiness.
Location