La misteriosa vida de MacDiego en anécdotas
Fiesta, familia, pajas, iglesia, robos, muertos… ¡la vida de Mac Diego está llena de misterios!
About the speaker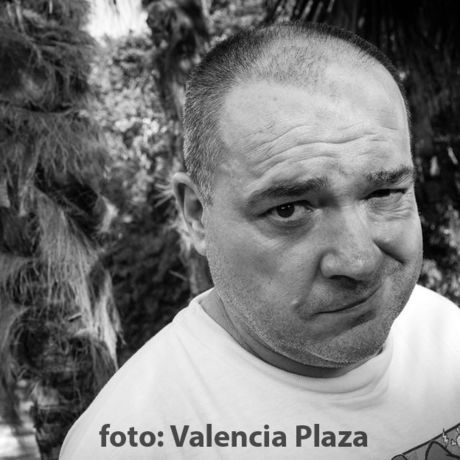 Diego Ruiz de la Torre Gómez de Barreda, más conocido como MacDiego, es un diseñador y editor de cómic español.
Diseñador, publicista, comisario… Diego es un creativo, un comunicador nato.
MacDiego tiene su propio estudio en Godella desde 1991 donde trabaja para muchos clientes de la comunidad. Como obra más visible en la ciudad de Valencia, cabe destacar las esculturas metálicas de Picasso que realizó para la exposición del pintor y que aún podemos ver en la ciudad.
Fundó con Julio Sánchez Telio La Guillotina, la primera galería dedicada a originales de cómic, y empezó a editar la revista gratuita Ganadería Trashumante.
Desde 1999 es tertuliano de radio junto al diseñador gráfico Modesto Granados, el periodista y escritor Ramón Palomar, el historietista Paco Roca y el cantante José Manuel Casañ. La Tertulia Friki ha pasado por diferentes emisoras valencianas y se emite todos los viernes a las 13 horas en el programa Abierto a Mediodía de Valencia Radio (99.9 FM).
Fue presidente de la ADCV (Asociación de Diseñadores de la Comunidad Valenciana) del año 2000 al 2004.
Ha participado en numerosas exposiciones y ediciones, tanto individuales como colectivas.
Ha sido comisario de muchas otras, entre las que cabe destacar "Atlas" para la Feria Internacional del Mueble de Valencia; las "Lámparas Maravillosas" para la ONG Pequeño Deseo; "25 ilustradores ilustran y dan lustre al ilustre don Jaime" para Nuevo Centro; "Un Cabanyal de Vinyetes" para el colectivo Salvem el Cabañal; "MacDiego Duets" en compañía de cuarenta afamados artistas en la galería Mr. Pink; "Paco Roca dibujante ambulante", "Stop Motion don't Stop", "Ricardo Rousselot, ¡la caligrafía vive!", "Del Tilt al Byte" y "En Moto" para el MuVIM; "EX•IL Exiliados Ilustrados" en La Nau de la Universitat de València, "Los Surcos del Azar. Diario de ruta de Paco Roca"; "813 Truffaut por Paula Bonet" en Las Naves Espacio de Innovación y Creación; "Harto de sexo" y "Edetanos Ilustrados" en La Rambleta.
Favorite quotes from this talk
No quotes yet. Sign in to tag a quote!
23

Lovely Attendees







see everyone