Salt and Straw Ice Cream founder explores how creatives have the opportunity to create wonder and help people see things in a different way, in a world that badly needs it.
Through her own story of starting Salt & Straw Ice Cream, Kim Malek explores the ongoing wonder about the purpose of our lives and how to make our time here mean something. The ongoing creative wonder of staying true to one's values when all the advice and the stereotypes point in other directions. And how she's used Salt & Straw to see and create wonder in a world that's craving a connection to a positive way forward.
About the speaker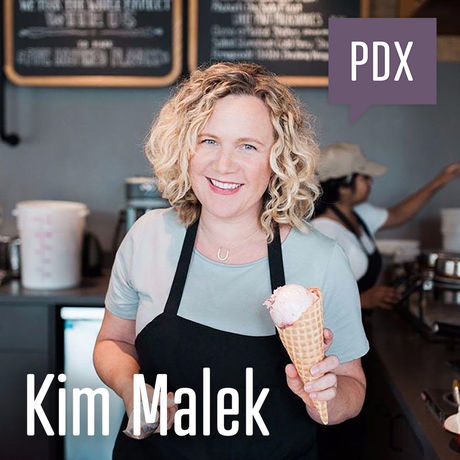 An industry leader, innovator, and disrupter, Kim Malek is the CEO and Co-Founder of Salt & Straw Ice Cream, based in Portland, Oregon. Beginning in May 2011, Malek took Salt & Straw Ice Cream from a humble ice cream cart to a fast growing, family-run company with scoop shops now in Portland, Los Angeles, San Francisco, Seattle, and at Downtown Disney in Anaheim, California. Salt & Straw ice creams are also available in New York City at select partners such as Daily Provisions and is served on first-class flights on Alaska Airlines. Malek and her cousin and head ice cream maker Tyler Malek have built their business around making unbelievably delicious ice creams designed to tell the narrative of artisans, meaningful food movements, and important social causes. The company creates a unique menu in each city that changes every four weeks, makes ice cream by hand in small batches and designs a generous store experience that's personalized and welcoming. She also created the kind of company that helps strengthen its surrounding communities by supporting neighborhood causes like childhood hunger and equal rights. Her vision and leadership at Salt & Straw has caught attention of many, from Disney to Union Square Hospitality Group's Founder & CEO Danny Meyer to Vice President Joe Biden.
Prior to launching Salt & Straw, Malek held positions at Starbucks Coffee, Yahoo!, adidas and Gardenburger in marketing, community outreach, and product management and development. She also worked on an online music service in conjunction with Bono of U2 at (RED) and with Seattle's Cupcake Royale, specializing in retail marketing and management and bringing new, epicurean trends to market. After this chapter, she set out to fulfill her longtime dream of opening her own ice cream shop, cashing in her 401k, and working to build a place that would become the happiest part of people's day.
An active community member, Malek currently serves on the board of the Avel Gordly Center for Healing at OHSU, and will soon join the advisory committee of the Oregon Innocence Project. She is also spearheading a new mentorship program for burgeoning businesses and piloting new community-based hiring programs in partnership with local non-profit and government groups such as the United Way, Gateway to College, and local state Parole Boards. Due to her leadership and accomplishments with Salt & Straw, Malek has received the Portland Business Journal's Women of Influence Award, was recognized by Basic Rights Oregon as an Equality Advocate Honoree, named to Inc Magazine's 100 Female Founders list of entrepreneurs, was included on Cherry Bombe's list of inspiring, creative and hardworking female leaders, The Cherry Bombe 100 and recently was included in Nation's Restaurant News' The Power List 2019 because of work in setting foodservice trends today and shaping them for tomorrow. In 2017, Malek was asked by Vice President Joe Biden to interview him as part of his "Promise Me, Dad" nationwide book tour.
Kim currently lives in SW Portland with her partner and three children. On April 30, 2019 Kim and Tyler will share what they have learned and prove at home cooks can create their own original flavors inspired by seasonal ingredients and local flavors, makers and dishes through the release of the company's highly anticipated debut cookbook, Salt & Straw Ice Cream Cookbook. Follow Kim on Instagram at @kimberlymalek.
Favorite quotes from this talk See all
"

I think of this juxtaposition. On the left there's weird. And on the right there's wonder. And wonderful. And on the left, there's also wrong . . . But what if it's not wrong? Is it our opportunity in the creative industry to show that something that seems weird, something that doesn't fit in our normal purview of what we think is normal . . . But what if we have the opportunity to show that what's different can actually be beautiful? And we can be in awe of that and it can be wonderful? And you can see that. You can see someone in that way. And you can feel seen in that moment. — Kim Malek
"

How are you going to be a blue caper? — Kim Malek
"

I'm going to go out on a limb and say it's the creative community's opportunity—maybe even responsibility—to create wonder in this world, that badly needs it right now. Maybe it's the creative community's responsibility to see, create and scale wonder. — Kim Malek
"

We thought let's turn growth on its head a little bit. It doesn't have to mean mass sameness. Our values should be reflected in this growth. — Kim Malek
"

To us, it was like, well if we're going to start this company, we want to start something that's going to make the world just a little bit better than when we found it. And those people who come into contact with us, we want them to leave with a little bit more than when they met us. Otherwise it's not worth doing. — Kim Malek
Photos from this talk See all
navigateleft
navigateright
398

Lovely Attendees




see everyone