Jay Sinha [virtual]
May 29, 8:30am - 10:00am EDT. Hosted at Online
part of a series on Nature
About the speaker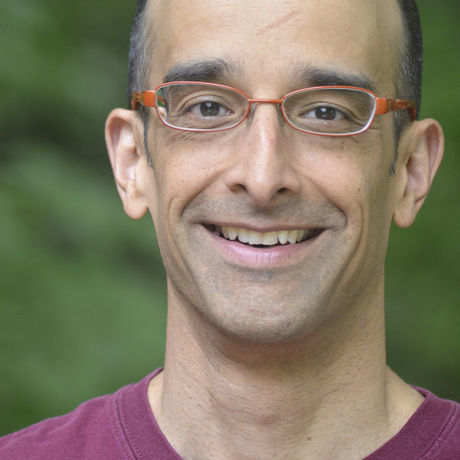 Maintaining our creativity takes work. We need to develop and foster it if we want it to stay strong and lively. The same is true of nature: It has the power to feed and rejuvenate us in ways we may have never imagined. But we also need to ensure we protect it and keep it vibrant.
This month's CreativeMornings Ottawa speaker knows the importance of strengthening the role nature plays in our lives. Jay Sinha is a scientist, lawyer, ecopreneur and tree hugger.
Jay has always been captivated by nature, and his environmental protection instincts really took hold when doing a grade six project on acid rain. Now he sees chilling parallels between yesterday's acid rain and today's borderless toxic microplastics.
Jay will speak about the sacred powers of nature and how to access them in our lives.
Jay hails proudly from the sunny, windy prairies of Winnipeg, Manitoba, Canada. He is the co-founder and co-owner (with business partner Chantal Plamondon) of Life Without Plastic, a globally established online shop and information resource for safe, high quality, ethically-sourced, Earth-friendly alternatives to plastic products for everyday life, including zero waste essentials.
An honors degree in biochemistry from Western University taught him about the microscopic world. He completed civil and common law degrees at McGill University, followed by a dip back into science with a graduate diploma in ecotoxicology from Concordia University—all the better to understand the toxic effects of plastics. He has held various positions in the public, private and civil society sectors.
Jay is a co-author (with Chantal) of the timely bestselling book, Life Without Plastic: The Practical Step-by-Step Guide to Avoiding Plastic to Keep Your Family and the Planet Healthy.
Jay now resides in beautiful Wakefield, Quebec, Canada
Local partners
Additional details
CreativeMornings is a monthly breakfast lecture series for the creative community with chapters in over 200 cities around the world. Each month we host an event that is always on a Friday, always in the morning, and always free. We provide coffee, a light breakfast, and a 20-30 minute presentation from a local creative person on the global CreativeMornings theme for that month.
Event Schedule:
8:20 AM - Download Zoom, test features & get cozy.
8:30 AM - Virtual doors open
8:35 AM - Welcome & CM intro
8:45 AM - Meditation by Catherine Hull of The Peace Room
8:50 AM - Breakout room (meet your neighbour) 
8:55 AM - Guest performance By Kellylee Evans!
9:00 AM - Speaker takes the virtual stage
9:30 AM - Q&A with speaker
9:45 AM - Closing remarks
9:55 AM - Audience takes the stage!
10:00 AM - Exit Zoom app.
How to join our virtual event:
Please register as you would normally and a few days before the event we will share out a Zoom link.
If you haven't used Zoom before, check out this link to learn how to join the call. We recommend joining in from a computer/laptop, but a tablet or phone will also work. You can also join a test meeting to familiarize yourself with Zoom.
Don't forget to download the Zoom app from the Download Center before joining the talk. Otherwise, you will be prompted to download and install Zoom when you click the join link (it can take some time).
About the theme:
What can nature teach us about living with strength, vulnerability, and grace during these challenging times?
In the book Emergent Strategy by Adrienne Maree Brown, Naima Penniman reflects on the decentralized strength of oak trees: "Amidst the whipping winds and surging water, the oak tree held its ground. How? Instead of digging its roots deep and solitary into the earth, the oak tree grows its roots wide and interlocks with other oak trees in the surrounding area."
It's natural to be feeling alone and scared when storms come our way. But nature, in all its forms and stages, shows us time and time again that resilience comes from adapting, collaborating, and leaning on the support systems around us. By moving away from the idea that we need to be strong on our own, we open up possibilities in our lives and build our collective resilience.
Whether it's in person or from afar, find the networks you can interlock with and ground yourself in them. Lean on those branches of support and hold on tight. Surviving and thriving in hard times requires us to bind together even while apart.
Our Salt Lake City chapter chose this month's exploration of Nature, David Habben illustrated it, and it's presented globally by WordPress.com.
Location
Hosted at Online
The internet
World Wide Web, Canada
When May 29, 2020
8:30am - 10:00am