Artist Heather Dawn Jones gives us a peek into her life, her studio and home, and her upcoming talk combining the themes of "creativity" and "minimal" at #CMVan on June 6, 2014.
Visual artist Heather Dawn Jones is passionate about art that emphasizes the transformation of ordinary and discarded objects into immersive works of art. In this short video she shows us the cube van she converted to a mobile studio and living space that she travels to her various projects (when not parked at the artist residency and performing centre she co-owns) and describes how she requires "minimal" resources to create art and sees the world as a constant source of inspiration and materials for her varied creative projects.
Our support partner for Heather's June 6th talk is The Holon Group, producers of the upcoming "From Now: Humanity with Technology" event. Tickets registration opens on June 2nd. http://creativemornings.com/talks/heather-dawn-jones
About the speaker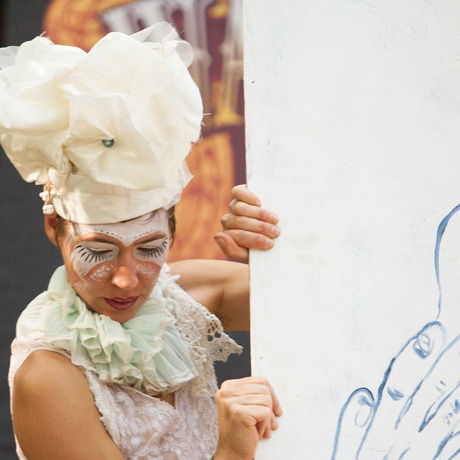 NOTE: Vancouver uses a lottery system. See below for special ticketing information.
Heather has a visual art practice that emphasizes the transformation of ordinary and discarded objects into immersive works of art. She began to develop her unique style in her final year of the B.F.A. program at Emily Carr University, working with ephemera and salvaged wood to build architectural cabinets. From these small beginnings she quickly began to work big, building large scale architectural sets for The Dusty Flowerpot Cabaret including The Village Project—a village built from pallets and inhabited by artists—the immersive 1930s-esque set for Hard Times Hit Parade. She has since created work for numerous local theatre companies, as well as community events such as Illuminaries and Parade of Lost Souls. Her most recent work includes a life size tessellated horse built out of punched tin cans and cold-forged recycled copper for the Chinese Cultural Centre of Vancouver. This project exemplifies her sense of creative reuse that remakes the familiar into the vibrantly unexpected.
Her work encompasses a strong sense of community, as expressed through the teaching of skills in workshops, working with other artists in collective creation, and designing art that facilitates intersection and connection. She is currently working as the lead visual artist for Vancouver International Children's Festival—creating interactive art installations that engage children and youth in the making of art.
As of late, Heather has been dedicating her time to the development of a 50-acre international artist residency and performing arts centre, "The Lookout Arts Quarry" located in Bellingham, WA. As it's name suggests, it was previously an industrial rock quarry site. She lives in a hand built patchwork house on wheels, drives backhoes, builds large scale engineered artist facilities, builds wooden art installations including her favourite little lean-to church atop the hill, creates graphic design promotions, produces festivals, and organizes artist residencies. She spends her free time expanding her skills as an artist into the realm of performance, shadow puppetry, dance, and experimental sound.
In all, from visual art to performing art, graphic design to construction, her work is quintessentially quirky, engaging, playful, and larger than life.
How do you define creativity and apply it in your career?
The english language contains only 26 characters, yet through reconfiguration entire novels containing thousands of concepts are built. Creativity is the reconfiguration of simple materials, movements, sounds, ideas into unique, less encountered forms. It is the exploration of configuration. The more one practices this act, and it can be as simple as trying out a different way to walk from one side of the room to the other, the wider one's range of mobility / ability grows, the further away from "normal" one's range becomes.
The applied practice of creative exploration is a lens I direct towards all aspects of my life: ways of walking, singing, whistling, dressing, sewing, cooking, making… It is in the Visual Arts, however, that I have invested the most time—hence my visual art work has traveled the greatest distance in exploration from the "norm". Similarly, my materials—tin cans to paper trash ephemera—express this creative exploration of what an art material can be and how art can be made.
Where do you find your best creative inspiration?
In the discovery of the everyday. I take note of what I find great quantities of (dumpsters full of a certain material), or what I am attracted to (gold foil from a chocolate bar), and I have a conversation with these materials. I pick objects up and turn them around, test their strength, weight, admire their colours and qualities, maintaining an open mind to observe what responses my imagination conjures.
What's the one creative advice or tip you wish you'd known as a young person?
Rather, I might wish for less creative advice. Kids are naturally creative. It has taken years of practice to strip away the definitions of art and structures of art-making that have limited my ability to confidently create new work. The expectation is that art is made from materials bought from an art store, art is painting, art is drawing—In fact, there are so many more possibilities.
Who would you like to hear speak at CreativeMornings?
David MacMurray Smith. fantasticspace.com. Teacher of spiritually transformative performance art. His course work is one of the best kept secrets in Vancouver… it certainly changed my life!
How would you describe what you do in a single sentence to a stranger?
I simply state "I make art". I then point to different objects around me—pop bottle caps, a broken straw, a brick, a rock, a lamp post, whereupon I proceed to enact how I make art: standing atop a tall object, jumping down, running between the lamp post and a bench. Lifting my arms in the air I weave an imaginary creation around the person so that the lines I have drawn with my eyes, hands, and vocal exclamations surround them, they feel it and become a part of it.
Where was the last place you travelled?
New Orleans, in December. The great craw daddy toe tappin snap of a town. I lived and created out of two red houses that had been united by the falling of their centre walls, red light lit plexiglass placed between their divide to create a single large room. Many rambling staircases and attic spaces were seemingly strung all around, hanging from nails and pieces of salvaged wood. Out back of it, recycled metal was welded together to create a tree house palace one could swing and jump about on with only some trepidation of its fear-inspiring heights. I collaborated with 10 other artists for 10 sleepless days and nights to create an immersive shadow puppet theatre piece for the Fringe Festival. Momo (my artistic collaborator) and I became shadow puppets ourselves, our dancing shadows on the ground, the silhouettes of trees, the treehouse palace lit up like a stage, it all served to inspire the immersive, interactive shadow work we were creating at the time.
Favorite quotes from this talk
No quotes yet. Sign in to tag a quote!
Photos from this talk See all
navigateleft
navigateright
213

Lovely Attendees






see everyone