About the speaker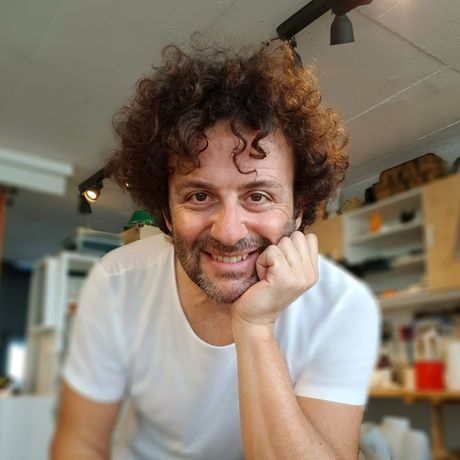 Erdil Yaşaroğlu, Kadıköy Anadolu Lisesi'nden sonra Mimar Sinan Üniversitesi Güzel Sanatlar Fakültesi Heykel bölümünden mezun oldu. 90'lı yıllarda profesyonel olarak karikatür yapmaya başladı. İlk olarak Güneş gazetesinde çalışmaya başladı ve ardından Limon ve Leman dergilerinde "Komikaze" sütununu yarattı. Aynı zamanda da televizyon programları için çeşitli senaryolar ve oyunlar yazdı, Boğaziçi Üniversitesi ve İstanbul Bilgi Üniversitesi'nde karikatür dersleri verdi. 2002 yılında arkadaşlarıyla birlikte "Penguen" dergisini kurdu. Daha sonra "Lombak", "Kemik" ve "Hayvan" dergilerini yayınlamaya devam ettiler. 2010 yılında, 12.000 metrekarelik alanı çizerek dünyadaki en büyük karikatürü ile Guinness Dünya Rekorları kitabına girdi. 2014 yılında çocuklar için ilk mizah dergisi "Süper Penguen" i yayımladı. 2016 yılında "The Bad Cat" adlı animasyon filminin ortak yapımcısı oldu. Komikaze olarak yayınlanan 19 kitabı 1 milyondan fazla sattı. Yurtiçi ve yurtdışında heykel sergilerine katıldı. Günümüzde, "Çizginin Sahne Arkası" isimli konuşması aracılığıyla, neden, nasıl ve nelere güldüğümüzü, hayata farklı bakmayı, birlikte fikir bulmayı, dijital dünya mizahını, kısaca mizahın sahne arkasını ve başka birçok şeyi karikatürlerle anlatıyor. Ayrıca, ilk kez 2014 yılında çocuklar için yayınladığı "Süper Penguen" dergisine yazmaya ve İstanbul'daki stüdyosunda heykel yapmaya devam ediyor.
//
After graduating from Kadıköy Anatolian High School, he graduated from the Faculty of Fine Arts, Department of Sculpture at Mimar Sinan University. He got involved in professional caricature in the 90s. First, he started working at Güneş newspaper and he then created the "Komikaze" column in "Limon" and "Leman" magazines. Also in these years, he wrote various scripts for TV shows, wrote plays and gave lessons on caricature at Boğaziçi and Bilgi Universities. In 2002, he founded the "Penguen" magazine with his friends. In 2010, he got into the Guinness World Records book, by drawing the world's largest caricature with the size of 12,000 square meters. In 2014, he published the first humor magazine for children, "Süper Penguen". He became co-producer on the animated movie "The Bad Cat" in 2016. His 19 books, published as Komikaze, sold over 1 million copies. He joined sculpture exhibitions in Turkey and abroad. Nowadays, he is involved with his keynotes entitled "Backstage Of Humor" and "Brain Pain", which explore the backstory of humor, thinking techniques and alternative ways of looking at life. He is currently drawing for the "Süper Penguen" magazine and continues to make sculptures in his studio in Istanbul.
Favorite quotes from this talk
No quotes yet. Sign in to tag a quote!
Photos from this talk See all
navigateleft
navigateright
88

Lovely Attendees







see everyone