Dr. Jacqui Lewis
December 7, 8:30am - 10:00am EST. Hosted at 501 Union
part of a series on Context
About the speaker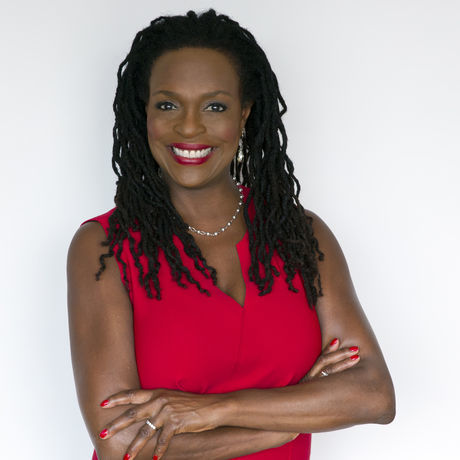 When she was eight years old, Jacqui Lewis hid under her bed as bullets flew in her Chicago neighborhood following the assassination of The Rev. Dr. Martin Luther King, Jr. In that moment, she felt called to work for racial equality in the United States.
It has been said that her 1,000-member congregation, Middle Collegiate Church in New York City, has diversity that looks like the subway, but its legendary love feels like home. Jews, Buddhists, atheists, and Christians pack its sanctuary to standing-room-only capacity. Millennials and boomers, trans and gay, singles and families all call Middle their own. Middle Church is celebrated in Robert P. Jones' book, The End of White Christian America, as an example of what revolutionary love can do to combat racism and xenophobia.
Believing faith communities can lead the way to racial reconciliation, Dr. Lewis co-founded The Middle Project with her spouse, The Rev. John Janka, which trains leaders to create a more just society. More than 300 faith leaders attended the 11th annual conference, "Revolutionary Love – Disruptive Ethics to Dismantle Racism" last April, with speakers such as Van Jones, Valarie Kaur, William J. Barber II, Zainab Salbi, and Bill Moyers on faculty. Revolutionary Love–Complete the Dream, is April 6-8, 2018.
Ordained in the Presbyterian Church (USA), Dr. Lewis is the first African American and first woman to serve as senior minister in the Collegiate Church, which was founded in New York City in 1628. She hosted "Just Faith," an on-demand television program on MSNBC.com and is a frequent media commentator. In 2016, Dr. Lewis completed the six-city Together Tour with best-selling author Glennon Doyle Melton, Seane Corn, Valarie Kaur, Jennifer Randolph, and special guest Alicia Keys. Her books include The Power of Stories: A Guide for Leaders in Multi-racial, Multi-cultural Congregations, The Pentecost Paradigm: Ten Strategies for Multiracial Churches (April 2018) and the children's book, You Are So Wonderful! She is currently at work on a book about a path to revolutionary love.
Local partners
Additional details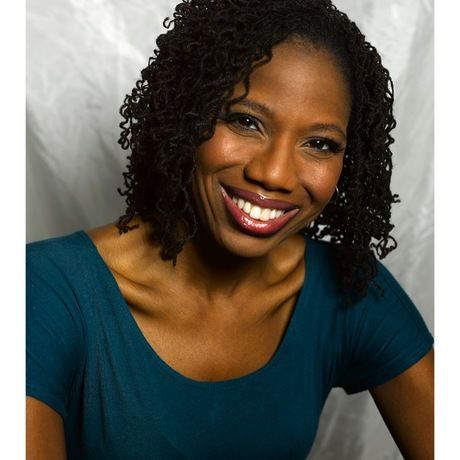 We're having a volunteer sign interpreter this month! Canara Price volunteers in the deaf community as an interpreter for civil rights organizations, churches, and several schools and agencies. She is the founder and executive director of People's Theatre, Inc., a non-profit organization exposing under privileged communities to the performing arts. She has produced and/or directed over 40 productions with this company. She is also an award winning producer and director as well as a member of Black Deaf Advocates, the SAG/AFTRA, National Association of Black Journalists, Delta Sigma Theta Sorority, Inc., and the National Council of Negro Women.
If you'd like to invite members of the the Deaf and hard of hearing communities, get in touch!
Music!
We're in for a special treat this month! Talented musician and friend of CreativeMornings, Aviva Jaye will join us again this month to perform before Jacqui's talk.
Not only is Aviva a CreativeMornings regular, she also performed at our recent event with Vicki Saunders a few months ago. If you didn't have the opportunity to see her then, now's your chance!
Take a listen to Aviva's music beforehand here. You can also follow Aviva on Twitter, and Instagram.
Do you want to play a future CreativeMornings/NYC event? Apply here.
---
Help us help others!
We'll be collecting winter coats and jackets at our event on Thursday for the New York Cares Coat Drive.
For the last 29 years, New York Cares has organized the city's largest winter coat drive gathering over 1.8 million winter coats. Just last year, with the help of caring New Yorkers, including CreativeMornings/NYC, they collected and distributed 109,000 winter coats to families who would have otherwise faced a long cold winter without one. This year, their goal is to collect 125,000 winter coats, and with the support of our community, we know they can do it.
They'll accept all kinds of winter coats, but keep in mind they receive twice as many requests for large men's coats than women's, and they're always short of children's coats.
Don't have a coat to donate? Text COAT to 41444. Just $20 gets a new coat to a New Yorker in need.
Location
Hosted at 501 Union
501 Union Street
Brooklyn, New York 11231
When December 7, 2017
8:30am - 10:00am