Daniel Tucker-Simmons
August 30, 8:30am - 10:00am EDT. Hosted at Ottawa Art Gallery
part of a series on Justice
About the speaker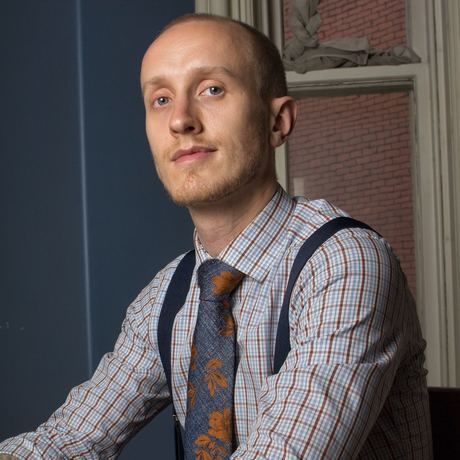 This month's we're welcoming Daniel Tucker-Simmons, principal lawyer and co-founder of Avant Law firm, specializing in workers' rights, housing rights, and human rights to the CreativeMornings Ottawa stage to speak to the global theme 'Justice'. There's a long-running, problematic belief that 'law = anti-creativity'. To many, law is rarely considered as a profession that encourages freewheeling, creative thought, but in reality, lawyers are communicators; in order to problem-solve, they have to constantly find new, innovative ways to communicate and make positive, lasting change.
Creativity is a quality not typically associated with the justice system. And for good reason. In this talk, Daniel problematizes the glacial pace of innovation in the legal services sector and its contribution to the access to justice crisis, presents some imaginative innovations attempting to deal with the problem, and extends an invitation to creative minds in other sectors to turn their focus to law.
Daniel is principal lawyer and cofounder of Avant Law, an Ottawa based law firm specializing in workers' rights, housing rights, and human rights. Daniel cofounded Avant Law in 2015 to answer the call for more innovation and creativity in legal service delivery. Daniel's objective is to make the law comprehensible and accessible through the use of innovative business practices and effective use of technology. In addition to working in private practice, Daniel is an adjunct professor at the University of Ottawa law school, where he supervises and instructs a practicum course focused on experiential learning, innovation, and access to justice.
Local partners
Additional details
CreativeMornings is a monthly breakfast lecture series for the creative community with chapters in over 200 cities around the world. Each month we host an event that is always on a Friday, always in the morning, and always free. We provide coffee, a light breakfast, and a 20-30 minute presentation from a local creative person on the global CreativeMornings theme for that month.
Event Schedule:
8:30 AM - Doors open
8:30 - 9 AM - Check in, enjoy breakfast
9:00 AM - Talk begins
9:30 AM - Q&A with speaker
9:45 AM - Audience takes the stage
10:00 AM - Off to work!
About the theme:

Justice can be a path to healing in fractured times.
When we envision moments related to justice, we often think of suits, a gavel hitting the surface of a desk, or people marching in the streets. Change happens when enough people raise their hands to work together.
Author Omid Safi wrote, "Justice is love, embodied. We cannot speak of love without linking it to justice, nor of justice unless it is permeated by love." Justice is restorative when empathetic and innovative solutions are brought to the forefront.
Through generous listening, we all hold the ability to form moments where people can feel safe, strong, and at ease.
Our Bratislava chapter chose this month's exploration of Justice and Simona Cechova illustrated the theme.
Accessibility: Venue is fully accessible. If you require any additional help or have suggestions as to how we could make our events more inclusive, please give us a shout ottawa@creativemornings.com!
Para Transpo drop-off entrance: 10 Daly Avenue, Ottawa, ON, K1N 6E2. The Daly entrance is between Waller and Nicholas on the south side. The gallery's large glass double doors are recessed from the street.
Parking: Street metered parking is available (check hourly limits) in the nearby Sandy Hill residential area.
Other paid parking options include: Le Germain Hotel parkade (Level P1), Novotel parkade (Entrance: 3 Daly Avenue) and the Rideau Centre parkade (Entrance: 80 Nicholas Street or 5 Daly Avenue).
Public Transit: For those taking OC Transpo, get off at Mackenzie King Bridge, walk east towards Ottawa U. The gallery is on the same side of the street as the Rideau Centre mall, at the northwest corner of Mackenzie King and Waller. The gallery's entrance is recessed from the street with an LED sign out front.
Location
Hosted at Ottawa Art Gallery
50 Mackenzie King Bridge
Ottawa, Ontario Canada K1N 0C5
When August 30, 2019
8:30am - 10:00am