Daniel Taylor
October 18, 8:30am - 10:00am EDT. Hosted at Design Exchange
part of a series on Flow
About the speaker
Daniel Taylor is an urban planner and local food advocate and is currently the Co-Director of Greenbelt Markets, a charity working to build equitable and sustainable local food systems and supports an active network of over 100 local food markets and 200 sustainable farmers. Perhaps best known for its Market MatchMaker (or "Tinder for Farmers") the organization focuses on expanding opportunities for local farmers and public access to healthy food.
Happily occupying the fence between urban planning and sustainable food, Daniel has developed and led local food projects across Toronto such as the Leslieville Farmers' Market and local food markets at Seneca College, High Park and St. Michaels' Hospital; Honest Ed's "Market City"; conducting landmark studies of local food systems in Southern Ontario and bringing together local food organizers from across the region for an annual conference entering it's 10th year. He is currently working with the City of Toronto and FoodShare Toronto as co-lead of the Neighbourhood Food Hub Pilot at Glen Rhodes Campus.
Daniel imagines healthy, sustainably grown local food at the center of city life - building community, improving health and public spaces and playing a pivotal role in fighting the climate crisis. Daniel holds a B.A in Environmental Studies and a graduate degree in Urban Planning from York University.
Local partners
Community Sponsor – Red Academy
Red Academy is a tech and design school with an agency-style teaching method that focuses on real client projects in UX/UI design, web and app development & digital marketing with locations in Toronto, Vancouver, and London. They offer short full-time and part-time diploma programs to help young professionals and career changers break into the tech industry.
Venue Partner - Design Exchange
Design Exchange, is Canada's only museum dedicated exclusively to the pursuit of design excellence and preservation of design heritage. At the crossroads of multiple disciplines, from furniture and architecture to graphics and fashion, our exhibitions, talks, workshops, and youth education programs are curated to reflect the popular zeitgeist and contemporary culture while demonstrating the relevance and importance of design to everyday life. They are committed to delivering accessible design experiences and education and aim to provide the tools necessary to connect design learning to the ordinary and extraordinary.
Nothing beats being part of a creative community. That's why we created Adobe Creative Jams, an event series where local thought leaders share a behind-the-scene peek into their processes and projects; meanwhile, teams compete in a tournament that puts their creative skills to the test using Adobe Creative Cloud.
Additional details
Theme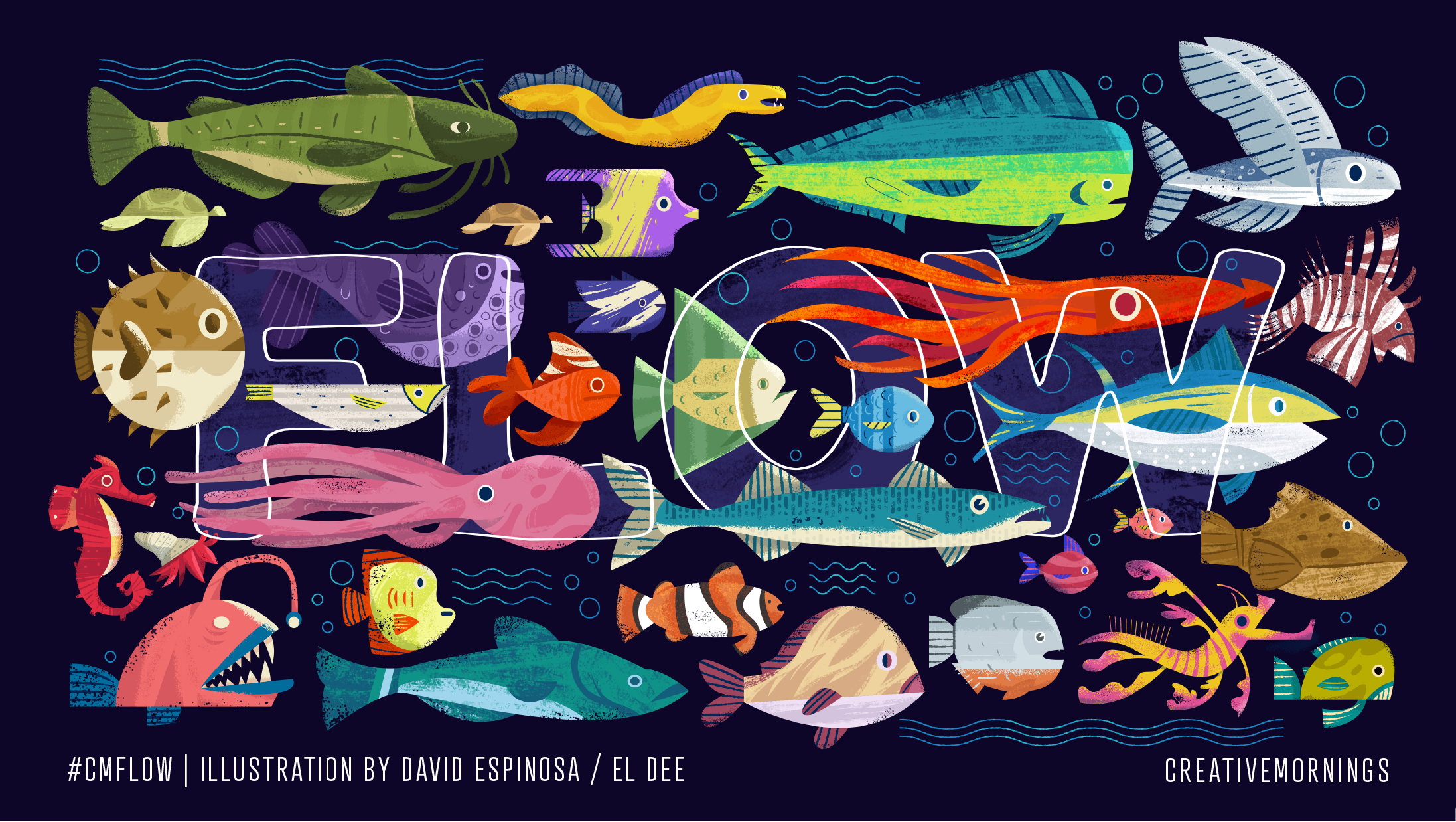 October's theme is Flow! Our Mexico City chapter chose this month's exploration of Flow and​ ​David Espinosa a.k.a. El Dee​ illustrated the theme.
Location
Hosted at Design Exchange
234 BAY ST
Toronto,, Ontario Canada M5K 1B2
When October 18, 2019
8:30am - 10:00am