Dan Moulthrop
March 17, 8:30am - 10:00am EDT. Hosted at SPACES
part of a series on Taboo
About the speaker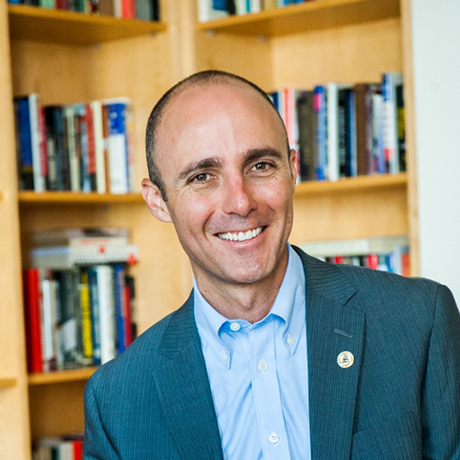 Dan Moulthrop is CEO of The City Club of Cleveland, one of the nation's great free speech forums. Founded in 1912, The City Club convenes more than 120 public programs every year in pursuit of the Club's mission to create conversations of consequence that help democracy thrive. He came to the City Club in 2013, swiftly increasing programming and attendance numbers, deepening digital engagement, and growing partnerships with a range of community organizations and enterprises.
He was a co-founder of The Civic Commons, a Knight Foundation project creating a social media environment designed explicitly to encourage civil, civic dialogue. Prior to that, he was a print, radio and television journalist, known across Northeast Ohio for his work as the founding host of the award-winning public affairs radio program, Sound of Ideas on 90.3 WCPN ideastream.
Dan serves on the board of the Teacher Salary Project, the advisory boards of Facing History New Tech High School, Teach For America in Cleveland, and Borderlight, and was a member of the Leadership Cleveland Class of 2014.
Dan is also a writer whose work has been published in The New York Times, Politico, and Huffington Post, as well as in other regional outlets. He was co-author, with Dave Eggers and Nínive Calegari, of the best-selling book Teachers Have it Easy: The Big Sacrifices and Small Salaries of America's Teachers (The New Press, 2005), which provided the basis for the 2011 documentary "American Teacher." Prior to working in journalism, Dan taught English literature at a public high school in the East Bay in California and a variety of topics at the San Francisco County Jail. He's a graduate of UC Berkeley's Graduate School of Journalism. He lives in Shaker Heights, Ohio, with his wife and three children.
Local partners
SPACES is a resource & public forum for artists who explore and experiment. For over 35 years the Cleveland-based nonprofit art organization has provided local, national, and international artists the freedom to create remarkable works of art that help us see the world in unexpected ways.
is a premier print shop with over a decade of experience in online printing. Get custom shirts, business cards, and much more at Jakprints.
We've been roasting coffee in Cleveland for over 20 years, building community and coffee culture in the process. We operate four cafés around Cleveland, roast coffee for over 100 wholesale customers around Cleveland, and do private coffee and espresso catering. We're part of the reason that Travel & Leisure magazine named Cleveland one of America's best coffee cities in 2014.
Location
Hosted at SPACES
2900 Detroit Avenue
Cleveland, Ohio 44113
When March 17, 2017
8:30am - 10:00am