Chris Parks
November 17, 8:30am - 10:00am EST. Hosted at B+P Architecture
part of a series on Death
About the speaker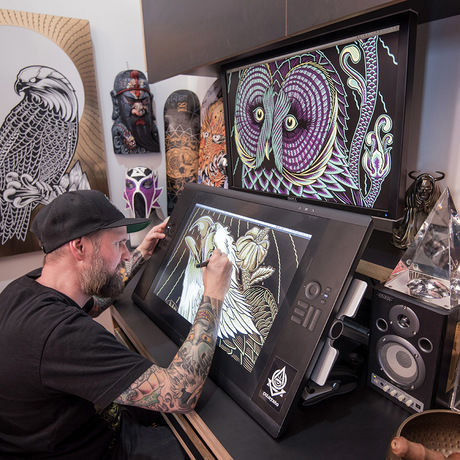 BECOME YOURSELF // Harnessing the Power of Ego Death to Manifest our True Creative Potential with Confidence and Courage In rare moments of clarity, insight and realization, we may glimpse powerful visions of the person we are meant to become. But when the moment dissolves, we often find ourselves right back in the familiar grooves of our well worn patterns. In this exploration, Chris Parks shares a range of techniques that he has used to create inspired artwork, overcome fear, gain relief from self doubt and release the steady grasp of his ego in order to become a better instrument for transforming inspiration into reality.
—
Chris Parks is the digital illustrator and fine artist known as Palehorse. A graduate of the Ringling College of Art & Design, Chris spent his early professional years splitting his time between design agency work and freelance illustration projects. In 2006 he opened his first studio and gallery space, and now has well over a decade of experience as a professional artist.
Combined with roots in straight edge hardcore, Tampa metal bands, skateboarding, and tattoo art, Chris has an ongoing fascination with ancient Asian and Latin cultures, cultivated by travel and research into sacred art. A curiosity to better understand the esoteric meanings behind the images, deities and mythologies of these cultures lead Chris to view his creative process as part of a greater spiritual practice where he invokes Buddhist, Hindu and Toltec philosophies to guide his work and tune into to the universal, creative force that is flowing through everyone and everything in existence.
Under the moniker Palehorse, Chris designs screen-printed gig posters, skate decks, T-shirts, and gallery artwork His bold, colorful, and intricate illustrations have been commissioned by companies such as: Nike, Mini Cooper, DC, WWE, Hasbro, Penguin Books, Modelo, Brisk, Pabst Blue Ribbon, Sonos, Variety Magazine, Wired Magazine, and many others. Chris is the also the curator of the SHINE Mural Festival and a champion of local artists and creatives.
Local partners
Additional details
This event is hosted in the warehouse space at Behar + Peteranecz Architecture. B+PA is located in the Warehouse Arts District, across from Duncan McClellan Gallery.
This event will feature the 'Outside In' group art exhibition from the SHINE Mural Festival and it will be the absolute last opportunity to view this exhibition.
Doors open at 8:30am or earlier, and pre-registration is required. Attendees should enter the space through the bay door around the side of the building. Limited parking is available in the B+PA lot, as well as across the street in the Duncan McClellan grassy overflow lot. As always, carpooling and people-powered means of transportation are encouraged. The venue is directly adjacent to the Pinellas Trail, just saying.
In order to ensure our global impact is more about inspiration than garbage, we ask that you please BRING YOUR OWN MUG for beverages. Bonus points for bringing a mug AND a friend!
Location
Hosted at B+P Architecture
2430 Terminal Dr S
St. Pete, Florida 33712
When November 17, 2017
8:30am - 10:00am