Cherryl Duncan on the power of practicing silence
December 13, 8:30am - 10:00am CET. Hosted at Cokrea
part of a series on Silence
About the speaker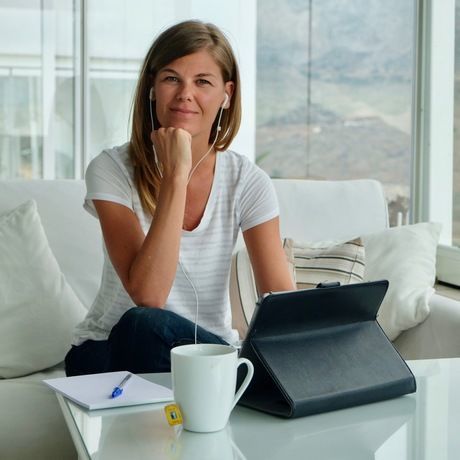 An unapologetic believer in freedom. Cherryl has dedicated her life to being happy and part of that means helping you live the life you truly desire. Based on the material from her book Magnificently Real, she uses authenticity as the basis for knowing, accepting and celebrating who you truly are.
After leaving her job in Advertising 15 years ago, Cherryl lived in an Ashram in India studying Yoga. She then travelled to New York to study Jivamukti Yoga where she passed the board exam as an 800 hr advanced yoga teacher. She's studied Tibetan Buddhism, Western Philosophy and has facilitated over 30 yoga teacher trainings and recently completed the very first coaching program in Greece this year.
Cherryl has developed a Self Mastery system which incorporates yoga as well as everything she's learned on the path to greater freedom, more resilience and a deep sense of purpose. Original founder and creator of the popular Living yoga Studio in Johannesburg, Cherryl moved to Germany in 2012 where her system to Self Mastery was born. There she teaches a regular class schedule, runs teacher training programs. personal coaching programs and generally has a good time traveling around central Europe and, when she can, going home to visit her family and friends in South Africa.
Additional details
By now, we know meditation is good, being mindful is beneficial, yoga is good, keeping healthy and doing sports is good, reading inspiring books is good, and spending time with loved ones, also good.
But what about doing nothing? What about being quiet? What about silence? In a world of doing more good things, have we somehow lost touch with the ability to do nothing? What does doing nothing look like, but more importantly what does doing nothing feel like? And what is the value, if anything of exploring silence?
Cherryl presents her take on how bringing a little bit of silence into our lives can lead to more creativity, better and deeper connections with others; without having to go on long, silent meditation retreats necessarily. She answers some of these questions and shares some stories of how she's managed to hack a bit more silence into her own life.
Location
Hosted at Cokrea
Nordendstraße 64
Munich, Bavaria Germany 80801
When December 13, 2019
8:30am - 10:00am