Britta B.
June 24, 8:30am - 10:00am EDT. Hosted at Shopify Toronto
part of a series on Broken
About the speaker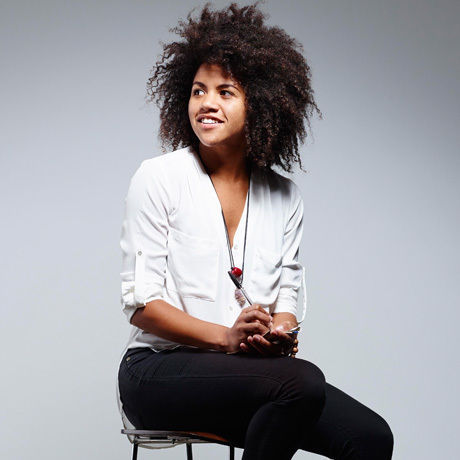 A proud and recognizable resident of Toronto's Regent Park, Britta B. is an artist, spoken word poet, public speaker, special events host, mentor and arts educator. Britta features as a lead cast member in the musical, The Journey, based on the revitalization of Regent Park. She provides ongoing mentorship for "at-promise" youth, facilitates spoken word and leadership programming, and oversees a self- care project with UNITY Charity for youth residing on the Fort Chipewyan reserve. Her spoken word performances have featured in over a dozen cities across North America including New York City, Vancouver, Detroit, Montreal, and New Orleans.
Additional details
Theme
June's theme, BROKEN, was chosen by our Washington, DC chapter and illustrated by Donald Ely.


Venue and Breakfast Partner
Shopify is the leading cloud-based, multichannel commerce platform designed for small and medium-sized businesses. Merchants can use the software to design, set up, and manage their stores across multiple sales channels, including web, mobile, social media, marketplaces, brick-and-mortar locations, and pop-up shops. The platform also provides merchants with a powerful back-office and a single view of their business. The Shopify platform was engineered for reliability and scale, using enterprise-level technology made available to businesses of all sizes. Shopify currently powers over 275,000 businesses in approximately 150 countries and is trusted by brands such as Tesla Motors, Budweiser, Red Bull, LA Lakers, the New York Stock Exchange, GoldieBlox, and many more.

Illustration Partner
VisualTalks present information your audience needs, in the way they can process it best. VisualTalks are whiteboard illustrations (or graphic recordings) to enhance understanding and retention, increase participant engagement and create concise and beautiful summaries of information.
We listen carefully, process what we hear, and draw it on the spot. We capture it truthfully, and present it in a way that facilitates further thought and discussion.


Printing Partner



Originally from Newfoundland, Nola Grimes brought her passion for art and creativity to the printing industry over 20 years ago and has been managing all types of print projects for a diverse group of clients ever since.
She enjoys working with designers and being part of the creative process. Over the years, Nola has built relationships with a network of suppliers and can produce everything from small postcard orders to catalogs and signage. Whether the project is simple, with a tight budget or more complex, with embossing and other special effects, Nola can help you meet your objectives and treats every order with equal care.
Location
Hosted at Shopify Toronto
80 Spadina Avenue, 4th Floor
Toronto, Ontario M5V 2J4
When June 24, 2016
8:30am - 10:00am